I loved the first season of "Damages," but time constraints kept me from following the second season of the series as closely as I would've liked. Still, my dedication to the show was such that, when I heard there was going to be a panel for its third season, I wanted to make sure that I'd checked out the screener of the season's first two episodes before it took place, so that I'd be fully prepared for the event. What I hadn't realized, though, was that I would be so caught up in those episodes that my first task upon returning home from the tour would be to immediately put Season 2 into the DVD player and watch it immediately. Yes, my love of "Damages" is back with a vengeance…which, given the theme of the series, is absolutely apropos.
There's only one problem when it comes to discussing Season 3 of "Damages" and it's this: a key event occurs in the season premiere that I can't possibly give away. As such, I'm forced to dance around it…which sucks, because, man, I reeeeeeeally want to talk about it with someone.
What we can talk about, at least, is the general premise of the season, which revolves around a suspiciously-familiar concept: a high-profile financier who turns his wealth management business into a massive Ponzi scheme that defrauds thousands of investors of billions of dollars. But, c'mon, this panel took place before an audience of intelligent critics (and, no, that's not a contradiction in terms, thank you very much), so no one was going to ask, "So, is it a coincidence that this resembles the whole Bernie Madoff situation?" The better question, obviously, was whether or not any other news stories were in competition for use as the thrust of Season 3.
"Well, I don't know if I'd call it competition," said executive producer Daniel Zelman, laughing. "But there were several stories we were looking at, not just the Madoff case. There was an attorney named Marc Dreier who fascinated us. You may have seen; he did an interview on "60 Minutes." But he had perpetrated some $700 million con essentially. And also, a businessman named Allen Stanford had basically created a bank in Antigua that supposedly had billions of dollars in it, but had nothing in it. So we were really drawn to all of these stories, and we're using elements of all these stories in the story that we're telling, although coming through the front door, it's sort of more around the Madoff scenario."
Those who've been watching "Damages" regularly have seen unexpected casting choices like Ty Burrell ("Modern Family"), Ted Danson ("Cheers," "Becker"), and Darrell Hammond ("Saturday Night Live") pay off handsomely, but even so, it's a bit of a surprise to find both Martin Short and Lily Tomlin turning up in Season 3. For executive producer Todd A. Kessler, however, it makes perfect sense.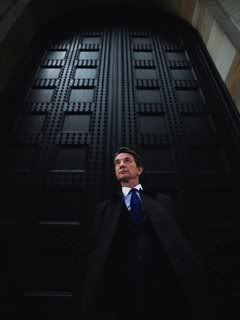 "One of the things that we try to strive for on 'Damages' is that nothing is as it seems," he says. "Starting in the first season, when we cast Ted as Arthur Frobisher, it continues to just amaze us to work with actors and performers who aren't always given the opportunities to do something other than what they're primarily known for. When the casting came up this season…Lily plays the matriarch of a family that Patty Hewes is going after, and Marty plays the family's attorney…we just thought it would be an amazing opportunity to work with both of them and then also have them embody this sense of 'nothing is as it seems.' And while there's a familiarity with both of them as actors and their career work, on our show I think they're both giving pretty iconic performances that are thrilling us daily."
"I wouldn't say I've done an endless amount of serious roles," admitted Short, appearing at the panel via satellite, "but I think of myself as a character actor, and you play characters in a sincere fashion. Even if you're playing Franck from 'Father of the Bride,' if you're trying to be funny as that character, you won't be. But if you sincerely play him as this eccentric person who exists in the world, then you're basically acting the character, who happens to be an unusual character. So I don't really look at it as a differentiation between comedy and serious. It, to me, is just what the role is, what it requires, how you can most effectively give the author what he had hoped to achieve."
Although Short never clarified whether or not he was a fan of the series, Tomlin – also appearing via satellite – couldn't stop gushing about her unadulterated "Damages" fandom.
"It's the only show I've ever run home to see, no matter what," she said, excitedly. "If I were working on another show even, I'd say, 'I have to get out of here!' That first season, it was on Tuesday nights, and I'd say, 'I have to get home. I have to see it!' And I wanted to see the 7 o'clock feed. I didn't want to see the 10 o'clock; I wanted to see it from the get-go. And when I'd see Glenn (Close) anyplace at an event or anything, I would just jump all over her, and I'd say, 'You've got to tell us. What's going to happen? Why can't you be on every night? Why can't you be on all year? Why do I have to wait now?' But I think what got me a part was I ran into Todd Kessler at a photography show in L.A., and when someone told me who he was, I completely lost it. You know how women throw themselves, like, they'll jump on a guy they know really well and put their arms around his neck and their legs around his waist…? I think when it came to do the third season, they thought, 'Remember that girl that jumped on you at that photography show? She really likes the show. Let's see if she's going to pass." So I was thrilled to get it. I didn't have a hesitation. I wanted to be on the show very, very much."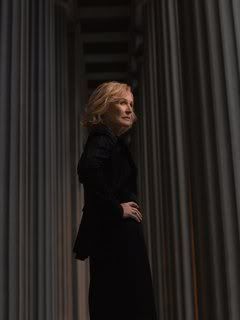 And Close, for the record, is quite glad to have her…and Short, too, for that matter.
"My first scene with Martin and Lily is when I was deposing Lily," Close said, "and I was sitting across from the two of them in our conference room on the set, and it was a very surreal experience, having watched them my whole career and loved them. I can't tell you how invigorating, inspiring, fun it is. For me, it's just pure fun. You get a well-written scene, and you have actors that can do anything that's asked of them and have a million ideas. As Marty was saying the other day, because of the pace that we work at, in many ways it's like an improv, because you have to be very quick on your feet. You have to be able to learn lines very fast and then to be able to kind of move around in those lines and make it authentic and believable. It's just a great process. And to have people that are just so much fun! You two are not even here, but I'm jealous because I don't have a lot of scenes with these two. There was a scene with Lily and Martin and Campbell Scott, and one of the crew guys said it was a gift to watch them, not only when they were in the scene, but what they did between the takes. They said the comedy, just the flights of fancy…"
"They never say that about us," sighed Tate Donovan.
"No," admitted Close, "they don't. We're the boring ones."
We can't say too much about what goes on with Ellen Parsons this season, mostly because it's a given that she's going to be in the heart of whatever happens, but without being too specific, we can at least acknowledge that, as a character, Ellen gets fleshed out a bit in Season 3.
"I think this season is exploring the theme of family," said Parsons. "You get to see Ellen with her parents and her sister, and I think it reveals a lot about where she's come from. (It's) the polar opposite of the life with Patty and at the office, and I think it really reveals a lot of why she does what she does. When we meet her, she's actually very different again this season from the last two seasons in that they're actually quite separate when we first start. She hasn't spoken to her for six months, and she's really moved on in a real genuine kind of sense. Patty doesn't get under her skin anymore, but the complexity of their relationship is definitely something that we still kind of end up exploring throughout the season."
"From the beginning of the show, in the pilot, we didn't want to give one specific label to Ellen," explained Todd A. Kessler, "that she went to this law school and so she must be great, or she had this experience, and so that explains why she seeks out someone like Patty. We wanted it to develop, and we don't really believe that there's ever one formulative experience that defines someone's existence. So in this third season now, we're going to really be exploring Ellen's relationship with her family and get more of Ellen's past, in addition to Patty's past. But it's something that's been very intriguing to us to kind of give pieces of that without having it be a nicely wrapped-up package early on before you actually see the person interacting with other characters."
That's just about all I can offer up from the panel without delving into stuff that, frankly, you'd be better served by learning yourself while watching the season premiere of "Damages" on January 25th. I can, however, close with a highly appropriate bit where, playing off Ms. Tomlin's earlier comments, Ms. Close was asked if she ever does relent when someone comes up to her and asks for spoilers.
"I never let the secrets out," Close confirmed. "And that's very easy because I know they really don't want to know. I've had people come up and say, 'What's in the box? Don't tell me!' So, no, I never tell." Turning to Donovan, she asked, "Do you tell?"
"All the time," he replied with a grin, before quickly clarifying that "we don't even know."
"No, we don't know," agreed Close."
"I would tell," clarified Donovan, "but I don't even know. The secret is that we don't know the secrets."
"I don't even know if Todd and Glenn and Dan (Zelman) know the secrets in advance," said Tomlin. "Maybe a few hours."
"But that's kind of the liberating thing," said Donovan. "One of the liberating things about the show as an actor and anything else is that you don't have time to judge yourself or your character or what's happening or your scene partner because you don't really know what's going to happen and who you really are. I mean, I know that sounds terrible, and we as actor love to know our arc and stuff like that, but…I find it just so much fun to not know."