V (Tues., Nov. 3 @ 8:00 PM, ABC)
The competition: "NCIS" (CBS) "The Biggest Loser" (NBC), "Hell's Kitchen" (Fox), "90210" (The CW)
Starring: Elizabeth Mitchell, Morris Chestnut, Joel Gretsch, Lourdes Benedicto, Logan Huffman, Laura Vandervoort, Morena Baccarin, Scott Wolf
Producers: Scott Peters ("The 4400," "The Outer Limits"), Jeffrey Bell ("Day Break," "Alias"), Steve Pearlman ("Reunion," "Related"), and Jace Hall ("The Jace Hall Show")
Network's Description: A re-imagining of the 1980's miniseries about the world's first encounter with an alien race. Simultaneously appearing over every major city in the world, the Visitors (or V's) promote a message of peace. Through their generous offer to share advanced technology, the V's build a following that may actually hide a more malevolent agenda, one that twists a very deep component of human nature: devotion. While the world quickly becomes fascinated with the V's and their link to wonders just beyond the reach of human understanding, FBI Counter Terrorist Agent Erica Evans discovers a secret hidden beneath the skin of every V – a secret that may threaten the lives of everyone close to her. Yet for her teenage son, Tyler, the V's are his ticket to something big and hopeful — a new chance for mankind to unite in common goals. To Chad Decker, a career-hungry news anchor, his exclusive interview with Anna, the leader of the V's, is crucial to his dominating the airwaves. Also unsure about the Visitors is Father Jack, a priest questioning his faith in the wake of the Visitors' arrival. Seeking answers outside the church, Father Jack discovers there are other dissidents who believe the Visitors are not who they say they are, including Ryan Nichols, who is faced with his own life-altering decision when the V's show up. Never has there been more at stake — it truly is the dawning of a new day.
The Buzz: Like "Eastwick," there's a certain instinct to ask, "Why do we need to revisit a 20-year-old property?" In the case of "V," though, most of those who remember the show fondly will probably nod their heads and consider that, yes, special effects technology has evolved to a point where a concept like this one deserves to reap the benefits. And although the purists will no doubt grimace and claim that it won't be the same without original creator Kenneth Johnson working behind the scenes, they need look no farther than "Battlestar Galactica" to have a good reason to consider the possibilities for a new "V."
Pilot Highlight: Personally, I dug the showdown between Anna and Chad when he refuses to offer an interview consisting solely of softball questions and she informs him that either it'll be all queries that paint the Visitors in a positive light or the interview will be canceled, but the episode's tie-ins to terrorism were damned intriguing.
Bottom Line: There'll clearly be a "we've seen this" reaction from the generation who grew up with "Independence Day," but it's already clear that this is not your parents' "V." It may not prove to have any more legs than ABC's last stab at alien infiltration ("Invasion"), but it's going to come down to whether or not the viewers who come in for the curiosity factor, thinking, "Hey, I liked the old show, I wonder how the new one will be," are going to given enough to sell them right off the bat.
The Forgotten (Tues., Sept. 22 @ 10:00 PM, ABC)
The competition: "The Good Wife" (CBS), "The Jay Leno Show" (NBC)
Starring: Christian Slater, Michelle Borth, Heather Stephens, Bob Stephenson, Anthony Carrigan, Rochelle Aytes
Producers: Mark Friedman ("Home of the Brave"), Jerry Bruckheimer and Jonathan Littman ("CSI," "Cold Case"), Lukas Reiter ("Law & Order"), Danny Cannon ("CSI")
Network's Description: A drama series in which a team of dedicated amateurs – The Forgotten Network- work on murder cases involving unidentified victims. In the United States, the remains of 40,000 people have yet to be identified. When police investigations reach a dead end, civilian volunteers across the country work to name…the forgotten. After the police have given up, The Forgotten Network, led by Alex Donovan, must first solve the puzzle of the victim's identity in order to then help catch the killer. These are citizen volunteers solving extraordinary crimes. Their persistence and compassion for the cases put them on a personal and emotional journey that focuses on giving names back to the deceased. The Forgotten Network gathers in coffee shops and living rooms to discuss leads, clues and tips, each bringing his or her own motivations and skills to the table, each driven by a deep sense of purpose. Donovan is a former detective who left the force after the disappearance of his own young daughter. Using his investigative skills, he can help piece together each victim's story, retracing their footsteps and finding out why they died by learning how they lived. Working against the clock to give each victim a name before they're buried as a John or Jane Doe, these amateur detectives are in it to bring closure… and win justice. Also volunteering in The Forgotten Network are Candace Butler, a confident, headstrong young woman who avoids the crushing boredom of her mundane job by helping the Network identify victims; Lindsey Drake, a resilient high school science teacher who works with the Network as a form of penance for a crime committed by her husband; Walter Bailey, a well-intentioned phone company employee and true-crime enthusiast whose zealousness can sometimes complicate investigations; Tyler Davies, a street-smart medical school dropout and aspiring artist who is court-ordered to join the Network to satisfy his community service; and Grace Russell, a resourceful homicide detective with the Chicago Police, who is Alex's former protégé and now his main link to the department.
The Buzz: Into every season, there comes a show which requires so much retooling up to the wire that the critics don't get the opportunity to check out a screener of the pilot. This season, it is "The Forgotten," which – as you can see on YouTube – existed as a series before Christian Slater was ever brought into the mix, and as a result, the producers were left scrambling to restructure and re-film virtually the entire pilot. Worse, the fact that Jerry Bruckheimer's name is attached will only serve to underline the similarities to "Cold Case."
Pilot Highlight: There isn't one, of course. You're welcome to check out the same trailer and "sneak peek" that I have, but aside from the unique aspect of the team having no official police ties, nothing really stands out as original.
Bottom Line: Wow. The schmaltz factor in the trailer is downright painful. ("They're all around us." Give me a break.) But given America's love of procedurals and the fact that the competition isn't all that strong, it's very possible that the show could find an audience.
Hank (Wed., Sept. 30 @ 8:00 PM, ABC)
The competition: "The New Adventures of Old Christine" (CBS), "Mercy" (NBC), "So You Think You Can Dance" (Fox), "America's Top Model" (The CW)
Starring: Kelsey Grammer, Melinda McGraw, David Koechner, Jordan Hinson, Nathan Gamble
Producers: Tom Werner ("Roseanne"), Tucker Cawley ("Everybody Loves Raymond"), Kelsey Grammer ("Frasier"), Mike Clements ("The Life & Times of Tim")
Network's Description: Sometimes scaling back is the best way to get ahead. A legendary entrepreneur in the sports retail world, Hank Pryor and his wife, Tilly, have been living the high life in New York City. That is until Hank is forced out of his CEO job and has to downsize and move his family back home to the small town of River Bend, Virginia. A self-made man, Hank is used to being the boss. But now that he's lost almost everything, is he up for the even bigger challenge of being a husband and father? While Tilly regrets having to leave the glitz of New York City to move back to her hometown, Hank is gung-ho to relaunch his career in the place where it all began for him. Unfortunately this also means having to spend way too much time with his brother-in-law, Grady, who delights in Hank's recent misfortunes. Hank struggles to find common ground with his kids — offbeat son Henry, who would rather play with action figures than toss a baseball with his dad, and daughter Maddie, a hip, New York City teen in whose eyes Hank can do no right. But every great businessman knows that the key to success is to turn setbacks into opportunities. It may take a while for this corporate giant to figure out how to mingle with the little people — like his family — but Hank's up for the challenge, a man who feels he is destined to return to greatness. And he is. It's just not the greatness he imagined.
The Buzz: For years, Kelsey Grammer was a man that could do no wrong in the realm of sitcoms, but that all ended with the one-season wonder that was Fox's "Back to You." It's always good to see his familiar face, but if he couldn't find comedic success in an ensemble that included Fred Willard, what chance does "Hank" have? Well, actually, the whole downsizing / riches-to-rags angle of the show could catch the interest of audiences in today's climate, provided they don't turn his move to Virginia into a riff on "Green Acres."
Pilot Highlight: Aside from David Koechner's brief appearance when Grady drops off a housewarming gift, it's Hank's attempts to bond with his children in the family's new environment, which involves a stirring rendition of "The Star Spangled Banner."
Bottom Line: As it stands right now, "Hank" feels like the weak link in ABC's Wednesday night sitcom line-up, but it's family-themed and it's at 8 PM, so you never know. Plus, given creator Tucker Cawley's track record with family comedies, the chance exists that it could find its stride pretty quickly, leaving us feeling guilty that we ever doubted its possibilities. If that happens, let's hope it's sooner than later, if only for Grammer's sake.
The Middle (Wed., Sept. 30 @ 8:30 PM, ABC)
The competition: "Gary Unmarried" (CBS), "Mercy" (NBC), "So You Think You Can Dance" (Fox), "America's Top Model" (The CW)
Starring: Patricia Heaton, Neil Flynn, Charlie McDermott, Eden Sher, Atticus Shaffer, Chris Kattan
Producers: Eileen Heisler and DeAnn Heline ("How I Met Your Mother," "Roseanne")
Network's Description: A warm and witty single-camera comedy about raising a family and lowering your expectations. Frankie Heck is a superhero. Well, no, not an actual superhero – not unless you count getting her kids out the door for school every morning as a superfeat. Middle-aged, middle class and living in the middle of the country, this harried wife and working mother of three uses her wry wit and sense of humor to try to get her family through each day intact. Frankie has a job selling cars at the town's only surviving car dealer; her husband, Mike, is a manager at the local quarry. In between juggling shifts and picking up fast food dinners eaten in front of the TV, Frankie and Mike raise their kids with love and solid Midwestern practicality. Axl is the oldest, a teenage jock who eats the family out of house and home and walks around in his underwear. Then there's Sue, their extraordinarily ordinary pre-teen daughter who fails at everything she tries with great gusto. Brick, the youngest son, is an odd kid whose best friend is his backpack. Together, they're putting The Middle on the map.
The Buzz: Seeing Patricia Heaton playing a mom again is one of those "all's right with the world" TV moments (if it takes a second to acclimate yourself to seeing Neil Flynn playing someone other than a janitor, just remember that he played Lindsay Lohan's dad in "Mean Girls"), and although her role as a harried mom isn't that different here than it was on "Raymond," it's been structured to make her the star of this show.
Pilot Highlight: When Frankie and Mike have to attend a parent-teacher conference about Brick's eccentricities, which features a montage of his more interesting moments at school and closes with Mike sighing, "I just hope he's weird enough that our insurance covers it."
Bottom Line: Although the title of this show refers to the fact that it takes place in Indiana, i.e. middle America, it also feels like a not-coincidental tribute to "Malcolm in the Middle," given the similarity in feel between the two series. (The difference, of course, is that Frankie is actually a halfway-decent, generally well-intentioned mother.) If you liked that show, then you'll like this one, too.
Modern Family (Wed., Sept. 23 @ 9:00 PM, ABC)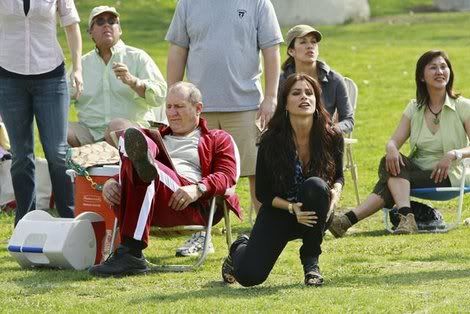 The competition: "Criminal Minds" (CBS), "Law and Order: Special Victims Unit" (NBC), "Glee" (Fox), "The Beautiful Life" (The CW)
Starring: Ed O'Neill, Sofia Vergara, Jesse Tyler Ferguson, Eric Stonestreet, Ty Burrell, Julie Bowen, Sarah Hyland, Rico Rodriguez, Nolan Gould, Ariel Winter
Producers: Steven Levitan and Christopher Lloyd ("Back to You," "Frasier"), Jason Winer
Network's Description: Today's American families come in all shapes and sizes. The cookie cutter mold of man + wife + 2.5 kids is a thing of the past, as it becomes quickly apparent in this bird's eye view, which takes an honest and often hilarious look at the composition and complexity of family life in 2009. Take for example Phil and Claire, two parents who want to have that open, healthy, honest relationship with their three kids. It's not always easy, especially when you have a teenage daughter who's growing up a little fast, a too-smart-for-her-own-good middle daughter and a rambunctious boy. On top of that, Phil wants to be the "cool dad," while Claire is just trying her best to run a tight ship, determined not to let her kids have the rebellious childhood she had. Then there's Jay, a true guys' guy who is having a bit of mid-life crisis. Jay has found a much younger wife, Gloria, who has become the center of his world. She's a passionate and sassy divorcee who comes with an 11-year-old son, Manny. Already taking notice of girls and a hopeless romantic, Manny is as passionate as his mom and spends his time daydreaming and writing poetry. His new step-father isn't altogether comfortable with the sensitive stuff and would like to toughen Manny up. But that's only one of Jay's challenges. The biggest is that people often mistake him for Gloria's father, not her husband. And lastly there's Mitchell and his partner of five years, Cameron. They've just taken that amazing 'next step' by adopting a child together from Vietnam. Cameron has a wonderfully big personality and maybe a flare for the dramatic, whereas Mitchell is the more serious of the two. But they balance each other out and are already doting fathers. Life, it seems, is neither tidy, politically correct or in any way predictable. For these three families, it turns out, are not three but one… one big, blended family, with Jay the patriarch and Claire & Mitchell his grown kids. Yet it's just such surprises that make things so interesting in this window into the sometimes warm, sometimes twisted embrace of the modern family.
The Buzz: After "Parks and Recreation" debuted to a lot of muttering about how it was virtually a carbon copy of "The Office," you wouldn't think a new mockumentary-styled sitcom would have a shot, but the diversity of the characters (and the comedic styles of the cast) and the variety of topics from which the show's writers can mine laughs are considerable.
Pilot Highlight: When Cameron proceeds to totally and utterly disprove Mitchell's assertion that his boyfriend is "not that dramatic." You wouldn't think you could get that big a laugh from a spotlight, but it turns out you can.
Bottom Line: Not only is there going to be a tussle between this series and "Better Off Ted" for the title of Funniest ABC Sitcom, but "Modern Family" comes within a few laughs of tying "Community" for the award of Best New Series.
Cougar Town (Wed., Sept. 23 @ 9:30 PM, ABC)
The competition: "Criminal Minds" (CBS), "Law and Order: Special Victims Unit" (NBC), "Glee" (Fox), "The Beautiful Life" (The CW)
Starring: Courteney Cox, Busy Philipps, Dan Byrd, Christa Miller, Josh Hopkins, Ian Gomez, Brian Van Holt
Producers: Bill Lawrence and Kevin Biegel ("Scrubs") Courteney Cox and David Arquette ("Dirt")
Network's Description: Jules is a recently divorced single mother exploring the honest truths about dating and aging in our beauty and youth obsessed culture. While most women in their twenties go through life experiencing the challenges and often humorous pitfalls of meeting men, Jules took on the responsibilities of marriage and raising a son. Now in her forties, she embarks on a journey to self-discovery whilst surrounded by fellow divorcees and singletons eager to live or re-live a time gone by. Along for the journey are her friends and family: Laurie, the younger, feisty co-worker who encourages her to get out there and have some fun; Ellie, the sarcastic, unapologetic confidante content with her life and marriage to her average, but loveable husband, Andy; ex-husband Bobby, a classic under-achiever who'll test her patience as they attempt to raise their teenage son, Travis; and newly divorced neighbor Grayson, who proves to be a catalyst of sorts for Jules.
The Buzz: The combination of bringing Courtney Cox back to her sitcom roots and pairing her with "Scrubs" creator Bill Lawrence has comedy fans chomping at the bit to see what will come forth from the collaboration, but there's a bit of backlash about the show's title…and by "a bit," I mean that it seems to be all anyone wants to talk about. (I had no idea that people loathed the term "cougar" so much; it always struck me as sexy and therefore ostensibly complimentary.) Whether it'll bite Bill on the ass and keep folks away or bring in a crowd to see what all the fuss is about, only time will tell.
Pilot Highlight: There are several involving Cox, including Jules' inability to hold her liquor, her post-coital bliss, and the ongoing storyline about the advertising campaign for her work as a real estate agent, but Dan Byrd's work throughout the show is a reminder than his work on "Aliens in America" was no comedic fluke.
Bottom Line: The story of Jules's life and times has the potential to make the series into a better "Sex and the City" successor than either "Cashmere Jungle" or "Lipstick Mafia" (yes, I know I mixed those up, but, really, does it matter?), and the dysfunctional dynamic makes it a perfect show to follow "Modern Family." It's already funny, but the potential for growth is considerable. Here's hoping it gets the chance to evolve.
Eastwick (Wed., Sept. 23 @ 10:00 PM, ABC)
The competition: "CSI: New York" (CBS), "The Jay Leno Show" (NBC)
Starring: Ashley Benson, Jon Bernthal, Veronica Cartwright, Jaime Ray Newman, Lindsay Price, Rebecca Romijn, Sara Rue, Johann Urb, Paul Gross
Producers: Maggie Friedman ("Once and Again"), David S. Rosenthal ("Gilmore Girls"), Michael Katleman ("Life on Mars"), Nancy Won ("Brothers & Sisters"), Chris Dingess ("Reaper"), Marc David Alpert ("Buffy the Vampire Slayer")
Network's Description: In the seaside village of Eastwick, three very different women are about to discover some bewitching talents they never knew they had. And once they get together– watch out. Something wicked their way comes. There was a time when Roxanne, Kat and Joanna didn't get along because of their preconceived notions of each other. Roxie was the extrovert artist, Kat the overworked wife and mom, and Joanna the wallflower local reporter. But after a weird encounter in the park and a few martinis, these three women have suddenly become fast friends. Together, they wish for their lives to change. And that's when the mysterious Darryl Van Horne arrives in town. His wealth, charisma and bad boy sex appeal are an irresistible combination for the three ladies. Mysteriously, he helps them discover their unique powers in ways they never could have imagined. But by igniting their hearts' desires, he might just be opening Pandora's Box.
The free-spirited and artistic widow Roxanne lives by her own rules; with a much younger boyfriend and a cash flow problem, she doesn't exactly cultivate favor among her neighbors. But Darryl's arrival in Eastwick seems to indicate that a change for the better is coming for Roxanne and her teen-aged daughter, Mia. What doesn't change are Roxie's vivid dreams, which may be premonitions for an exciting but dangerous future. Joanna just wishes she could shut her mouth sometimes, especially as the most inappropriate words spill out at the most inappropriate times. But Darryl tells this uptight, bespectacled reporter that, if she would just look someone straight in the eye, she can give a proper voice to what she wants… and get it. To her shock, it works – namely on her longtime crush, Will. But is it real? Kat wants a change in her life. A nurse, she possesses natural healing abilities and has an uncanny green thumb. But her powers can be destructive too, as she discovers when Raymond, her unemployed husband who spends his days observing life from a hammock with a can of beer, becomes their unintentional target.
As these enchanting women realize their talents, it doesn't necessarily bode well for some of the locals. Darryl's wealth stirs the pot just as Eastwick is going through tough times. When he quickly buys up the local businesses, including the town's newspaper, candle factory and a long-empty mansion, the locals become understandably curious about just who Darryl Van Horne is. Among the curious is Joanna's co-worker and best friend, Penny. Since Darryl appeared on the scene, Joanna's been spending more and more time with Kat and Roxie – which means less time with Penny. Left behind, she decides to investigate the man who's stolen her friend. Bun, the head of the Eastwick Historical Society, is like the fun and kooky aunt that Roxie never had. When Bun suddenly plunges into a coma at the very moment the three women spark a connection, waking only to blurt a bizarre warning about Darryl, it becomes clear that she may be a key to his mystery. Eastwick is turned upside down as these enchanting women come into their own, but it's still the best thing to happen to this small New England town in centuries.
The Buzz: Come on, you're wondering the same thing I am: "Who thought it was a good idea to make a series out of a 1987 movie (based on a 1984 novel)?" Probably the same people who thought it was a good idea to heavily utilize the theme from "True Blood" when offering up the promo reel for this series during the TCA tour. In other words, it's a sketchy idea to start with, and now that it's come to fruition, no one really seems to know how to promote it. Not a good sign.
Pilot Highlight: It probably doesn't speak well of the series that my favorite moments came not from one of the leads but, rather, from Veronica Cartwright, but as Bun, the longtime resident of Eastwick who foretells doom and gloom in the wake of Darryl's arrival, every moment she's onscreen – first in the park, then in the hospital – is a great moment.
Bottom Line: I wanted to like the show, just because of the ensemble and the potential for spookiness, but if the series follows the pilot's lead and maintains the heavy-handed "Desperate Housewives Have Magic Sex in a Small Town" vibe (like, say, the discussion about the size of Darryl's package), I can't imagine watching beyond more than another episode or two.
Flash Forward (Thurs., Sept. 24 @ 8:00 PM, ABC)
The competition: "Survivor" (CBS), "SNL Weekend Update" (Sept. 17 – Oct. 1) / "Community" (Oct. 8 onward) and "Parks and Recreation" (NBC), "Bones" (Fox), "The Vampire Diaries" (The CW)
Starring: Joseph Fiennes, John Cho, Jack Davenport, Zachary Knighton, Peyton List, Dominic Monaghan, Brían O'Byrne, Courtney B. Vance, Sonya Walger, Christine Woods
Producers: David S. Goyer and Brannon Braga ("Threshold"), Marc Guggenheim ("Eli Stone"), Jessika Borsiczky Goyer ("Revelations")
Network's Description: What would you do if you were given a glimpse of the future? Would you accept what you saw and live life to its fullest, or would you do everything in your power to change your destiny? When the world's population is given a glimpse of their future, it forces everyone to come to grips with whether their destinies can be fulfilled or avoided. It's just another normal day in Los Angeles. FBI agent Mark Benford and his partner, Demetri Noh, are in the midst of a car chase monitored by their boss, Stanford Wedeck and colleague Janis Hawk; Mark's wife, Dr. Olivia Benford, is in the middle of surgery; Dr. Bryce Varley is weighing a potentially life-ending decision; Mark's friend, Aaron Stark, is working high above the ground on power lines; and Nicole — baby-sitter to Mark and Olivia's daughter, Charlie — is in the throes of passion with her boyfriend when suddenly and without warning, every person on Earth blacks out for two minutes and seventeen seconds and sees a series of events from their own future, taking place on April 29, 2010 at 10:00 p.m., Pacific Time. For some the future will be joyous and hopeful; for others, shockingly unexpected; and for a few, it simply doesn't seem to exist. Everyone in the world will eventually begin chronicling what they saw in their flashforwards on a worldwide website — the Mosaic Collective — that will further draw people together. And some of the flashforwards just might help Mark and his colleagues piece together the cause of the blackout. Knowing their fate will alter each person's life in one way or another and poses the questions: Can destiny be changed? And by changing just one destiny, what effect would that have on those of others?
The Buzz: How do the words "the next 'Lost'" grab you? Not that we haven't heard that kind of bold chatter before, but this is a series with a mysterious premise…well, unless you've read the book, anyway…and the kind of unfolding mythology which should – theoretically, at least – keep viewers returning week after week.
Pilot Highlight: The segment when we see what has happened to the world at large as a result of everyone suddenly losing consciousness for two minutes and seventeen seconds, which proceeds to set the rest of the episode up for a gripping mystery, namely, "What the hell just happened?"
Bottom Line: Best drama of the new season, filled with action, intrigue, and a strong ensemble cast. Count on a lot of viewing parties come April 29, 2010.