God bless the TCA Press Tour, where the television industry gives critics from throughout North America the opportunity to play with the folks who live and work in Hollywood. The tour allows us a remarkable amount of access to the stars, producers, directors, and writers of the various shows currently taking up residence on the various cable and broadcast networks. Yes, while I may spend 48 weeks out of the year feeling like a nobody, for those four weeks – two in the summer, two in the winter – which are taken up by the tour, I'm at least made to feel like I'm a somebody. (Really, though, I'm not anybody.)
This was the first time the summer tour had been held after Comic-Con rather than before, so there was a certain amount of grumbling about the fact that the fans were getting a certain amount of information that would've ordinarily gone to the critics first, but it must be said that the networks did a pretty good job of pacifying us. And, besides, aren't the fans supposed to come first, anyway?
Although the content that I managed to accrue during the course of the tour will continue to come your way for quite some time to come, what you see before you is a summary of the highs and lows of the event, mixing stories you may have already read on Premium Hollywood with many that I simply haven't had a chance to discuss yet. As ever, it was a heck of a good time, full of the kind of moments that leave me grateful that I managed to get that journalism degree from Averett College back in 1992, pleased as punch that Bullz-Eye and Premium Hollywood have given me the opportunity to cover the tour, and, most of all, that there are lot of great readers out there who seem to enjoy the tales I bring back from these strange TCA adventures that I've embarked upon.
Let's get started, shall we?
Most Enthralling Panel by a Cable Network: "P.O.V. – Patti Smith: Dream of Life," PBS.
As someone who has spent the majority of his journalistic career as a music critic (and, even before that, spent a decent chunk of time as a record store clerk), I was easily as excited about this panel as anything else on the schedule. I mean, c'mon, Patti Smith? She's a legend…and the audience treated her as such: the questions were well-considered, and in turn, Patti's answers were well-constructed, informative, and entertaining. Despite my excitement, I had somehow developed an expectation that she might be reserved and, indeed, perhaps a bit prickly with her responses, but she was smiling and laughing and enjoying herself. When she broke out her guitar at the end of the Q&A and proceeded to favor us with a couple of songs, I dare say I wasn't the only one who was completely mesmerized. After Patti's performance, we absconded to a PBS-sponsored cocktail party, where writer Marc Allan – a veteran attendee of the TCA Tour – said that this might've been the single best panel he's ever attended. I don't know if time has tempered the immediacy of his reaction, but the more I think about it, the more I think he could well be right.
Funniest Panel by a Cable Network: "Bored to Death," HBO.
There was always a pretty good chance this panel was going to take this category by storm, given that it was going to feature Jason Schwartzman, Ted Danson, and Zach Galifianakis, but I had no way of knowing how hilarious the creator of the show, Jonathan Ames, was going to be. Granted, Galifianakis still won the day by offering up enough great lines to warrant my compiling a full-fledged Top 10 list of them, but it was Ames' quick wit that sent me to eBay to pick up one of his books. (I opted for "Wake Up, Sir!" If anyone else has any recommendations for others, however, I'm ready to hear them.)
Most Enjoyable Panel by a Broadcast Network: "Gordon Ramsay: Cookalong Live, Hell's Kitchen & Kitchen Nightmares," Fox.
By the time Fox took the stage for their various panels, we were well past the halfway point of the tour, and most of us had begun to hit that invisible wall which makes us start to zone out of the proceedings and just start wishing we were back home. Fortunately, Chef Ramsay decided that he wanted to add a bit of interactivity to the proceedings, and given that he was there to talk up his latest series, "Gordon Ramsay: Cookalong Live," it made complete sense. As such, he invited the audience of critics to follow a recipe and whip up the topping for their own serving of Baked Alaska. It would be fair to say that I did not do spectacularly (one look at mine, and he sadly sighed, "Oh, mate…), but it was a lot of fun nonetheless.
Most Unnecessary Panel by a Cable Network: "Dark Blue," TNT.
Not that it's a bad show, but what was the point, really? The series had already been on the air for a few weeks by the time of the panel, but not long enough for most of us to have developed any particular dedication to it yet. Worse, TNT preceded it by offering up scenes from their upcoming series, "Men of a Certain Age," starring Ray Romano, Scott Bakula, and Andre Braugher, which made us far more interested in knowing more about that show.
Most promising new broadcast network program that I didn't know anything about before going into the tour: "Life UneXpected," The CW.
Given how many programs are already premiering in the fall, I made it a point to try and avoid watching episodes of series that wouldn't be arriving until January, but that was definitely a mistake on my part when it came to "Life UneXpected," starring Kerr Smith and Sheri Applebly. The video presentation showed a sweet and intriguing new series about a teenage girl who reunites with her biological parents. It's so unlike anything else on The CW these days that Dan Fienberg of Hitfix.com asked the producers outright, "Is there any concern that you may have made this pilot for a network that doesn't exactly exist? Because this is sort of a warm, fuzzy, family, everybody-together pilot, and if you look at The CW's shows for the Fall, they're less that." But Paul McGuire, president of entertainment for The CW, assured us that "Life UneXpected" is "a series that's going to be something special à la 'Gilmore Girls,'" so let's hope the network gives us the chance to enjoy this series as long as we did that one.
Most promising new syndicated program that I didn't know anything about before going into the tour: "The Dr. Oz Show."
I can honestly say that I've never sat through an entire episode of "Oprah," so I didn't really know anything about Dr. Mehmet Oz except that he's apparently been a staple of her show for some years now. But as he told us about his new daytime series by using a PowerPoint presentation which absolutely felt like something he'd put together (rather than, say, a precisely prepared creation done by the boys in Marketing), then followed it with a Q&A session, it was remarkable how he held everyone's attention. I'll say to you what I said to my peers: if it had been a pyramid scheme, he'd have my life savings by now. It was that impressive. When his show premieres this fall, God help me, I think I might actually sign up for a TiVo season pass.
Panelist who most knew his audience, for better or worse: Ken Burns.
He was there to discuss his new PBS series about America's national parks, but before the panel began, he became aware of something that had gone missing from our tables.
"When the doors opened, there was a companion ('The National Parks: America's Best Idea') book as a centerpiece at each table," Burns noted, "and I now notice they've all disappeared. This is obviously something every table will have to deal with on your own, who among you has the book, but we want to say that we will have enough books for everybody, and if you will just leave us your card or write down your name, we will send you the book. We had hoped not to burden you with the weight of this heavy tome, but clearly there are 25 among you here — and I don't want to call anyone out — who have decided that it is not too heavy a burden to take."
Um…oops? But for the record, had my swiping of the book from the table turned into a thorny legal issue, I was already prepared to cite the case of Finders v. Keepers as precedent.
The panel that every 15-year-old girl (and, let's be honest, quite a few women of other ages)in America was jealous of me for experiencing: "The Vampire Diaries," The CW.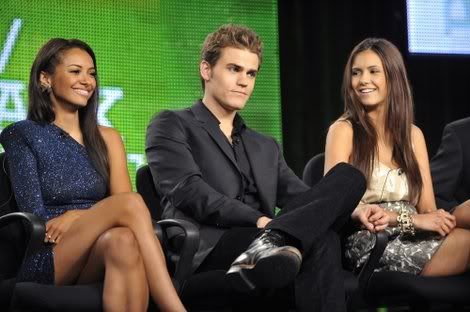 You can bet that CBS is still kicking themselves over the fact that they canceled "Moonlight" just as the combination of HBO's "True Blood" and the "Twilight" films were about to make vampires into Hollywood's hottest commodity, but at least The CW had the good sense to fast-track the development of this popular book series into a TV series. Sadly, the majority of the show's cast members – including Ian Somerhalder, late of "Lost" – weren't able to make it into Pasadena in time to attend the panel, but I feel certain that the presence of Paul Wesley would've been more than enough to keep the average teenage girl swooning throughout the proceedings.
Largest panel that really only needed to consist of one person: "Cougar Town," ABC.
During the course of his many remarks in the "Cougar Town" panel, creator Bill Lawrence joked that he'd told his cast, "Hey, you guys want to come to Pasadena while I talk for a while?" And when I say "joked," I mean he was probably being completely and totally serious. Lawrence has often said that his childhood dream was to grow up and become a talk show host, and it's never more evident than when he's holding court during one of his show's panels. It's not that he steals the show as much as it is that the critics know how entertaining he can be, so they defer to him with their questions…and when they do, he takes the ball and runs with it.
Most awesome visit to the set of a network show: "The Office." I sat at Michael Scott's desk, I sat at what used to be Pam's desk (she's in sales now, you know), I was given a tour of the set by Angela, and those who come to my office will now seen that I have been declared an Assistant to the Regional Manager at Dunder-Mifflin. It doesn't get much better than that.
Biggest mixed-bag visit to the set of a network show: "Bones." It's always nice to see David Boreanaz and Emily Deschanel, and it was cool to see Booth's base camp at the FBI, but we'd been promised a look at Bones's lab at the Jeffersonian and were denied as a result of filming commitments. Understandable, sure, but it was still a major bummer.
Best off-site visit that was in no way connected to the tour: I arrived early enough on the day before the tour started that I was able to go to dinner – my first-ever experience eating Ethiopian – with one of my Popdose colleagues, Jon Cummings, then attend the so-called "Girls Night Out" concert at Molly Malone's as part of the International Pop Overthrow. It was great to finally see the Paula Kelley Orchestra, but the best part of the evening was definitely the performance by Kay Hanley, late of Letters to Cleo. Sadly, she didn't break out anything from "My Friends Tigger & Pooh," but she still rocked the hell out of the joint. I was dead on my feet by the end of the night, but it was totally worth it.
Best party by a cable network: Food Network.
In addition to meeting Brian Boitano, host of the awesomely-titled series, "What Would Brian Boitano Make?", the latest round of "Iron Chef" contestants each had their own booth where they were making their signature dishes for your dining enjoyment, some of which were positively to die for. Eric Greenspan made a Tallegia grilled cheese and short rib sandwich on raisin bread that I could've eaten all night, Robert Trevino created a combination of manchego cheesecake with pata negra that blew my mind, and Jose Garces threw together a sandwich consisting of a pork belly bun with Togarashi mayonnaise that seemed to be universally praised. Great stuff all around.
Best party by a broadcast network: CBS.
The function took place at the Huntington Library, and it technically wasn't just a CBS party, since it also incorporated the folks from The CW and Showtime, but we're still going to let them have it on a technicality. I didn't get as many interviews during the festivities as I did at the other network parties, but it was so star-packed that it was hard to complain because…well, what, like I can moan about the fact that there was too much talent there? Every time I turned around, someone awesome was walking past me, from LL Cool J to John Lithgow to the cast of "The Big Bang Theory."
In addition, it was a beautiful venue…though, to be fair, just getting away from the hotel upped it a notch. (All of the other broadcast networks stayed within the grounds of the Langham, which is where the various panels took place.) The combination of all of these factors definitely made it the most memorable gathering of the second half of the tour.
Recurring trend of the tour: writers trolling for Ben Silverman one-liners. CBS's Nina Tassler replied to something he'd said about her in the past, saying, "Well, you know, I'm really just a D girl, so I wouldn't comment on that." When the topic came up during Fox's session, Peter Rice said, "I assumed you were going to ask if he was going to judge on 'Idol' next season." Bill Lawrence opened the "Cougar Town" panel by saying, "So, Ben Silverman…" (Unfortunately, he never really let loose about the man who'd headed NBC during the network's final season of "Scrubs," instead asking the rhetorical question, "Can you say 'off the record' to 230 people?") Even NBC's Angela Bromstad got an unintended laugh when she began her response about Silverman's departure by saying, "Well, I think that this has always been Ben's plan." What, to inspire half a dozen punchlines during the course of the TCA Press Tour? If so, I think it's fair to consider it a success.
Best panelist rants: Thomas Jane, during HBO's "Hung" panel.
From the moment Jane said to one critic, "Speak into the mike and tell me how you feel about my penis," it was clear that things were probably going to be interesting, and when he assured us that he prefers the word "cock" over "dick," we knew that theory was correct. But while his panel-ending comments about how he feels about prostitutes were probably in jest, our favorite moment came in the midst of his reply to a question about how he felt about the show when it was first pitched to him.
"You know, the fact is that it's all fucking fate and luck, man. This is fate and luck that we are all up here together talking to you about a show about a guy with a big dick. Right? Fate and luck. There is no reason this show should be good. The show should be bad. It's about a guy with a big dick who fucks people for money."
Nice, Thomas, very nice. You kiss Patricia Arquette with that mouth…?
Best anecdote that I heard from someone who I wasn't even interviewing at the time: Megyn Price.
When I walked up to Drew Carey so that I could revisit an earlier discussion with him about his favorite bad movies (in 2007, he assured me that "Boat Trip" was so bad that it was actually a must-see), Price – of CBS's "Rules of Engagement" – proceeded to tell a story about how she used to make a point of going to see certain shows on Broadway simply because they looked like they'd be horrible.
"David Cross and I decided that we were going to go to 'Footloose,' because we were, like, 'It's gonna be so bad that it's gonna be fun!' So we're sitting in the theater, and we decided at intermission that we were just gonna do shots. We were, like, 'It's gonna get better, because now we're all drunk!' So we go back in and we sit down, and these boys in front of us, who were, like, fifteen and were clearly there under duress from their mother, turn around and say to David, 'Hey, you're in 'Mr. Show.' We thought you were cool.' And he was so bummed for the longest time! He was, like, 'No, no, if you'll just let me explain…! I'm here ironically!'"
Cheapest thrill of the tour: Shaking hands with Robin Williams.
There's generally at least one person per press tour who leaves me feeling completely unlike a professional journalist and turns me into a total fanboy. In January, it was Ozzy Osbourne. In July, it was Robin Williams. I had a fleeting moment where I had to choose between taking a photo and shaking his hand, and although the photo would've been more permanent, I went for the memory. If he hadn't been in the process of leaving, I would've told him that I'd been a fan ever since I wrote a fan letter to "Mork and Mindy" and, in return, ABC sent me a postcard with his pre-printed autograph (and Pam Dawber's, too), but in the end, I was succinct and just said, "I've been a fan for a long time." In return, he said, "Oh, thanks, man, I really appreciate it," and it's a testament to his acting abilities that he said it in such a way that it really felt like he hadn't heard the exact same thing a million times before. Or maybe he really does still enjoy having people tell him that.
Best piece of swag: Who doesn't like free stuff? Granted, the networks have cut back, so it's not like we're getting bombarded with awesome swag the way we used to, but there's still some pretty cool stuff being offered to us. I particularly liked the "Fringe" flashlight which sends out its beam in the same of a butterfly, and my daughter dug the PBS Kids tote that she's now using as her library book bag, but all told, I think the win has to go to the Dunder-Mifflin nameplate that I received after my tour of the set of "The Office."
Coolest moment of the tour for my wife: Oh, man, there was a lot of competition this year. Was it having Jim Parsons from "The Big Bang Theory" recognize her from their conversation last year? Was it getting her picture taken with Jon Hamm ("Mad Men") and Sam Trammell ("True Blood")? Or was it geeking out and getting to meet Doctor Who himself, David Tennant? I just checked with her, and she says that, since she didn't really get to talk to Tennant very much, she's going with her conversation with Parsons. But, y'know, that's her answer today. It could change tomorrow.
Coolest moment of the tour for my daughter: This was also a good tour for my daughter, in that Sofia Vassilieva thanked her for being a fan of her work in "Eloise at the Plaza" and Yeardley Smith said "hello" to her as Lisa Simpson, but as much as she enjoyed those moments, they ultimately paled in comparison to the fact that her daddy also met three residents of "Sesame Street" and asked each of them if they'd mind offering her a personal greeting.
Coolest moments of the tour for me: As I've mentioned before, it's all pretty cool to me, since I spend 48 weeks out of the year in Chesapeake, VA, and therefore don't get the opportunity to mingle with the stars on a regular basis, but with that said, what I'm particularly enjoying is the fact that some of these folks are actually starting to remember me from our previous encounters. Pauley Perrette jumped at the chance to take our picture again (in our first encounter, she demanded to hold the camera in front of us and take the shot herself, assuring me, "I'm really good at this!"), pointedly saying to the publicist who offered to take it for us, "No, no, this is our thing." Talk about surreal…but even that couldn't top the fact that, as soon as Bill Lawrence spotted me, he thrust out his hand and said, "Will, what's up? How's it going, buddy?" He then introduced me to his wife, Christa Miller, and told her about how I had met up with him at the College of William & Mary, in Williamsburg, VA, then made sure I knew that he'd be heading back to W&M again soon. Before I let him continue his rounds with the other critics, I asked if I could grab a quick shot of the two of them together, and I don't mind telling you that it's probably my favorite photo of the entire tour.
Coolest person I still haven't gotten to talk to, even after three tours: Hugh Laurie.
I did at least manage to enter his gravitational field this time, but he slipped away from the throng within fifteen minutes of the Fox function's kick-off.
Most intimidating person to talk to: Chevy Chase.
Actually, this suggests that I actually talked to him. In truth, I opened my mouth to ask a question, only to have him say that he needed take a break for a few minutes. But given that the conversation immediately prior to that involved his discussion about how he used to participate in a regular poker game with Johnny Carson, Steve Martin, Neil Simon, and Carl Reiner (not to mention the fact that I was standing close enough to him that I could've – but didn't – run my finger down the dimple in his chin), it was hard to be unaware of his place in television history. I was fully prepared to approach him later, but he never failed to be surrounded by a crowd, so it never came to pass. Oh, well, maybe next year.
Least intimidating person to talk to (and I mean that in the best possible way): Ed O'Neill.
When I arrived at the ABC party, I saw him stroll out of the main ballroom and onto the patio, so I thought, "Okay, maybe I can catch up with him out there." As it turned out, there was almost no one on the patio, and after Ed grabbed a drink from the bar and sat down, I caught his eye and raised my recorder uncertainly. He immediately waved me over, and although it ended up starting off slightly awkwardly (he'd thought I was the person who'd asked him the first question during his panel earlier in the day), we ended up having a great one-on-one chat for several minutes, talking about his new series, "Modern Family," contributing to David Faustino's online series last year, and his work with David Milch over the years. Did you know that Milch, creator of "Deadwood," had originally written the part of Al Swearengen for Ed? True story.
Most genuine celebrity: It's getting harder and harder to pick one of these, since I'm consistently discovering that a lot of celebrities are pretty genuine, but I'm gonna have to give the nod to Jim Parsons from "The Big Bang Theory." The guy is up for an Emmy this year, but he's just as nice a guy as you could possibly hope to speak with. He was at the TCA Awards, and when I saw him at the CBS party, he immediately lit up and commented how nice it was to see me again, and before he left, he made a point of coming over and asking if I would be at the Warner Brothers party later in the week. "If so," he said, "I'll see you there!"
Person Who Necessitated the Institution of a Three-Strikes-And-You're-Out Rule: Hayden Panetierre.
To put this in proper context, you must understand that, in almost twenty years of doing interviews, I don't even have anyone who's earned two strikes, but Hayden went three for three at the NBC parties I've attended over the course of my trio of summer press tours.
In 2007, I managed to ask her precisely one question, which she answered lazily before wandering away. In 2008, I waited patiently for an interview as she finished a casual conversation, and although both she and her publicist clearly saw me, they both turned and walked in the opposite direction when the conversation was over. I unintentionally but audibly said, "Oh, no, you didn't," at which point her publicist attempted to pacify me by assuring me that she had to go to the ladies room and would be back. (She wouldn't be.) This year, I decided I'd give it one more shot.
As I was steeling myself for her impending indifference, a colleague came up and said, "Do you want to double-team her?" Just as we were heading her way, another critic beat us to the punch by calling Hayden's name…and I saw Hayden's eyes roll as far back as she could muster, then turned and offered about the most fake smile imaginable, in no way hiding the "I don't want to be here, let alone answer your questions" look in her eyes. My colleague and I approached nonetheless, and we watched as several other writings entered the newly-created scrum. After the fourth or fifth time Hayden reacted to a new tape recorder as if someone was thrusting a knife at her, I finally just said, "Screw this" (albeit under my breath), and bailed out, but I got the impression that the scrum broke up not long afterward, anyway. C'mon, Hayden, if you don't want to be at the party, don't come to the party…and if you have to be at the party, then at least pretend to be civil, would you? We're not paparazzi. We're TV critics.
A buddy of mine has a far better relationship with Hayden and her publicist than I do, and he says he's going to do what he can to hook me up with a phoner with her. Despite the newly-instituted rule, I would be willing to make an exception for a one-on-one interview, mostly because it would be nice to actually confront her – politely, of course, because that's how I roll – about my experiences with her at past parties. But will I get the chance to do so? Stay tuned…