I'm a big fan of CBS's "NCIS," but I'll freely admit that I didn't get in on the ground floor. I didn't find my way into the series until the second season of the show was released onto DVD, but once I started working my way through the set, I found that it was almost impossible to stop. Ever since then, I've been making it a point of watching the show…though, of course, I'm far from the only one at this point. Back then, it was still kind of an under-the-radar series, but, really, how far under the radar can a show possibly fly when the USA Network is running three back-to-back episodes every weeknight?
This heightened off-network profile, combined with the remarkable accomplishment of having its new episodes grow in popularity with each subsequent season, is no doubt why CBS has decided that the time is finally right to gift the show's fans with a spin-off: "NCIS: Los Angeles." It's probably also why the new series has no less than three instantly recognizable faces – Chris O'Donnell, LL Cool J, and Oscar winner Linda Hunt – within its cast.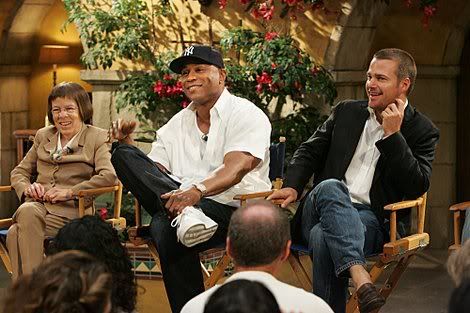 It's gotta be tough to break out from a series like "NCIS," where the fans are about as die-hard as they come, but at least the cast is aware of their responsibilities.
"My biggest concern, and I think for most of us, is to please the current 'NCIS' fans first and foremost, because they're very loyal fans and a huge following," said O'Donnell. "And, you know, if new people tune into the show, that's great, but I feel more pressure to live up to their expectations than I do maybe to the network or the studio expectations, to be honest with you. I was overwhelmed how many people were watching the show. It was a similar reaction to when I went on 'Grey's Anatomy,' and I would go through the carpool line, and every mom wanted to know what was happening in the show. Everywhere I've gone this summer, you know, it's just…I'm overwhelmed. People that I don't even think watch TV are coming up to me. 'What's going to happen? I love her. I love him.' It's amazing. You look at the numbers there, and everyone says, 'Well, his TV numbers are pulling back, and not as many people are watching network TV.' I've got to tell you, so many people are watching 'NCIS.' It's amazing."
"I think the main thing for us is just approaching it with humility and being clear that nothing is guaranteed and that our job is to do the best work that we can," said Mr. Cool J. "We depend on Shane (Brennan, the show's executive producer) to bring the best stories to the table, and then we will try to bring those stories to life in a great way. And I think that that, for us, is the main focus. Obviously, we want to maintain the current 'NCIS' fan base and all of those people that are joining the show. We don't want to, you know, make them have an allergic reaction to what we're doing on screen. But I think it's just about having fun. You know, the pressure part of it…I don't think anyone here is being arrogant. We're not making any guarantees or predictions for the playoffs. We're cool. We just want to do a great show, and we hope that you guys like it. That's the real thing."
It's pretty clear that Brennan has no intention of letting the fans down, either, and as the man who's been helming the original series since the departure of Don Bellisario, he's definitely someone whose vision can be trusted.
"What we have on 'NCIS' is a show that's now in its seventh season, it has an amazing fan base, it's got an outstanding cast, and at its core is that wonderful mix of drama, emotion, and humor," said Brennan. "And for us to attempt to do 'NCIS: Los Angeles' without those three key ingredients would be crazy. So that's what's been so important to us: to take those things and transfer them into the new show. But from that point on, everything else is different. We are on the West Coast, it's sunny California, and there's a whole different vibe out here, so we're playing those differences. We all have a different way of getting on when we are in the workplace, so what the audience will see is this bunch of characters working together under the intense pressure of doing what they do, and finding the humor in doing that. To my mind, I think the audience is going to say, 'Yes, this is familiar, but these characters are different, and we love them in a very different way.' It's my very strong belief that that's what's going to happen. These guys are phenomenal, and the chemistry is just startling."
Brennan isn't kidding. This cast hasn't been together as a complete unit for very long, but to watch them interact with each other during the Q&A, you could feel the combination of respect for each other as actors and the burgeoning friendship amongst the bunch of them. During the CBS party later in the week, I talked with Daniela Ruah, who plays Special Agent Kensi Blye, and while it was really sweet the way she was asking me if I knew about Linda Hunt's work and how awesome an actress she is, she also made a point of saying that no one in the cast is cooler than any other to work with, because they're all such professionals.
This seems like a perfect juncture to offer up a story that Ms. Hunt regaled us with during the Q&A. It was actually a spontaneous moment that was unrelated to the question at hand, but I dare say that it charmed even the most curmudgeonly members of the audience.
"On the first day, I was absolutely beside myself, because I had this long list of sort of specs for a new up-to-date cell phone that was absolutely the end, and I had memorized it, but I knew I could never (reel it off) like that. Jimmy Whitmore was directing, and he said, 'Don't worry about it, we will try when we get to the end of this scene to see where you are with this, because if you could say it right off the top of your head, it would be wonderful, but we won't die if that doesn't happen.' So we went along, and we had a difficult time, but we got through, we had a good time at the end, and, you know, we had gotten to know each other in the process a little bit.

So when Jimmy came to me and said, 'Okay, now it's time to try this list,' Chris picked up the little cheat sheet that I had, and he got a piece of Scotch tape, and he Scotch-taped it to his chest. His back was to the camera. So every time I thought, 'Oh, I don't know what the next thing is,' I just looked at Chris's chest. It was wonderful. It's one of the best things that's ever happened to me.

I know I'm getting off subject here, but that's just an example of the way, in the first reading, we have begun to work together as a team, you know, just out of sheer necessity. It's wonderful how it works."
Sweetest. Story. Ever.
(It was made all the more sweet by O'Donnell's embarrassed fidgeting next to her.)
I had a chance to tour the show's set last week, and, man, let me tell you: it's awesome. More specifically, it's unique, in that the team has set up shop in an old Spanish mission, of all things. I couldn't take any shots myself, but CBS's publicity squad – including my buddy Katie, who was responsible for hooking Premium Hollywood up with our "Harper's Island" victims interviews – has provided us with some photos that I can share with you:
Pretty awesome, no?
Executive producer Shane Brennan explained that "the ops center and the area that we were in during the spin-off, 'Legend 1' and '2' was compromised after Callen was shot, so they have picked up and they have moved, and they have just moved into this venue. They've been here about three months."
The most eye-catching thing about the set is the combination of old (the mission itself) and new (the state-of-the-art computer system upstairs). "We thought the technology was cool and different," said Brennan, "so we exposed the audience to that. What they will see on 'NCIS: Los Angeles' is everything, the full thing: sunny California, the great rapport, the humor between these characters, the mystery of solving crimes through the undercover world, and the technology."
Okay, I feel like I've been going on forever here, so let's start the wrap-up process by giving you a bit of an idea what you can expect from the series.
First off, Rocky Carroll will serve as the lynchpin between the two "NCIS" series, and he's honored to hold that position, especially given that he's only just finished his first full season playing Director Vance. He also doesn't seem overly concerned about the fact that the two shows have slightly different sensibilities. If anything, he seems to view it as a challenge.
"The dynamics are different, the characters are different, but, you know, it's the same character that's crossed over," said Carroll. "I have decided for myself as the actor that I'm playing my own evil twin on this show, so we'll see how that works out, but I love it. Like Shane mentioned earlier, it is Los Angeles, it's a different vibe, and the dynamics will be a lot different. We may even see a much lighter, more interesting side, especially with the relationship that's forming between Hetty (Linda Hunt's character) and Vance. I think it will be a really nice change of pace for him."
Brennan also dropped the news that we'd be seeing Pauley Perrette turn up in the show's second episode, saying, "Abby does a crossover, and she's directly involved in helping us solve the case." I must forewarn you, however, that I talked to Pauley during the CBS party, and she very much downplayed the length of her appearance. (To be fair, Brennan didn't take long to downplay it himself, later describing it only as "a fun little cameo.")
Despite the number of explosions in the bits of the show we've seen thus far, Brennan assures us that there's a narrative drive to the show. "Obviously, the first episodes that we make, we want to show the audience what we're capable of," he said. "We're flexing our muscle, but we have other stories as well. The third episode gets very personal for Sam Hanna, who was a former SEAL and becomes involved with some of his old friends, so we will do all sorts of stories. There is a strong action element, though, in all of them. What you have really with this show is, I guess, two guys in particular, Sam Hanna and Callen, who work really well together. There's a repartee, a lot of banter, and in the great tradition of those kinds of shows, they tend to get out and kick ass."
Lastly, you may remember that when we last left Chris O'Donnell's character, Callen, at the end of "Legend 2," he was lying bloody on the sidewalk. When we see him next, approximately the same amount of time has passed in his world as has passed in ours: about four months. "It's Callen's first day back on the job," O'Donnell says of the premiere episode, "and we see his scars. We literally see his scars. And he rolls into this new venue, and away we go from there. Will we answer what happened to him and how it happened and why? Yes, and in the very best tradition of 'NCIS,' you'll just have to wait.
"It will be a sweeps episode," O'Donnell said, with a grin. "I'll give you that."
And I'll give the last word here to LL Cool J, who refused to let the assembled TV critics get away until he'd made a final declaration to us all:
"I think it's important…and this is the last thing…but I would like to just thank the original 'NCIS' cast," said LL. "I think that Mark Harmon and those guys deserve a mention and some respect. I had a great conversation with Mark, and he embraced me and was very, very nice to me and us on the pilot. And I think that we should at least acknowledge that this is their sister show. We appreciate and respect them, and we want to try to keep the franchise alive. I think that should be said. Thank you."
No, thank you, Mr. Cool J.