And Upfronts Week rolls on, with the American Broadcasting Company offering up their slate for the new season. Sadly, as Mr. Paulsen revealed yesterday, "Samantha Who?" will not be returning for Season 3 (and that rather depresses me, as I quite liked the show), but on the up side, "Better Off Ted" did score another season. Woo-hoo! You can view the network's fall schedule below, along with info on the new shows and details on what to expect come the mid-season.
Monday:
8:00 PM – Dancing with the Stars
10:00 PM – Castle
Tuesday:
8:00 PM – Shark Tank
From Mark Burnett, executive producer of "Survivor" and "The Apprentice," and Sony Pictures Television comes "Shark Tank," an exciting new reality show that gives budding entrepreneurs the chance to make their dreams come true and become successful – and possibly wealthy – business people. But the entrepreneurs must first try to convince five tough, multi-millionaire tycoons to part with their own hard-earned cash and give them the funding they need to jumpstart their ideas.
9:00 PM – Dancing with the Stars Results Show
10:00 PM – The Forgotten
From executive producer Jerry Bruckheimer comes a crime show in which a team of dedicated amateurs work on cases involving unidentified victims. After the police have given up, this group must first solve the puzzle of the victim's identity in order to then help catch the killer. They work to give the deceased back their names, lest they become — The Forgotten. Stars Rupert Penry-Jones as Alex, Reiko Aylesworth as Linda, Michelle Borth as Candace, Bob Stephenson as Walter, Anthony Carrigan as Tyler and Rochelle Aytes as Detective Grace Russell.
Wednesday:
8:00 PM – Hank
Kelsey Grammer stars in this timely comedy as Hank Pryor, a titan of industry who suddenly finds himself out of work, almost out of money and around a wife and kids for whom he's never made much time. Despite his recent setbacks, however, Hank is confident he's on the road back to the top. He knows he is destined to return to greatness. And he is — just not the greatness he imagines. Also stars Melinda McGraw as Tilly, David Koechner as Grady, Macey Cruthird as Maddie and Ryan Wynott as Henry.
8:30 PM – The Middle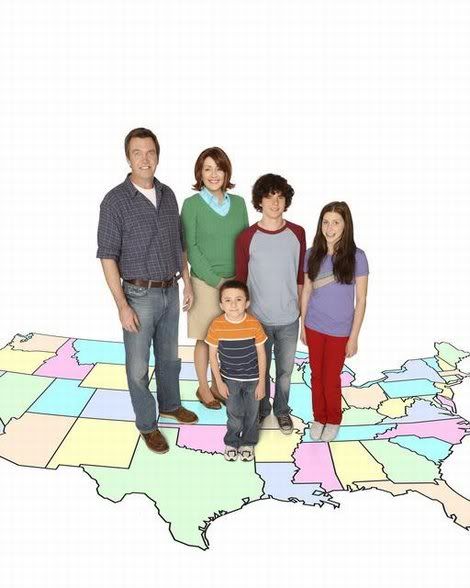 The Hecks are a middle class family living in the middle of Indiana, just trying to keep their heads above water. Emmy-winner Patricia Heaton stars as a wife and mother of three in a comedy about raising a family and lowering your expectations. Also stars Neil Flynn as Mike, Eden Sher as Sue, Atticus Shaffer as Brick and Charlie McDermott as Axel.
9:00 PM – Modern Family
Today's American families come in all shapes and sizes. Shot from the perspective of an unseen documentary filmmaker, this comedy takes a modern look at the complications that come with being a family in 2009. Stars Ed O'Neill as Jay, Sofía Vergara as Gloria, Jesse Tyler Ferguson as Mitchell, Eric Stonestreet as Cameron, Ty Burrell as Phil, Julie Bowen as Claire, Sarah Hyland as Haley, Rico Rodriguez as Manny, Nolan Gould as Luke and Ariel Winter as Alex.
9:30 PM – Cougar Town
Courteney Cox stars as a recently divorced single mother exploring the honest truths about dating and aging in our beauty and youth obsessed culture. Also stars Christa Miller as Elle, Busy Philipps as Laurie, Dan Byrd as Travis, Brian Van Holt as Bobby, Josh Hopkins as Grayson and Ian Gomez as Andy.
10:00 PM – Eastwick
Three very different women find themselves drawn together by a mysterious man who unleashes unique powers in each of them, and this small New England town will never be the same. The series is based on the popular movie "The Witches of Eastwick" and on the novel of the same title by John Updike. Stars Rebecca Romijn as Roxie Torcoletti, Lindsay Price as Joanna Frankel, Jamie Ray Newman as Kat Gardener, Paul Gross as Darryl Van Horne, Sara Rue as Penny, Veronica Cartwright as Bun, Johann Urb as Will, Jon Bernthal as Raymond and Ashley Benson as Mia.
Thursday:
8:00 PM – Flash Forward
When a mysterious event causes the entire world to black out, humanity is given a glimpse into its near future, and every man, woman and child is forced to come to grips with whether their destinies can be avoided or fulfilled. Adapting award-winning author Robert J. Sawyer's revolutionary novel, executive producers David S. Goyer (visionary co-writer of "Batman Begins" and "The Dark Knight") and Brannon Braga ("24," "Star Trek: Enterprise") invite you to embark on a journey to answer the question, "if you knew what your future held, what would you do?" Stars Joseph Fiennes as Mark Benford, John Cho as Demetri Noh, Jack Davenport as Lloyd Simcoe, Sonya Walger as Olivia Benford, Courtney B. Vance as Stan Wedeck, Brian O'Byrne as Aaron Stark, Christine Woods as Janis Hawk, Zachary Knighton as Bryce Varley and Peyton List as Nicole.
9:00 PM – Grey's Anatomy
10:00 PM – Private Practice

Friday:
8:00 PM – Wife Swap
9:00 PM – Supernanny
10:00 PM – 20/20
Sunday:
7:00 PM – America's Funniest Home Videos
8:00 PM – Extreme Makeover: Home Edition
9:00 PM – Desperate Housewives
10:00 PM – Brothers and Sisters
Debuting / returning at midseason:
* The Bachelor (to return after "Dancing with the Stars" completes its run)
* Better Off Ted (to return after "Dancing with the Stars Results Show" completes its run)
* The Deep End
Each year one of LA's most prestigious law firms recruits four young lawyers from the finest law schools worldwide. The only way for these first-years to survive is to support each other…even as they compete against one another in the cutthroat arena of high-end law. Sex, greed, romance, betrayal – it's all part of being a first year associate at Sterling Law. Stars Matt Long as Dylan Hewitt, Ben Lawson as Liam Priory, Tina Majorino as Addy Fisher, Norbert Leo Butz as Rowdy Kaiser, Leah Pipes as Beth Bancroft, Billy Zane as Cliff Huddle, Sherri Saum as Susan Oppenheim and Clancy Brown as Hart Sterling.
* Happy Town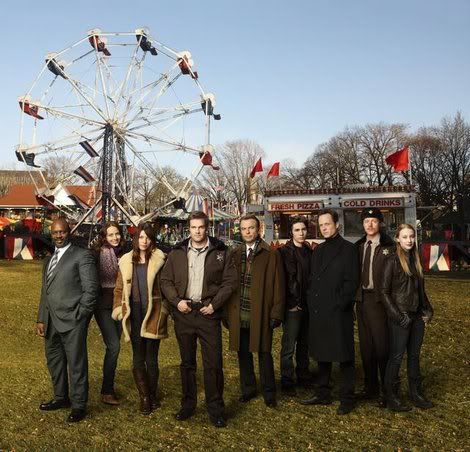 Haplin, Minnesota, "Happy Town," is approaching almost a decade of peace after being riddled for years by unsolved kidnappings. But in the wake of this small town's first crime in seven years, some dark truths are being revealed about some familiar faces. They say every town has its secrets… that doesn't even begin to describe Happy Town. Stars Geoff Stults as Tommy Conroy, Lauren German as Henley, Amy Acker as Rachel Conroy, Dean Winters as John Haplin, John Patrick Amedori as Andrew Haplin, Sarah Gadon as Georgia Bravin, Jay Paulson as Larry 'Root Beer' Rogers, Robert Wisdom as Roger Hobbes and Sam Neill as Merritt Grieves.
* Lost (to return in 2010)
* Scrubs (to return after "Dancing with the Stars Results Show" completes its run)
* V
A re-imagining of the 1980's miniseries about the world's first encounter with an alien race in which the aliens call themselves The Visitors, and have a seemingly friendly agenda that may or may not be a cover for something more malevolent. Stars Elizabeth Mitchell as Erica Evans, Morris Chestnut as Ryan Nichols, Joel Gretsch as Father Jack Landry, Lourdes Benedicto as Valerie Stevens, Logan Huffman as Tyler Evans, Laura Vandervoort as Lisa, with Morena Baccarin as Anna and Scott Wolf as Chad Decker.
Returning at an unspecified date:
* True Beauty
* Ugly Betty