Last night "American Idol" Season 8 on FOX kicked into high gear with 12 of the final 36 contestants performing in front of 25 million TV viewers, a live audience, the four celebrity judges and Ryan Seacrest. And since it's the eighth season, we can forgive them for a few awkward moments and some bad technical issues, right? Wrong! Okay, it's live TV and most of these singers have never performed on a stage of this magnitude, so it's okay if some of them stumble on their words when Seacrest sticks a microphone in their face. But there were some bad sound problems, and even a moment where a video montage of the wrong contestant forced Seacrest to improvise. He does that really well, but he shouldn't have to. I have a feeling someone is getting fired today, or slapped with a written warning.
Anyway, things are different this season since they added a fourth judge–Kara DioGuardi. This was inevitably going to make the comments from the panel take even more time. Also, of the twelve performing each of the first three Tuesdays of live shooting, only three make it through to the finals–one guy, one girl, and the next highest vote getter. What does this mean? It means you have to be damn good the first time out and you have to pick the right song, something the contestants of Idol seem to mess up with stunning regularity. After each one sang, we'd get about five minutes of judging banter and then an interview with each contestants' parents and/or spouse as soon as they came off stage. Whoever came up with this idea is likely being handed a pink slip now as well. Damn, I feel like Donald Trump today. Anyway, it was really awkward, especially for those who performed horribly…and there were a few of those.
Here is how it went down, broken down by the good performances, the in-between and the bad, as we have done before in this space.
THE GOOD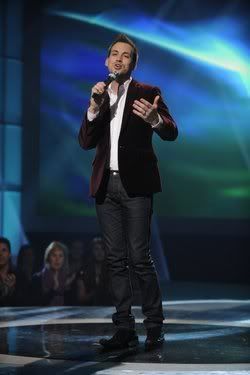 Ricky Braddy went second and he is a Nashville dude who was slinging chicken fingers before deciding to audition. But I had never seen this guy before, and neither had any of you, because the producers gave him ZERO air time in or before Hollywood. And that's a shame, because this guy is really talented. He sang Leon Russell's "Song For You" and just crushed it out of the park. Randy said it was unbelievable, Kara said Ricky "killed it," Paula mumbled something, and Simon said it was very good but that Ricky lacks "star quality," and needs to build up his own confidence.
Alexis Grace, a 21 year old mom from Memphis, sang Aretha Franklin's "Never Loved a Man" and while we all cringed at the song choice, Alexis pretty much nailed it. Randy said she found some soul, Kara said someone let the genie out of the bottle, Paula mumbed something and Simon said it was the best of the night at that point (she went third), and that she had the same confidence as Kelly Clarkson seven years ago.
Anoop Desai, aka "Anoop Dogg," sang Monica's "Angel of Mine," and while it was an odd choice and at times boring, the dude has amazing vocal chops and is the kind of contestant America loves. Randy said it was sharp and weird in spots, but still good, Kara agree with Randy, Paula mumbled something (okay, sorry, but she seems drunk again and Kara is a much better judge). What Paula correctly pointed out is that America will connect with Anoop, and Simon said it wasn't a great song choice but that Anoop has a likeability about him.
Tatiana Del Toro must have taken some Prozac, because she wasn't the hyper, giddy person we've seen so far. Or, like she pointed out, that wasn't how she really is. Okay then. Tatiana sang Whitney Houston's "Saving All My Love For You," and I was saying "uh-oh" at the same time Randy Jackson was, but she was, well, pretty awesome. Randy added that it had some great moments, Kara said "who are you?" in a good way, Paula said everyone is talking about Tatiana, good or bad, and Simon said that while she is a drama queen, it was a pretty good performance.
Danny Gokey was last night's closer and sang Mariah Carey's "Hero," a very odd song choice (do you sense a pattern?) but the guy just nailed it. Danny lost his wife about a month before his initial audition, and the adrenaline and inner heart this guy displays is unreal. Still, it wasn't his best…but I have a feeling we'll see a lot more of Danny. Randy said it was "blazing hot," Kara said it was incredible, Paula said it was stellar, and Simon said it was "good, but not fantastic."
THE IN-BETWEEN
Jackie Tohn kicked the night off by singing Elvis' "Little Less Conversation." Huh? This is a woman who has the rocker thing going on, complete with hideous spandex pants. It was okay, but not good enough at this stage to advance. Randy said he was not blown away by the vocals, Kara said Jackie needs to work on her stage presence, Paula said it was good but not perfect, and Simon said that Jackie has a good voice but that tonight's performance was gimmicky.
Brent Keith, a country boy through and through, sang "Hick Town" by Jason Aldean, obscure but kind of boring, like most of Nashville's over-produced crap. But that's another story. Brent was pretty good, but as Simon said, "forgettable." Randy said he could see Brent singing at a "chili cook-off," and that was much more of a slam than what Randy intended, I'm sure…Kara said it was a little safe, Paula said it was safe but a good country artist type song, and Simon said that Brent blew his "one shot" and added the "forgettable" tag, something I'm sure these contestants dread hearing. But he was right. Of course, Brent made some snide comment that "country fans won't forget it." Dude, trust me, they will.
Michael Sarver sang Gavin DeGraw's "I Don't Wanna Be" and it was a good choice, but I think Michael may wind up fourth or fifth in the voting. Randy said it was pitchy in spots and not great, Kara said it wasn't his best, Paula mumbled something (sorry!) and Simon said he agreed with Randy but that Michael is likeable.
THE BAD
Stevie Wright, who is cute and bubbly and was named after Stevie Nicks, had one of the worst performances I have ever seen on this show. She's young, so we can cut her some slack, but Stevie was out of her league. She sang Taylor Swift's "You Belong With Me" and her tone-deafness was accentuated by some microphone issues, or maybe that was on purpose. Randy said it was "not hot," Kara said Stevie has an identity crisis (the same judges told her to sing something youthful before, and so she did!), Paula agreed with Randy and Kara, and Simon said it was "terrible."
Casey Carlson, who Mrs. Mike and Kara both pointed out is just gorgeous, is not a very good singer, at least not at this stage. Casey sang The Police's "Everything She Does is Magic" and not only was it way off-key, but Casey has no rhythm. She looked like Elaine from "Seinfeld" trying to dance, and I'm not kidding…go watch it again. Randy said it was not good and like karaoke, Kara said it was the wrong song choice and overdone, Paula said that Casey is beautiful but didn't connect with the audience, and Simon said the singing was "atrocious."
Ann Marie Boskovich, from Nashville, sang Aretha's "Natural Woman," another bold song choice. Randy said it was a big vocal song and not a great choice, Kara agreed, Paula said it was a better performance than some of Ann Marie's previous auditions, and Simon said she is a "good hotel singer" but that's it. Yikes, but true.
Steven Fowler, who was lucky to be here after consistently forgetting lyrics, sang Michael Jackson's "Rock With You." What? Yep, it was a bad choice. Dude is a really good singer, but he kind of botched this one. Randy said it was a weird song choice, Kara said she prefers to see Steven at the piano, Paula said choosing Michael Jackson songs is the "kiss of death" (what?), and Simon said it was pointless, and a "terrible arrangement." That last comment was a slam on the band, but I can't say I disagree with Simon.
So that's it…..it always takes a few weeks to figure out who America likes and doesn't like, but with only three out of 12 moving on at this point, it's really not easy to predict. However, that's why we're here. I like Danny Gokey and either Alexis or Tatiana for the top guy and girl, respectively. For the next-highest vote, it's going to be between Alexis, Tatiana, Anoop, or Ricky, with Michael as a long-shot. We'll see what happens, but one thing is for sure…the crap will be weeded out quickly this season, and the Top 12 is going to be really talented. See you tomorrow with the results!