If you happened to catch my review of the "Keeping Up with the Kardashians: Season 1" DVD, you already know that I'm not really a fan of the series. If you're too lazy to click on the link, my feelings are probably best summed up with this line: "Watching (the show) provides one significant challenge for the viewer: trying to decide which female member of the family you want to smack the most." I did, however, walk out of the viewing experience with a certain amount of respect for Bruce Jenner…partially just because he manages to put up with everything that happens in his house, but mostly just because he looks legitimately annoyed and pissed off about it all.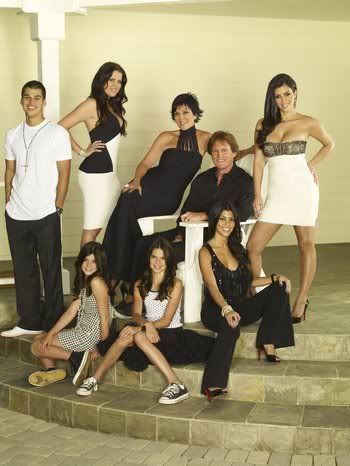 I'm not going waste space by offering up quotes from anyone else…because, honest to God, I don't understand why we should care about them…but for those of you who watch the show, I'll at least provide you with some of Jenner's comments.
When asked to choose the highs and lows from the previous two seasons, his immediate response was to say, "I'm just happy that everybody can see what I've been going through all these years, dealing with all these kids!"
From there, however, he got a bit more serious.
"I've had so many highs and lows in dealing with a very blended family," said Jenner. "I came in 18 years ago as the step-dad. We've just been through a lot. The whole family has been through a lot, from the death of their father to this and that. Our whole family has been up and down. Through the reality show, we get to show a lot of that. We may see Kim out there and Kourtney and Khloe and all the kids and doing things and this and that, but it's a family. Like any other family, we have good days, we have bad days, we have drama that we have to deal with, some days it works out great, but the bottom line is, even with all the highs and lows, we're a very tight-knit, close family. When people talk to me about the show or see them on the street, that's what they feel like.
"The best thing is to be able to work with your family," he continued, "and I think that the show has brought us all closer. You know, it's always interesting when we're done shooting and the season's done, everybody's working very hard. Kourtney's working, Kim, Khloe, Rob's going to school. Everybody's working very hard. But when we're shooting the show, we make sure there's more time together because, obviously, we're shooting the show. And it is kind of a relief at the end when we're done with the season, you know, that everybody…I think they've had enough of each other. They go 'pft,' and I don't see anybody for a while."
Okay, enough about "Keeping Up with the Kardashians." Clearly, what America is really chomping at the bit to know is whether or not Bruce has fond memories of working on "CHiPS."
"It's amazing that you would bring up something like that," he said, excitedly. "I had a lot of fun doing it, to be honest with you. And, actually, Larry Wilcox, his child goes to the same school that my daughter does, so I see Larry Wilcox quite a bit. And his son Chad was in my daughter's class. My daughter had a crush on him. But they were great experiences. I really had a lot of fun doing it. And, you know, things in television last a certain amount of time and then you move on. But I had a lot of fun doing it."
Okay, I won't lie to you: I think every critic in the room either groaned or laughed when the question about "CHiPS" was posed. But it apparently got Jenner's mind spinning, because the next thing you know, he was reminiscing about his first reality show: "Battle of the Network Stars."
"I had never even held a microphone, okay?" Jenner said, in his defense. "This was right after the (Olympic) Games, and that was like the beginning of reality television. 'Battle of the Network Stars' was reality television, the superstars and all that kind of stuff.
"I think reality television today is really very interesting," he said. "You know, with the first situations of reality, let's say, 'The Osbournes,' when that first came out and it was a big hit, I mean, it's a great opportunity for the networks and obviously people liked them. That's why they get good numbers. Honestly, I watch scripted sitcoms, and sometimes it seems very scripted. Whereas ours, you know, it's reality television. You know it's reality."
No. No, you don't.
The third season of "Keeping Up with the Kardashians" premieres in March 2009.