The good news: "In Treatment" is returning to HBO for a second season. The bad news: after the network provided us with several great photos of Gabriel Byrne to utilize along with his quotes during the panel, we were given the bad news that Mr. Byrne had come down with a nasty case of the flu and would not be in attendance after all. In a word: d'oh!
Still, we must rise above our difficulties. Though the panel contained 100% less Gabriel than originally advertised, we were at least graced by the presence of Executive Producer Steve Levinson and Executive Producer and show runner Warren Leight. But, dammit, we got these photos and we're damned well going to use them anyway! And, besides, it's not like Dr. Paul Weston isn't going to be a major topic of discussion.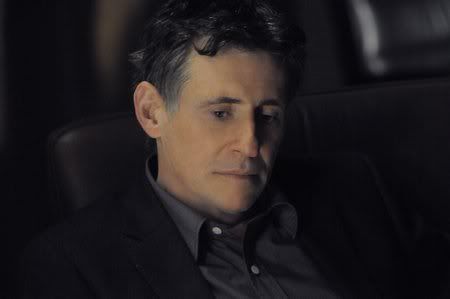 As you may or may not know, Dr. Weston's marriage has failed, resulting in a new setting for the series; possibly not coincidentally, the series itself is now being produced in New York, which is exactly where Dr. Weston is moving. Now he's practicing in a Brooklyn brownstone, baby!
"I think once we knew we were doing it there, we thought we would embrace the city and embrace the location and certainly make reference to it," said Levinson.
New York also happens to be where Gabriel Byrne himself lives. This is definitely not a coincidence.
"I've worked on shows that demand a lot of actors; this show demands more of its lead than any show
I can imagine," said Leight. "(Gabriel) is doing 35 half-hours between November and March. We do an episode every two days. He's in every shot. He's on every page. And to put that stress on somebody who's then far from home is cruel and unusual. Crueler and more unusual punishment than we normally get in the television business."
As far as what to expect from Season 2, Leight says that, in addition to the inevitability of the Doc's new martial status…or lack thereof…playing into a lot of the stories, we'll also delve more into Dr. Weston's past.
"We will be learning a lot more about his backstory this year and what happened to him as a child," said Leight, "and some of that informs his ability to relate to kids in difficult situations. Also, he is now a divorced dad and sort of an Amtrak dad who goes home on weekends, so the issues brought up taking care of this boy who's caught in a divorce are hitting home with him. In a sense, it's that awkward thing he may be better working with his kid than with his own kids. But I think given the childhood he went through, which we'll be learning about this year, there are two ways to go and extraordinary empathy was the better way. The other way is back to your serial killers and that sort of thing."
Leight also added that Glynn Turman would be returning to the series ("he's not in a good mood about last season"), as will Michelle Forbes, albeit in a limited capacity. "The marriage is over," he said, "but not all the embers have died out."
The move to New York isn't the only one for the series: instead of airing five nights a week, one episode per night, we will now get two episodes on Sunday night and three episodes on Monday night.
"The Monday-to-Friday schedule proved to be challenging for people in that you come home and there would be a half-hour," said HBO's Sue Naegle. "We found that people really watched them stacked. Some people would do a marathon on the weekends. Some people liked watching multiple episodes at a time. You know, Sunday night is our big night of programming. We love this show and wanted to support it; we thought a move to Sunday, making it easier for people to watch it in two blocks. If they want to TiVo it and parse it out, they can. But we found that people really like to dig in and get into the storylines and watch more than one at a time. So that was part of it: we wanted to make it easier for people to find it. It's a show that we obviously really believe in, and it was such an unusual pattern. I think it was difficult for people to get into the swing of it five nights a week."
The ones who did get into the swing of it, however, really got into it. Though we obviously couldn't get Byrne's own take on the matter, Leight commented that the show's star is regularly stopped on the street by folks who think that he really is a therapist…and that includes real therapists.
"Gabriel talks about getting stopped on the street of New York every day by five to ten therapists," said Leight. "They're just walking around waiting for him, I think. And, you know, I think that they feel like, 'Someone finally told our story!' I suppose 'The Bob Newhart Show' came closest before us, but they like that this has a reality to it. But, also, they're therapists. They all have advice. It's been particularly tricky. I mean, you sort of secretly wish therapists would be your friend, but it's gotten a little bit…they come after us now. They stop us on the street. You go to a party, therapists come up to you. And they want to tell you, 'You know, I'm not sure he's handling the patient the right way.' Or, 'I understand this year one of the patients has an eating disorder. You may want to take a look at a book I wrote.' They're aggressive. They're more aggressive than you would think."
The second season of "In Treatment" premieres sometime in 2009. Sorry, that's as specific as HBO got.