If you saw Bullz-Eye's Fall TV Preview, you already know that the primary reason that I selected "Gary Unmarried" as one of the top 10 shows I'm most interested in watching unfold this season is that I think Jay Mohr is funny…but, c'mon, it's about time the guy had a hit sitcom, don't you think?
The guy did his time at "Saturday Night Live," even writing a book about the experiences he suffered through as a featured player on the show (Gasping for Airtime: Two Years in the Trenches of Saturday Night Live). He survived the experience of playing a redneck's brother on "The Jeff Foxworthy Show," earned a memorably sleazy supporting role in "Jerry Maguire" which almost certainly was what led him to the starring role in the short-lived but fondly-remembered Fox sitcom, "Action." Great show, but you can't really call a 13-episode run a hit. And since then, Mohr's career has mostly been an ongoing series of voiceover work, small film roles, one-off guest spots on various TV series, and…well, okay, yeah, he was a regular on "Ghost Whisperer" for the better part of two years, but serving as third fiddle to Jennifer Love Hewitt's breasts is hardly playing to the guy's strengths as a comedian.
Please.
Don't make Jay Mohr beg.
Just make "Gary Unmarried" a hit.
If there's one thing that "Gary Unmarried" has going for it, it's that it has a very pedestrian premise. That adjective might be considered a criticism by most critics, but as I use the word here, what I'm trying to express is that it's not going to challenge middle America…and that means it has a very significant chance of success.
Gary Brooks is a painting contractor who's recently become single and is still adapting to the process of dating while having joint custody of his children, Louise (Kathryn Newton) and Todd (Ryan Malgarini). He also hasn't yet gotten the hang of interacting with his obnoxiously health-conscious ex-wife, Alison (Paula Marshall), when she drops the kids off at his place, so you can imagine about how well he deals with it when he finds out that not only is she getting engaged, but that someone is Dr. Walter Krandall, the marriage counselor who failed to save their marriage. It's one of those happy sitcom coincidences, then, that Gary decides to step into his first post-divorce relationship – with the uber-cute Vanessa (Jaime King), who's one of his clients – immediately before he finds out about Alison's new beau.
Now, in the interest of full disclosure, I should admit that one of the major non-Mohr reasons I enjoyed the original pilot for "Gary Unmarried" was the show had gifted him with a great comedic nemesis, casting Larry Miller to play Dr. Krandall. Alas, for reasons which are not currently available to me, Mr. Miller is no longer affiliated with the series, but the good news is that the producers have replaced him with someone who's often just as funny: Ed Begley, Jr. He's not really utilized that well in the revised pilot, but with Begley, you know the potential's there.
I kind of glossed over the kids a moment ago, so let me offer a bit more description about them. Louise would be best described as a female version of Alex P. Keaton if he'd been a raving liberal; she has posters of Al Gore and Mahatma Gandhi, and the only image adorning her walls that Gary describes as normal – "that one picture of that guy from 'Entourage'" – turns out to be Che Guavara. Todd, meanwhile, is more successful at interacting with people on Second Life than he is in real life, which thoroughly confuses Gary. ("We didn't have anything like that when I was a kid. We had…outside.") Also in the kid mix is Parker, Vanessa's son, whose existence is only revealed to Gary because she's in the neighborhood and Parker needs to use the bathroom…and in another remarkable coincidence, they swing by at the very moment that Gary, Alison, and Dr. Kendall are talking out their issues.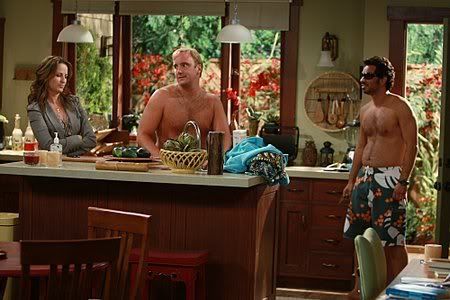 Oh, right, I almost forgot we're also introduced to Dennis Lopez (Al Madgrial), Gary's right-hand man within his contracting business, who can't believe his buddy is more interested in diving back into a relationship when he has the option to be a swinging single. It's hard to tell if that's going to be an ongoing trait, however, since we only meet for him for, like, 30 seconds, but Madrigal still deserves kudos, if only for scoring a new sitcom so quickly after the disaster that was "Welcome to the Captain." (That show had "career-killer" written all over it.)
It's true: "Gary Unmarried" is unequivocally mainstream, designed to appeal to the same folks who've been tuning in to "Two and a Half Men" for all these years. (Again, not an insult, just a statement of demographic.) In fact, it's so stylistically reminiscent of that show that I really can't understand why CBS didn't put it in the Monday-at-9:30 timeslot that now houses "Worst Week." Tough call as to whether it'll work as well in its current pairing, "The New Adventures of Old Christine," but for Jay Mohr's sake, let's hope so.