If you're not an ABC Family aficionado like myself, then you may not be aware that the often-underrated network is preparing to launch a new series on July 7th: "10 Things I Hate About You," based on the film of the same name. It's hard to say whether this is a good idea or not, though the fact that Larry Miller has carried over his character from the film – patriarch Walter Stratford – is certainly a step in the right direction, but we can say one thing: there have been worse ideas. It's been a television staple to transform motion pictures into weekly TV series, but not every attempt actually makes it to the airwaves. Here's a list of 15 such swings and misses, many…okay, most of which deserved to fail.
1. "The African Queen" ("The African Queen," 1962 & 1977) – It seems only appropriate to start this list out with an attempt at transforming a classic film into a TV series. The first time around was in 1962, when James Coburn took on the role of Cap'n Charlie Allnot, while Glynis Johns played the Hepburn role of missionary Rosie Sayer, but although it aired as an episode of NBC's "The Dick Powell Theater," it never made it any further. Fifteen years later, CBS took a stab at it, with the leads played by Warren Oates and Mariette Hartley. No dice. If the actual movie ever makes it to DVD (can you believe it's still unavailable?), perhaps one or both of these pilots will be included as part of the bonus material.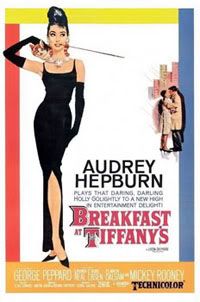 2. "Breakfast at Tiffany's" ("Holly Golightly," 1969) – It sounds nuts, right? Granted, if there was anyone in the late '60s who was the TV equivalent of Audrey Hepburn, it was probably Stefanie Powers, but Hepburn's performance was so iconic that it's hard to even wrap your head around the idea of anyone else playing the role of Ms. Golightly. As it turns out, the original author of "Breakfast at Tiffany's" – Truman Capote – didn't like the movie, either, calling it "a mawkish valentine" to Hepburn, so he was even less ecstatic about the idea of a TV series. In an interview with Time Magazine, Capote predicted that the show would be even more "jerky" than the film and that he would not stand for the TV version "if they give me all the money in Christendom." One doubts that his position on the matter had anything to do with the series not being picked up, but the end result no doubt pleased him, anyway.
3. "Diner" ("Diner," 1983) – This one had a lot of potential, with the film's writer/director, Barry Levinson, doing the same duties on the pilot. There was only one original cast member willing to return, however, but, hey, at least it was Paul Reiser (Modell). Plus, Mickey Rourke (Boogie) and Kevin Bacon (Fenwick) were traded out for Michael Madsen and James Spader, respectively, which ain't half bad, really. In an interview with Venice Magazine, Levinson said, "We had a great cast, but CBS thought otherwise. They thought it wasn't compatible with the current programming line-up they had." The fools!
4. "The Jerk" ("The Jerk, Too," 1984) – When Mr. Burns wanted to make a movie of his life story but Steven Spielberg wasn't available, he demanded of Smithers, "Get me his non-union Mexican equivalent!" Similarly, when NBC wanted to bring "The Jerk" to television and Steve Martin was too busy making movies, they opted for…Mark Blankfield? Wow, the dude from "Fridays"? Really…? There's only one website which offers anything approximating a legitimate review of the TV movie which was intended to serve as the springboard for the series, and given that the site is called "The World of Mr. Satanism: Video Picks for Perverts," it might be wise to take the opinions with a grain of salt, but for some reason, I find it surprisingly easy to accept the accuracy of their suggestion that "watching this movie is like stepping in dog shit. With your mouth."
5. "The French Connection" ("Popeye Doyle," 1986) – No matter how good this may have been in its time, its cardinal sin nowadays is that no one can look at the man playing the title character without thinking, "Al Bundy as Popeye Doyle?" Not that Ed O'Neil hasn't had plenty of work and done a sizable amount of solid work since his days at a Fox sitcom superstar, but, still, the man did play an iconic TV character. I guess it's some consolation, then, that the general consensus is that this watered-down version of "The French Connection" wasn't actually very good, which would explain why it never got a series pick-up.
6. "Psycho" ("Bates Motel," 1987) – Remember how "Friday the 13th: The Series" had nothing to do with Jason Voorhees, and how "Freddy's Nightmares" only had its Elm Street connection through its host? The TV movie which was to have served as a springboard to a series ignored the two "Psycho" sequels of the '80s and took Norman out of the picture altogether, killing him off and having him will the ownership of the Bates Motel over to one Alex West (Bud Cort), who had been his bunkmate at the asylum. (It's no wonder they were good roommates: Alex stuffed his stepfather into a dry-cleaning machine when he was 12.) In an interview with the Houston Chronicle, Cort said at the time, "This would not be a series about the 'victim of the week.' The hotel becomes a place for redemption, a place for a second chance. The karma of the original 'Psycho' debacle is shattered by events in our film. It's restored to a place of rest and contemplation. There is now something magical about the place that gives people a chance to reflect on their lives and go back into the world renewed." Or perhaps not, since the series never came to pass.
7. "Adventures in Babysitting" ("Adventures in Babysitting," 1989) – The film was slight but fun. Apparently, the pilot was even slighter. There's not much that can be said about this one, aside from the fact that its failure to get picked up led to Joey Lawrence's schedule opening up and allowing him to pick up the role of Joey Russo on "Blossom." One other interesting tidbit: the actress playing Chris Parker – Jennifer Guthrie – went on to co-star on "Parker Lewis," where she worked with Maia Lewis, a.k.a. Parker's little sister, who played Sara Anderson in the original "Babysitting."
8. "Revenge of the Nerds" ("Revenge of the Nerds," 1991) – If you've purchased the so-called "Panty Raid" edition of the original film, then you've had the chance to check out this failed pilot, where the opportunity to bring in a new generation of nerds was ignored in favor of recasting the roles of Louis, Gilbert, Ogre, and all the rest. Although we loved the fact that Robbie Rist was cast as Booger, we're in no way surprised that the show went nowhere. The following year, however, someone did decide to make a TV movie entitled "Revenge of the Nerds III: The Next Generation," and 1994 brought us "Revenge of the Nerds IV: Nerds in Love." Thankfully, there's been no sign of a Part 5, although there do continue to be rumblings about a remake of the original. The horror…the horror…
9. "Driving Miss Daisy" ("Driving Miss Daisy," 1992) – It's not that I can't imagine a weekly TV series about the adventures of Daisy Werthan and her trusty chauffeur, Hoke Colburn, especially since it would've starred Joan Plowright and Robert Guillaume, with Saul Rubinek as Daisy's son, Boolie. I mean, that's some top-notch talent there, my friend. But it just wasn't a concept that ever would've flown in the '90s. Sure, maybe in the early '70s, when a series like "The Waltons" was riding high in the ratings, but in the grunge era, where the kids were shrugging off sentimentality at every turn, it's no wonder it never made it beyond the pilot stage.
10. "Clerks" ("Clerks," 1995) – Yes, we all know that Kevin Smith successfully managed to produce a short-lived animated version of his black-and-white ode to slackerdom, but not everyone knows that there was an attempt at a live-action version as well. Smith had nothing to do with it, however, and as he relates within the extra material on "A Threevening with Kevin Smith," he didn't even know about the pilot being made until Renee Humphrey (Tricia in "Mallrats") told him that she was auditioning for it. Worse, when he attempted to make peace with the situation and contribute to the show, he was told that his idea was only worthy of a B-plot. Ouch. Smith's reaction was to go out for a cigarette and never come back, but some time later, someone sent him a VHS dub of the failed pilot, about which he said…
"It was pretty fucking bad. Jim Breuer, the dude who used to be on 'Saturday Night Live,' played Randal, and he looked like he was 50 years old. Jim Breuer's not an old guy, but the way they had him made up, and they were shooting on video as opposed to film, he looked like Randal's dad, with a backwards baseball cap and all the attitude. It just wasn't the same thing. And the dude who played Dante was, like, a dude who could've been the captain of a football team, just athletic-looking and good-looking and wouldn't have problems in real life, particularly with girls and shit. Part of the charm of Dante is that he's an everyman. If there's an impossibly good-looking dude playing Dante, you're, like, 'What's he bitching about? This dude's got it made in the shade!' So it was just bad. Keri Russell was in it as some chick who worked in a tanning parlor that was also in the strip mall. I was, like, 'There's no tanning parlor in the strip mall!' It was kind of strange, and I had nothing to do with it, so thank God it didn't get picked up."
One other note: although most of the rights to the characters were held by Miramax, which is why Smith didn't have to be contacted about making his film into a TV series, he took advantage of his opportunity to squelch the use of Jay in the pilot. (Silent Bob didn't make an appearance, anyway.) The producers' response: the character was renamed Ray.
11. "The Adventures of Buckaroo Banzai Across The 8th Dimension" ("Buckaroo Banzai: Ancient Secrets and New Mysteries," 1998) – This may be one of the most depressing never-happened series of them all. The internet is littered with references to how, in the late '90s, we came thisgoddamnedclose to having this beautiful dream come to fruition. In late 1998, Fox commissioned Earl MacRauch to compose a pilot script for the show, which would have followed the continuing adventures of the rock star/brain surgeon and his cohorts, and the process of bringing the series to life came far enough that, if you pick up the special-edition DVD of the original film, you can see a short computer animated sequence that was made as a test for the series, where the Space Shuttle is trying to land with broken landing gear, and Buckaroo maneuvers his Jet Car under the Shuttle and uses it to take the place of the broken gear. The progress of the show and its ultimate rejection by Fox can be read here, and you can read about a proposed Banzai Institute series that also remains unmade as well as the failed discussions that Frank Darabont had about making his own version. Damn. So close, and yet so far.
12. "Zero Effect" ("Zero Effect," 2002) –Kudos to Chronological Snobbery, a blog that wrote about a pilot I never knew even existed…which is a shame, because I just talked to Bill Pullman and would've loved to ask him if the idea of his doing a weekly series as Daryl Zero had ever come up. If you've never seen the original movie, let me just say this: it's one of very few Ben Stiller films which you can defend to the death in a crowd of film enthusiasts and not feel like you're fighting in an unwinnable war. The pilot, it seems, had featured Alan Cumming taking on Pullman's role, but as far as who played Stiller's character, it's hard to say. As the above link explains, "You will not be able to find a copy of this pilot on DVD or on the Internets. Many of those associated with the project never saw the completed pilot following its post production. There are likely copies somewhere in the vaults of NBC Television, Castle Rock Entertainment, and perhaps even elsewhere in the vast expanses of the Time Warner empire. (Director / co-writer Jake) Kasdan no doubt has a copy somewhere amongst his possessions and projects, but he is not sharing it." Given that, a few years later, Kasdan wrote and directed "The TV Set," the story of a TV pilot as it goes through the network TV process of casting, production and finally airing, we can presume that the experience of "Zero Effect: The Series" was not a pleasant one.
13. "Fargo" ("Fargo," 2003) – This one isn't nearly as hard to imagine once you get the right mindset. Picture it: the weekly adventures of Marge Gunderson…and played by Edie Falco, no less. According to Emily Nussbam of The New York Times, who caught the pilot – which was directed by Kathy Bates – when it aired on the late, great Trio, "It's got a quirky, 'Northern Exposure' flavor mingled with a morbid vibe that presages 'Six Feet Under.' It's a blend that might have found its way, over time." But since it didn't, Falco was able to do "The Sopranos."
14. "L.A. Confidential" ("L.A. Confidential," 2003) – Filmed in 1999 and scheduled to air in 2000, the failed pilot for the adaptation of the James Ellroy classic didn't make it to air for three more years…and even then, it's fair to say that the reason it finally did see the light of the day was because the man playing Det. Jack Vincennes had found himself with a serious career upswing. That man…was Kiefer Sutherland. Others in the pilot included Pruitt Taylor Vince (Sid Hudgens), Josh Hopkins (Officer Bud White), David Conrad (Officer Ed Exley), Melissa George (Lynn Bracken), and Eric Roberts (Pierce Padgett), but, wow, can you imagine where Kiefer's career would be today if he'd never had the chance to become Jack Bauer? Nope, neither can I. Said Doug Herzog, former entertainment president for Fox, "With all respect to everybody who worked on it, `L.A. Confidential,' I think, clearly was the wrong idea for Fox. And then, beyond that, it wasn't that good."
15. "Mr. and Mrs. Smith" ("Mr. and Mrs. Smith," 2007) – Although the pilot for this adaptation of the Brad Pitt / Angelina Jolie flick was directed and written by the same folks who handled the film – Doug Liman and Simon Kinberg, respectively – it was hard to get too excited about the idea when Kinberg was quoted in a Variety article about the series as saying, ""It's essentially 'Married … With Children' with guns." Jordana Brewster and Martin Henderson played the title characters in the pilot, which set up the series as taking place six months after the end of the film, but ABC opted out of pursuing the series any further. Regency and Dutch Oven, the production companies behind the series, proceeded to shop their product elsewhere, but here we are two years later, so, y'know, not to jump the gun or anything, but it seems like it's safe to call time of death at this point.