Bret Harrison and Tyler Labine speak out on "Reaper" finale
I recently had a chance to do a joint phoner with Bret Harrison and Tyler Labine in connection with Season 2 of "Reaper" being released on DVD, though it will probably come as no surprise that a sizable chunk of the conversation ended up being about the likely demise of the series. Rest assured, I pointed out that the general tone of the comments from Premium Hollywood about the season finale…well, at least those of John Paulsen, anyway (though it's clear others share his opinion, too)…were along the lines of, "Oh, my God, this is the biggest gyp I've ever seen in my life!"
"Yeah, I've heard a lot of that, too," laughed Labine. "All in all, maybe it could've been a better ending for the season, regardless of whether it was the wrap-up or not, but you have to understand that there were a lot of cooks in the kitchen by the end with, like, where you have to leave it. There were a lot of notes coming down from on high, and I think things just get a little bit scrambled at the end of a show that's on the bubble, technically. I think we have to give the writers a little bit more credit, but, yeah, I think we were all…well, I guess we can speak freely. The show's canceled. We weren't super happy with the ending of the show, I feel. But that's just me. I don't know. What about you, Bret?"
"No, no, I wasn't happy," admitted Harrison. "But I was excited that I got to play Quarters.
"Oh, yeah," agreed Labine. "We all were."
The full interview will appear on Bullz-Eye on Wednesday, but to tease you until then, here are a few more choice quotes from the conversation: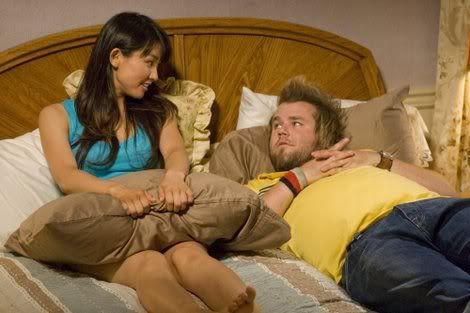 "All in all, for a second season, I thought it went well. We introduced some cool characters. But I can officially go on record now as saying that I was not happy with the storyline with me trying to fuck my stepsister." – Tyler Labine
"I think they were planning on leading (Alan Townsend, played by Sean Patrick Thomas) to be kind of part of the finale, from the little bit I heard them talking about it, but deals don't work out all the time, and I don't really want to get into too much detail, but…it just didn't work out, for whatever reason." – Bret Harrison
"If we'd been able to come back and tell the story in Season 3, Andi would've been a Reaper, there could've been a whole new rebellion with Michael Ian Black as Sam's guardian angel now, basically, and a full-scale battle between Heaven and Hell might've actually started to go on. It would've taken a whole new turn." – Tyler Labine
Admit it: you're already chomping at the bit for the interview, aren't you? Stay tuned, "Reaper" fans!
Posted in: Interviews, News, Reaper, TV, TV Action, TV Comedies, TV Dramas, TV DVDs, TV Sci-Fi
Tags: Bret Harrison, Eriko Tamura, Jenny Wade, Michael Ian Black, Missy Peregrym, Ray Wise, Reaper, Reaper canceled, Reaper season 2, Reaper season finale, Rick Gonzales, Sean Patrick Thomas, Tyler Labine