Old Show, New Season: "Scrubs"
Q. Is "Scrubs" funny?
A. It's a matter of opinion. If you ask Peter Griffin, the answer is "no." ("You ever watch that show 'Scrubs'? Lois had it on the other night, and I was kinda fading in and out, you know. I was watching and wondering: which one is the funny guy?") Personally, though, it's one of my favorite sitcoms, with a great ensemble cast and an ability to move from laughter to tears without making it feel forced.
Q. Has the writing on "Scrubs" maintained the same level of quality since its premiere in 2001?
A. I think even those most die-hard fans of the show would have to say that the answer is an unequivocal "no." And so, for that matter, would the show's creator. Bill Lawrence said outright in his chat with me for Bullz-Eye, "I let it get too broad and goofy in the middle, and, y'know, we got a little lazy sometimes and were a little bit of a caricature of ourselves."
Q. So given that "Scrubs" just finished up seven seasons on NBC, isn't the show outstaying its welcome by moving to ABC for an eighth season?
A. Oh, hell, no. And if you think otherwise, then I ask you to at least check out the first two episodes of Season 8 before you make a final decision on the matter, because I've seen them, and they're good.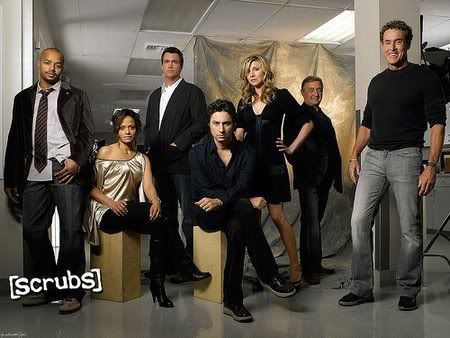 There's an immediate change in "Scrubs" from the moment Dr. Dorian…or J.D., if you like…steps onto the screen, sporting what the Janitor describes as a "pre-pubescent 'Miami Vice' beard." ("There are some who say I look like a young Kenny Loggins," claims J.D., though you'd be a fool to believe him.) Taking a coincidental cue from "House," the show finds Dr. Dorian dealing with a new class of interns, including Katie the know-it-all suck-up (Betsy Beutler), the incredibly callous Denise (Eliza Coupe), and the awesomely inappropriate Ed, played by Aziz Ansari from "Human Giant." The powerhouse within the list of guest stars, however, is Courtney Cox, who plays Dr. Taylor Maddox, Dr. Kelso's replacement as Sacred Heart's Chief of Medicine.
Even with all of these new faces, however, what longtime viewers will notice most of all is the feeling of familiarity to the season premiere…and I mean that in a very, very good way. There's back and forth between J.D. and Turk with a running joke about an '80s sitcom. Elliot and Keith indulge in bitchy banter about their former relationship. Ted is still the saddest sack in town, but he can't bring himself to yell at Dr. Kelso, even though the latter isn't even his boss anymore. Elliot is clueless about her shortcomings. Dr. Cox calls J.D. by a girl's name, then has a heart-to-heart talk with him that manages to be both sentimental and scathing at the same time.
All of this is straight out of "Scrubs 101," of course, but you take these moments and throw them into the mix with the well-utilized guest stars (the scenes between Dr. Maddox and the Janitor are genius), and you've got an episode which is as funny as anything from the show's earlier glory days. Additionally, there's an interesting dramatic undercurrent with J.D.'s unexpected lack of tolerance for the new interns…but if you're looking for the kind of drama that finds you suddenly trying to come up with an explanation for that unexpected tear rolling down your cheek, then look no further than the season's second episode, "My Last Words."
Though it starts off with a battle between Jordan and Dr. Maddox, the core of the episode involves J.D. and Turk preparing to celebrate one of their many traditions – in this case, Steak Night – but getting sidetracked when they find themselves drawn to a terminal patient. Mr. Valentine, played by Glynn Turman ("The Wire," "A Different World"). As you might expect, there are several lovely moments in the ongoing homoerotic relationship between Drs. Dorian and Turk, but in all seriousness, this may well be one of the best episodes in the history of "Scrubs." Remember what I said earlier about the show's ability to move from laughter to tears without making it feel forced? The scenes with Mr. Valentine are a textbook example of this. It's laid out from the get-go that he's a terminal patient, and "Scrubs" has never been afraid to remind its viewers that just because medicine can be funny doesn't mean that people don't still die, but the acting and the writing during this episode will earn the show an Emmy nomination, mark my words.
Mind you, I'm not actually putting any money on it. The Emmys have never given "Scrubs" as much love as it's deserved over the years. Still, with the combination of this being the last year and the fact that Lawrence is testifying over hill and dale about how much love and effort have gone into these final episodes, maybe "Scrubs" finally will score a win or two.
If you've ever been a "Scrubs" fan, you need to tune into the show's season premiere…on ABC, remember…on January 6th. And then for the second episode on the 13th. And then for the third episode on the 20th. And…well, you get the idea.
The series might not be back for long, but, baby, it is indeed back. With a vengeance.
Posted in: Actors, Actresses, Reviews, TV, TV Comedies
Tags: Aziz Ansari, Betsy Beutler, Bill Lawrence, Courtney Cox, Eliza Coupe, Scrubs, Scrubs eighth season, Scrubs on ABC, Scrubs Season 8, Zach Braff