If you're a Western fan, then you know him from his work on "Laramie" and "Wagon Train," but if you grew up in the '70s, then you're more likely to recall him as Dr. Kelly Brackett on "Emergency." Either way, you have to give it to Robert Fuller: the man had some of the best sideburns in the business. Although he's since retired from acting in favor of a life of leisure, Fuller is hopping back on the publicity trail to offer his praise for the release of "Wagon Train: The Complete Color Season," which gave us the opportunity to chat with him about the various films and television series he's worked on throughout his career.
Get ready for…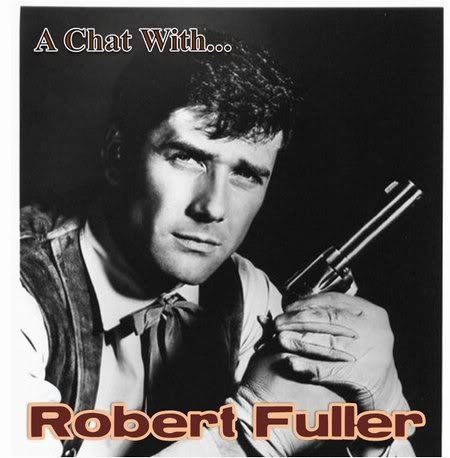 Bullz-Eye: Hey, Mr. Fuller, how are you?
RF: Okay. I'm fine. I'm sorry, I was still on the line with another phone interview from Chicago.
BE: Oh not a problem. I figured as much.
RF: How are you doing?
BE: I'm doing well. We've met in the past, actually. We have a mutual acquaintance.
RF: Yes, Michael was telling me. Now, where did we…
BE: My dad went to high school with Larry Floyd, and you and I met at the Williamsburg Film Festival a few years ago. In fact, I think you were actually there that year with your "Wagon Train" co-star, Denny Miller, weren't you?
RF: I probably was. Yeah, I'll be darned, he had mentioned that.
BE: So, anyway, it's good to talk to you again. How are you?
RF: Well, I'm great. Things are going super, and I'm thrilled at this new package of "Wagon Train." Have you seen it all?
BE: I got it yesterday, so as you can imagine, there have not been enough hours in the day to get through it all.
RF: Boy, oh, boy, I mean, is it a great looking package?
BE: It is. It's awesome.
RF: People have for years and years and years…well you know, you go to those Western film festivals. That's all they ever ask about: "When are 'Laramie' and 'Wagon Train' coming out on DVD?" And. finally, my God. this is out. and "Laramie" comes out after the first of the year.
BE: Oh. does it? I had not heard that.
RF: Yeah. so that will be neat. too.
BE: Well, "Wagon Train" definitely got very loving treatment, to say the least.
RF: Oh, boy, there is no doubt about it. I cannot wait to hear the reaction. You know, more than that, I can't wait for some kids to see it that have never really seen a good Western before. You know, with values and good stories. This could mean a lot to a new generation; today's generation.
BE: It means something to me because, in all honesty, growing up, my familiarity with "Wagon Train" came from the fact that I was a "Star Trek" fan, and Gene Roddenberry had always said that "Star Trek" was basically "Wagon Train" to the stars.
RF: Yes, absolutely. "Wagon Train" in outer space. I have heard that before.
BE: So that was my frame of reference, and this is my chance to finally get caught up a little bit.
RF: Yeah.

BE: Now you had bounced around TV quite a bit during the 50's, but you had actually done a couple of episodes of "Wagon Train" before you got "Laramie", right?
RF: Yeah, I did…my first episode of "Wagon Train," I believe, I did in late 1957 or very early 1958, and I had a small part on it with Bette Davis. Which was incredible, you know. God, I played her daughter's boyfriend, and I really had a super time working with that lady. And then almost a year later, my career had gone to the moon. Boy, I had really gotten lucky and done really, really good parts, and I actually had a guest star part on "Wagon Train" in its second season. And then right after that, I got "Laramie." And for four years I did "Laramie," and when that ended, that put "Wagon Train" at the end of its sixth season. I immediately was asked to go into it for its seventh and eighth season. The seventh season, of course, being the hour and a half one. Which were really, really something. I mean, the guest stars that we had were…you know, we got to work with Ronald Reagan, Ernest Borgnine, Robert Ryan, Barbara Stanwyck, Anne Bancroft, Dan Duryea. It was unbelievable to work with fabulous, fabulous motion picture stars.
BE: Right. Actually, I was going to ask you about working with Ronald Reagan. I guess that was the tail end of his acting career, right when he was getting into politics.
RF: Uh-huh. Well, yeah, pretty much, but I had worked with Ron…I can call him Ron because I knew him very well. (Laughs) I worked with him on "General Electric Theater." And as a matter of fact, the "G.E." that I did, he happened to star in that one, and I had a really nice part in it along with him, and we became very good friends there. I knew him, of course, when he became president of the Screen Actors Guild. Then I campaigned for him for governor. I campaigned very hard all over for him. I was one of the celebrities on the campaign list. Then I knew he was going to run for President one of these days, and I of course campaigned for him for President. What a wonderful man, he was just delightful. It was fun working with him, and as you said, it was just sort of the end if his acting career there, before he started to really get heavy in politics.
BE: Right. It's very weird to see him in at that particular time in his career, especially in color, because he looks almost exactly like he did when he got into politics. It's a little surreal.
RF: Yeah.
BE: So when you joined "Wagon Train" as Cooper Smith, how much of the job was because they liked your work on "Laramie," and how much was because they thought you kind of looked like Robert Horton?
RF: It didn't have anything to do with Robert Horton. He had been away from that series for two years already. Denny Miller replaced him.
BE: Right, but I had read somewhere that there was a resemblance between you and he.
RF: No, that was way down the line. I wasn't under contract through the studio, and all those other people were. They immediately wanted to me to go into another Western, and they figured because of the popularity of "Laramie" and my popularity in Japan and Germany, that it would boost that up a little bit. And that was fine by me. I was more than happy to join that cast. They were all friends of mine, anyway. You know, John McIntire was there; I adored him and worked with him quite often. He had done a couple of "Laramie" episodes with me. I had known Denny when he was doing "Tarzan." Frankie (McGrath) and Terry (Wilson) were good buddies of mine for years. And I was thrilled.
BE: Now, when the show made its change from black and white to color, was there any transition behind the scenes? I mean, was there any dramatic change as far as the way it was filmed?
RF: Possibly, but it wasn't for me, because my last two seasons on "Laramie" were in color, so I had no problems there. I'm sure that these guys had to adjust a little bit. In fact, if you watch the interview of Denny and myself on the DVDs, you'll see Denny talk about the transition. He mentions the fact that they said, "We're going in color, so we should change our wardrobe and really look kind of good." So Denny said a bunch of us said, "Let's go to buckskin, that brown buckskin will really look good in color." Well, little did they know that color takes about three times the light that black and white does, and by the end of the day, these guys were dying for the first show to get over so that they could get back in to their old comfortable, cotton shirts so they wouldn't sweat to death! (Laughs)
BE: They must have just worked you guys like dogs. 32 episodes in a single season, each of them ninety minutes…? I mean, that's a movie a week, literally.
RF: Absolutely. We would work eleven months out of the year. Same way on "Laramie." We did 32 shows a season and shot them five days a show, and it took us almost eleven months to finish. And we would all get thirty days off, and during that thirty days, they would send us across country on five city trips for publicity. So we would probably wind up with about ten days of nothing to do out of the year.
BE: By which time you would already be starting the countdown to go back, anyway.
RF: Oh, absolutely. We were happy that the show was picked up and ready to go to work. Are you kidding? I was ready to play cowboy. I loved that. It's been my life long ambition to do Westerns. I don't know if you know, but it really paid off for me. This April, I was inducted into the Cowboy Hall of Fame.
BE: I did not know that. I knew you had gotten the Golden Boot, but I did not know about the Cowboy Hall of Fame.
RF: I've got a big plaque up on the wall next to Gary Cooper and John Wayne and all the big guys. Next to all the great Western performers.
BE: Wow. Congratulations!
RF: Thank you, thank you. The biggest thrill of my life. I still haven't stopped smiling. It is a fabulous honor, it really is.
BE: Wow. Yeah, ever since Larry started his film festival, I have been thoroughly indoctrinated into the world of Westerns.
RF: Yeah well that will do it for you. I tell you, if you ever went to Phoenix, to the Festival of the West…have you heard of it?
BE: I've heard of it, yeah.
RF: Boy, oh, boy, I mean, that's a four day event that is so incredible you wouldn't believe it. Mary Brown puts that on, and she generally has between twelve and twenty celebrities that come to it, you know, Western types. It's fabulous; I go every year. It's in March, and I look forward to it.

BE: You've actually done quite a few other Westerns. I was very entertained when I saw you turn up on "The Adventures of Brisco County Jr."
RF: Oh, yeah. And the last thing I did before I retired, I had sort of a recurring role on "Walker, Texas Ranger." I started out in the business doing Westerns, and the last show that I did was a Western; "Walker, Texas Ranger" and then I said that's it, I quit. I retired, and we moved out to Texas and bought a ranch. Now all I do is fish and ride horses.
BE: There are a lot worse fates.
RF: Yeah. But Jennifer still works. She goes back to Hollywood and does stuff. You know I'm married to an actress, right? Jennifer Savidge.
BE: I did, indeed. Now, I wanted to ask you about a couple of your other roles. Well, first off, to keep speaking of Westerns, I love your appearance in Mel Gibson's "Maverick" movie.
RF: Oh, yeah, that was fun.

BE: That must have been like old home week for Western stars.
RF: Oh, it was incredible. I think it took us about ten days or so to shoot that whole scene, and we just had a great time; all of those old cowboys getting together. And then, of course, Mel was fabulous, and so was Jimmy Coburn. I had known Jimmy for years; he guested on "Laramie" with me. And then Jim Garner, of course, was always a sweetheart. So we had fun on that set.
BE: Yeah, that's one of those movies every time I come across it when I'm flipping channels, I'm stuck on it until it's over.
RF: Oh, yeah, because it's a very, very good movie. It was a lot of fun; exciting and fun. And every time you watch that poker scene, you're going to see another face that you haven't seen before, either. There were so many of them in there.
BE: You did the "Return of the Magnificent Seven."
RF: Yeah with Yul Brynner. That was incredible.
BE: What was that like, given that it was a sequel? Was there any pressure to try live up to the original, since that film was pretty much an instant classic?
RF: Well, it did very well. It's the only other one that Yul did. We shot that in Alicante, Spain, and then Madrid. It took us, like, three months, I guess. We had a marvelous time. I had a great time with Brynner; I loved him. We got along great and had a lot of fun together. Of course, I had a couple of my old pals on that, too, Claude Akins and Warren Oates. I had worked with them a hundred times before in Westerns.
BE: And you also did "The Brain from Planet Arous." (Laughs)
RF: Oh, listen, everybody has to have a science fiction film in their background, and I've got one. Absolutely. With John Agar, who did more science fiction movies than any actor in town. But, yeah, it was the second movie that I ever did. I was under contract and…Dick Boone, I was studying with Dick Boone when I got out of the army and came back from Korea. In 1956, he sent me back to New York to do a summer session with Sandy Meisner at the Neighborhood Playhouse. When I came back from that, my best friend Chuck Courteny, who was in the class with me, who played Dan Reid on "The Lone Ranger" television series; he played the Lone Ranger's nephew. Of course, that was over with by then, but he was my best friend, and he taught me how to ride and draw a gun and do all that kind of stuff. He was getting ready to star in a movie called "Teenage Thunder" and he had the director have me come in and read for him and I got to costar and lead as the heavy in it, for a little independent outfit called Howco International based out of New Orleans. We shot "Teenage Thunder" and "The Brain from Planet Arous." It was kind of fun. Yeah, my first two movies.
BE: Awhile back, we were going to do a feature on motorcycle movies, and I pitched "The Hard Ride" for inclusion, but the problem was that nobody on the staff had actually seen it. But I understand it actually led indirectly to you getting "Emergency."
RF: Yeah it really did; it did. "Hard Ride" was a very good motorcycle movie. It got great reviews. It was a different type of movie. I played an ex-Marine coming back from Vietnam that was going to get a motorcycle back to a dead friend's relative. I can't remember how it went, but I know it worked pretty good. Paul Donnelly, who was production manager of Universal Studios all the years that I was doing "Laramie", "Wagon Train" and "Emergency" he was a dear, dear friend of mine. He happened to see that movie about two days after Jack Webb had decided he was going to do the series called "Emergency". He went to Jack and he said, "You ought to run this movie because if you're looking for your lead doctor, Dr. Brackett, then you should look at Robert Fuller in this movie." Jack went over to the projection room, looked at the first five minutes of the movie, and said, "That's him. Hire him; I want him. Nobody else but him." And that's how I got "Emergency".
BE: It's such a unique cast there, with Julie London and Bobby Troup.
RF: Oh, it was great. I loved working with the two of them, and I loved…I had known Julie and Bobby for a long, long time, and we just got along great. I tell you what, it was a lot of fun to go to work every morning while we were shooting it.
BE: And it was remarkably realistic for its time too.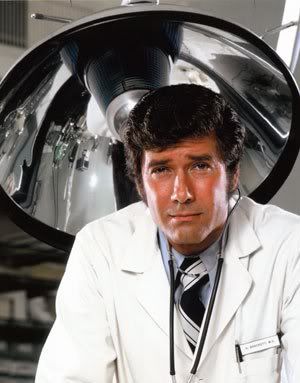 RF: Well, it was. We actually got an award from the American Medical Association and they do not give awards to episodic television. They give awards to documentaries and so forth. But because of our professional realism in it, because of Jack and the paramedics and the doctors…we had a doctor, I never picked up a scalpel or anything without a real doctor standing beside me. Always had a paramedic on the set every second that we worked; a real paramedic. And we tried to be 99 and 9/10 as accurate as we possibly could under imaginary circumstances without taking too much time. I did a couple of spinal taps early on, and we found out that you don't do a spinal tap in two minutes. It takes a long time to do it and about twenty minutes worth of film, so we stopped doing that. You had to be very careful, but the main thing I'm trying to get across is all of that film was used as training films all over the country at fire stations for paramedics because it was so authentic. Jack sent Bobby, Julie, and I all over the country, all over the world to other places. Like Puerto Rico we went to, and I can't remember all the places, but to help kick off their paramedic departments that were using our films.
BE: I've read that they actually incorporated real disasters into the series at times. I mean, like earthquakes and fires.
RF: Oh, absolutely. A lot of the scripts were taken from real incidents that happened.

BE: So what would you say was the most impressive piece of medical advice you learned in the course of the show? Anything that you have been able to utilize in real life?
RF: Well, I tell you, several things. My god, the Heimlich maneuver, of course, has saved a lot of lives. You know what I'm talking about. As a matter of fact, Jennifer and I had breakfast with Dr. Heimlich at a celebrity tennis tournament one time while I was doing "Emergency." What a very interesting man. Oh, you know, if something happened to me right now or to somebody around me, I would immediately do something that would come to my mind, but right now I can't think of a lot of stuff that I learned from it. I do know that some of the stats were unbelievable. You know we started that show in 1971. In 1971, 85% of all heart attack victims died on the way to the hospital. By 1975 that was cut in half; by 1977, it was down to less than twelve percent. That's because of the paramedics being able to address the situation immediately at the scene. What a godsend that was and still is.
BE: I remember watching it incessantly when I was a kid. That was regular viewing for me on Saturday afternoons. I was probably a much safer child as a result of watching that show, because I saw the horrible things that happened to kids on the show.
RF: I'm sure, I'm sure. But it was a great babysitting show, too, parents always told me. Boy, those kids were riveted to that set from eight to nine on Saturday nights.

BE: Oh, yeah, I was enthralled.
RF: Parents loved it. But we taught them quite a bit. Good medical advice on it that they watched.

BE: I wanted to ask you about "What Ever Happened to Aunt Alice?" It seems like it would have been an interesting experience working with both Ruth Gordon and Geraldine Page.
RF: It certainly was. I enjoyed that. I forget what year I did that movie, but…
BE: '69.
RF: '69, yeah, okay. Yeah, it was very interesting. Geraldine Page was very interesting and my God, old Ruth Gordon; I had a lot of fun with her. And then Rosemary Forsyth was my love interest in that.
BE: Now, was there a point where you were actually trying to escape the Western tag, or trying to expand your roles?
RF: Not at all. I never would have done that. I would rather do Westerns than anything. That was my agents job to get me work, and he of course knew that this part was available and called Bob Aldrich at the Aldrich Studios. I went in and I met with Bob and immediately Bob said, "Yes, I would like you to do the part." Why not? It was a chance to work with those gals, and it was a very nice role with a big budget and a big studio. Yeah, I enjoyed that.
BE: I know you mentioned that you had popularity in Germany and Japan. How did that come about?
RF: Well, it came about because of "Laramie." "Laramie" was the number one television show in Japan and Germany. I made several trips to both of those countries. My character, Jess Harper, was so big in Japan…well, "Laramie" was the number one television show for, like, five years in Japan; the number one show. They liked the character of Jess Harper because it reminded them of a Samurai warrior. Always helping the underdog like the Samurai did in those days, and so they liked that character. I had marvelous times over there. I won the best actor award over there in Japan, over all Japanese actors in 1961. And helped raise $100,000 for the Japanese Red Cross for underprivileged children and was given the highest award ever given to an American by the emperor called the Golden Order of Merit. I got to have a viewing with the emperor and empress of Japan and had lunch at the prime minister's home. It was unbelievable; I had such a fabulous time over there.
BE: Yeah, actually, there's a reference to it in your Wikipedia entry, but it wasn't actually cited as to where they got the information from, so I didn't want to bring it up. But I'm glad to know it's true.
RF: Oh yeah.
BE: I know you did a lot of extra work in your early days. What were some of your favorite experiences as an extra? That is kind of like the unheralded job in Hollywood.
RF: It really is, but it's a very interesting job, because I probably worked on 200 movies in the couple of years that I worked as an extra, because you work every day on a different project. Sometimes you have two days or something, but everyday when you pick up that phone and call in, they say to report to MGM or report to Paramount or report to Columbia and work on so and so or work on so and so. I…God, I worked on movies with Clark Gable, I worked on movies with Jimmy Cagney. My very first line in the motion picture business came because I was working as an extra. I was working extra on a great big movie with Gary Cooper and Dorothy McGuire called "Friendly Persuasion." Do you remember that at all?

BE: I'm familiar with it.
RF: Yeah, huge motion picture. That happened to be a movie I worked extra on. I had been working on that movie for about three weeks, and I played several parts. I was an Amish farmer; I was a confederate soldier; I was a Union soldier; all the background stuff. In church scenes. Big scenes are going on with 50, 60 people, just sitting there. William Wyler was the director. There's one particular day that they're going to shoot a big carnival scene. And as a matter of fact, John Smith, who I co-starred in "Laramie" with, was working on that film and working that day in a scene. And that particular day when I went in to wardrobe, they said, "Okay, you're going to be a Union officer." Like a captain or something like that. So I had the Union officer uniform on, with the braid and this and that, and there was another kid besides me, a big kid about six foot two, and he also had the same uniform on. We walk onto the set with hundreds of extras and people getting ready to shoot this scene with Gary Cooper and Peter Mark Richman at a shooting gallery scene. The assistant director positioned the other extra and myself, as we were watchers. We were watching this shooting match going on between Coop and this other guy, this other actor, Peter Mark. And Willy Wyler was sitting there, and Coop walked out onto the set, and he and Peter started rehearsing a little bit. And I heard Coop walk out…we were very close, within ten or twelve feet where we were stationed to stand, and I heard Coop walk over to Willy Wyler and say, "Willy, this scene is kind of static. I walk in and Mark is just standing there alone." He said, "You know, it just doesn't feel right; we need something going on." Willy looked around and he said, "Yeah, you're right; we need somebody to be doing something with Peter Mark as you walk in." So he immediately looked up and looked at the two of us, me and this real tall kid standing beside me, same uniform and we both had very, very long sideburns. He pointed to the big kid and said, "You, come over here," and I thought, "Oh, shoot, that kid's getting a break." The kid walked over to him and I saw Wyler look at him and he looked at Coop and he looked at the guy and he said, "Nah, your sideburns they look fake." And the guy said, "Yeah, well, they pasted them on." And he said, "Nah, that won't work," and he turned to me and said, "You come over here." Now, my sideburns were real, because I had been doing Western,s and I wore my sideburns down way below my ear and perfect for that period. So Willy Wyler looked at me and he said, "Now, your sideburns look real," and I said, "Well, yes, sir, they are." And he said, "Can you act?" And I said, "You bet." He said, "You can, huh?" And I said, "Yes, sir." And he said, "Say this line: 'I can knock down more than you can.'" And I said, "I can knock down more than you can." And he said, "Give this kid the part." So I walked into the scene, and I had my first line of dialogue in a scene with Gary Cooper and Mark Richman in "Friendly Persuasion."

BE: That's a pretty impressive start.
RF: I didn't work extra too much longer after that. (Laughs) As a matter of fact, the very last picture I worked extra in was "The Sweet Smell of Success," with Burt Lancaster and Tony Curtis. The first picture I worked extra on was "Above and Beyond" with Eleanor Parker and Robert Taylor.
BE: I actually got to meet Tony Curtis this summer.
RF: Oh, you did?
BE: Yeah he was at the Television Critics Association in conjunction with Turner Classic.
RF: Well, all the years that I did "Laramie" and "Wagon Train," Tony Curtis' dressing room was directly across from mine. His and Rock Hudson's. My dressing room…you know, I did all three series at Universal Studios: "Laramie", "Wagon Train" and "Emergency". I guess that was fifteen or sixteen years or something like that. But the row of dressing rooms that I was on was called Whiskey Row. And the reason it was called Whiskey Row was because the first dressing room was Ward Bond, the second dressing room was Frankie McGrath, the third was Terry Wilson, the fourth was John Smith, the fifth was me and the sixth was Lee Marvin. And we all partied after lunch, so they called it Whiskey Row. Now, in the same amount of space directly across from us were only two dressing rooms and they were bungalows; they were fabulous. Ours were great; I mean, we had dressing room, living room, makeup, kitchen, and all that, but these guys were like a condominium, practically. Tony Curtis and Rock Hudson right across from us for all those years.
BE: Actually, my last question, since you brought up Ward Bond, I know you only worked with him so much on "Wagon Train," but was he as much of a treat to work with as the impression I got at the film festival?
RF: A treat…?
BE: I'm kidding. I got the impression he wasn't always the easiest to work with.

RF: No, he certainly wasn't. He was very difficult; very difficult. In fact, I didn't get along with him very well at all. I got along with him more when I was doing "Laramie," for awhile, but I had to work at it. He and I didn't get along at all when I first met him on "Wagon Train."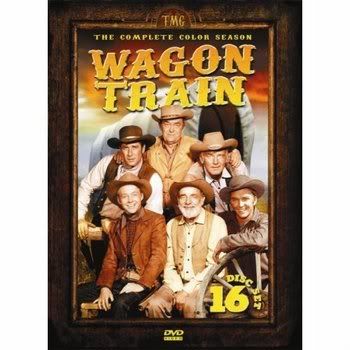 BE: I may be wrong, but I'm pretty sure I remember hearing the phrase "son of a bitch" used at the Film Festival.
RF: Well, I wouldn't doubt it. I don't know that I said it, but I could've. Any of us that worked with him will tell you he was a pretty grouchy guy. Very demanding, and wanted to be in charge of everything. It was unfortunate that he was that way, because he was a marvelous actor, a great, great character actor, and I really, really admired the man. But he sure let the air out of me when I first met him. I tell you, when I did that first show with Bette Davis, my first "Wagon Train," I went to wardrobe, and I generally knew how to pick out some pretty good wardrobe and good Western hats and whatever. I walked on the set that first day in wardrobe, and the assistant director came up to me and said, "Mr. Fuller, have you met Mr. Bond yet?" And I said, "No, I haven't, but I'm really anxious to." He said, "Well, come over and I'll introduce you." So Ward was on the other side of the set, and we walked over, and he said, "Mr. Bond, this is Robert Fuller, playing the part of so and so." And Ward took one look at me, reached up and grabbed my hat, pulled it off my head, threw it on the ground, and said, "We don't wear cowboy hats like that on this show." What was I going to do? God, I was just hired for a nice little small part; I wasn't anybody. I just sort of cringed, picked my hat up, and left and thought to myself, Oh, shit, that son of a bitch." And I went back, wardrobe gave me another hat, and I went and did my part. I never had a scene with him. All my scenes were with Bette Davis, thank goodness. Talk about a tough lady…but she was a doll. She was tough, but she was beautiful and nice to everybody. So I did all that, and now a year later, I've guest starred on every show in town, studios are after me to go under contract and this and that, and I get hired to be the guest star on "Wagon Train." This is before "Laramie." So I went into wardrobe, and I picked out the worst looking Western hat I could find, and walked right up to Bond that first day on the set, and said, "Now, Ward, how do you like that hat?" He looked at it and went, "It'll do." I said, "It'd better," and I walked away. I was just praying that he would knock it off my head…but he didn't. (Laughs) Dumb stuff, but, anyway, my God, what a shame for him to treat people that way. But they're far and few between. From my experience, the bigger those big stars were, the nicer they were.
BE: That is certainly preferable.

RF: Yeah, absolutely.
BE: Alright, well, I appreciate you taking the time to talk today.
RF: Absolutely. It was good to talk to you again. Now, listen, you've got the number. If you have any more questions or anything comes up, feel free to call me.
BE: I will do that.
RF: Stay in touch.
BE: And if you make it back out to Williamsburg, I will definitely see you there.
RF: You know, I may do that one again.
BE: You should. I know it's a comparatively small one, but they treat you like royalty.
RF: It was a lot of fun. I enjoyed that one.
BE: Good talking to you, Robert.
RF: Alright, pal, take it easy!