The 2010 winter press tour of the Television Critics Association took place at the Langham Huntington Hotel and Spa from January 8th – 18th, which you probably already know from the various postings which were done during and have continued since my attendance at the event. It's a regular tradition, however, that I do a wrap-up piece which summarizes my experiences during the tour, and since I invariably seem to get a positive response from those pieces, I always try to make it as entertaining a read as possible. Here's hoping I've succeeded as well this time as I have in the past…but if I haven't, I feel certain you'll let me know.
Most enjoyable panel by a broadcast network: "Great Performances: Macbeth," PBS.
I'll freely admit that I was predisposed to enjoy the panel due to the fact that it featured the newly-knighted Sir Patrick Stewart, but I spoke to others afterwards who declared it to have been the best panel of the tour up to that point. Partial credit for the success goes to the critics in the audience, who consistently offered up intelligent questions about the subject matter at hand…and let me assure you that this is not always the case. Even on an occasion when an attempt at going in a unique direction fell flat, such as when one writer asked Stewart if he was familiar with FX's "Sons of Anarchy" (it's been called a Shakespearean saga on motorcycles), it led to the revelation that Ron Perlman has played an interesting place in Stewart's life. "I was having dinner with Ron Perlman the day that I was offered Jean-Luc Picard in 'Star Trek: The Next Generation,'" he said, 'so I have always looked on Ron as being a lucky omen. So you mentioning his name today, I hope, means that the rest of the day is going to be brighter than it begin." At the very least, Sir Patrick's remarks during the panel brightened mine.
Most interactive panel by a cable network: "The Choir," BBC America.
Gareth Malone is a man on a mission to bring music to those who may not think that they have an interest in it, creating choirs in various schools in England and helping the youth of today raise their voices in song. We soon discovered that this extended to television critics as well. "In England, everyone knows that when I enter a room, everyone's going to sing," Malone began ominously, "so I would like to invite you to leave your Apples and come up onto stage, and we're going to have a little singsong." The immediate reaction was less than enthusiastic, with at least one person piping up, "It's against the bylaws!" Malone would not be denied, however. "It will be very brief," he assured us. "I'll be very, very, kind. I promise not to do opera. Honestly, it's going to be very, very gentle. I promise. Risk it. There won't be very much. Typists, abandon your typing!" In the end, he managed to get a couple of dozen of us up there…yes, I was among the huddled masses…to perform a not-as-bad-as-it-could've-been chorus of "Barbara Ann." As there is neither an audio recording nor a YouTube clip to prove otherwise, you may feel free to believe that I personally sounded fantastic.
Best intro to a panel from a cable network: "Dance Your Ass Off," Oxygen.
All I know about this show is what I've learned from watching clips on "The Soup," but when a panel starts off by having its panelists literally dancing their way down the aisles and onto the stage, at the very least, it gets your attention.
Best stunt by a broadcast network during a panel: In order to keep the rumors in check about Simon Cowell's reported departure from "American Idol," the network's executive session kicked off with Cowell coming onto the stage, announcing that he would be leaving "Idol" in favor of an American version of his hit British series, "The X Factor," then proceeding to sign the paperwork to seal the deal right in front of us.
You know, I don't watch "American Idol," and I probably won't watch "The X Factor," either, but I have to admit: watching Simon sign those documents was one of those moments where I felt like I was witnessing TV history in the making. Granted, it's because people will look back at it as the moment that most of America said, "Oh, man, now the show is really going to suck," but, hey, it's still history.
Best question asked during a cable network panel: The panel in question was for Animal Planet's "Fatal Attractions," a three-part miniseries which explores why some people are driven to bring dangerous, wild creatures like chimpanzees, big cats, and venomous reptiles right into their homes. The trailer for the program was decidedly disconcerting to just about everyone, I think, but it was Jonathan Storm of the Philadelphia Inquirer – the man who once kicked off a "Kardashians" panel by asking, "Who are you and why should we care about you?" – who got the mike first, and, boy, did he let his feelings show. "Where does this end?" he asked. "Here you have crazy people who take dangerous animals into their homes, and you're going to present and tell their interesting stories…? Is there a point at which the behavior of the people that you are glorifying in these reality shows becomes so ridiculous that you will refuse to put it on, or is it simply a question of keeping your digital channel and making a little bit of money off of it?" Marjorie Kaplan, the President and General Manager of Animal Planet, looked like she'd had the wind knocked out of her, responding at first only with a flustered "My goodness!" She quickly recovered, however, arguing that "we are not trying to present outrageous things; we are telling stories that happen in the world." Methinks, however, that Jonathan remained unconvinced.
Most common recurring question during the panels: "What do you think Conan should do?" / "What do you think of Conan's letter?" Simon's departure from "American Idol" was one thing, but it couldn't touch the evolving Conan vs. Jay saga. The anticipation for NBC's executive session was such that even Showtime's Bob Greenblatt admitted in his opening remarks, "I'd love to get my temporary TCA card so that I could sit in," so it was no surprise when Jeff Gaspin, chairman of NBC-Universal Television Entertainment, kicked things off by saying, "I see we have a full house. I heard there were some scalpers outside…"
While it was fun to watch Gaspin squirm (though, in fairness, he held his own pretty well), it became a full-fledged sport to see what kind of comments we could get from others about the late-night fracas, particularly folks on the same network.
* Greg Daniels, producer of "The Office" and "Parks and Recreation," has been friends with Conan since their days on "The Simpsons," so it stood to reason that someone would ask if he'd talked to his old buddy. "I spoke to Conan yesterday," he said, "and he and I agreed that the 'Parks and Rec' panel at the TCA would be the most appropriate time and place to announce his plans." He was kidding, of course…though I swear I heard some exasperated grunts when he admitted as much.
* Jerry Seinfeld was in the house to promote his new production, "The Marriage Ref," and although he clearly has a long history in stand-up with Leno, I think it still surprised a lot of people when he asked rhetorically, "What did the network do to him? I don't think anyone is preventing people from watching Conan. There's no rules. Once they give you the cameras, it's on you, so I can't blame NBC for having to move things around."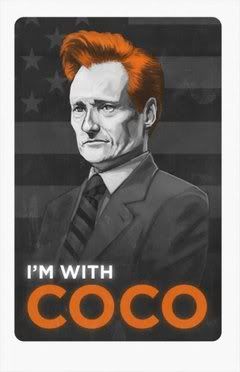 * "Oh, I hope to God he stays," said NBC News' Brian Williams, when I brought up the subject during the network's all-star party. "We feel, I think, like east coast Irish-Catholic brothers. We came up and followed prominent people into our jobs and kind of came up at the same time. We talked about it a lot on the air. Conan's got a great New England, almost blue-collar for a Harvard kid, work ethic. He drives himself hard, and I have just always found us to be kindred spirits. I love his sense of humor."
* In a press scrum later during the aforementioned party, Chevy Chase – himself a veteran of the talk show wars (albeit one with a decidedly shorter period of service) – was typically outspoken, indicating that Conan was getting the shaft from NBC. "I think he's too good for 'The Tonight Show' in terms of intellect," he said, "and maybe too bad for it because of that, too. the way I look at it, from where I stand, Conan is getting screwed and it's because of (NBC's) long life relationship with Jay. I'm not saying Jay's screwing him, because I wouldn't deign to do that. I'm just saying, I don't think he's getting much respect, so it wouldn't surprise me if he were gone. I think he's too intelligent and too bright and funny and will find whatever he needs to find so he can do his sort of humor."
A few days later, the shit really hit the fan…and, man, you cannot imagine the electricity that was coursing through the room when Conan dropped his hell-no-we-won't-go letter bomb. (I swear, Bill Carter of The New York Times was literally glowing.) Bill Lawrence, producer of "Scrubs" and "Cougar Town," was grinning from ear to ear when he brought it up during the ABC comedy show-runners panel, describing it as "ballsy."
"I love it, man," said Lawrence. "It's just the way that I hoped it would go. What a talented dude, and I'm sure it's going to lead to good things for him. It made me happy."
Dude, you're preaching to the choir.
Most promising new broadcast network program that I didn't know anything about before going into the tour: "Code 58," Fox.
In my defense, however, no one knew much about "Code 58" beyond the fact that it was going to star Bradley Whitford and Colin Hanks as an old-school cop and a modern-day detective…and we didn't even know that much until the panel was being introduced. Even then, the series was presented with a parenthetical reminder that it's in possession of a working title, which means that we don't even know for sure that it is going to be called "Code 58."
Fortunately, in a move reminiscent of NBC's pre-premiere "Parks and Recreation" panel from the last January tour, Fox opted to pass out the script for the pilot to all attendees. Not only does the script make it seem as though the show has potential, but Whitford and Hanks were on fire during the panel, thanks in no small part to the amount of riffing opportunities provided by Whitford's new 'stache. "My growing this mustache," mused Whitford, "I gotta say, it reminds me of a lot of the work DeNiro did in 'Raging Bull.'') Alas, we won't know 'til May how the end result will turn out, but my fingers are crossed.
Panelist most prone to talking in circles: Al Pacino, "You Don't Know Jack" (HBO). When asked if doing an HBO movie felt any different than doing a theatrical release, Pacino replied, "Well, it's television. It's HBO, and so HBO is television. And television is you have to do a lot in a short period of time so that's the difference, the only difference. Otherwise, it's the same." Oh, okay.
Then, on the matter of the film's title, he said, "I don't think a lot of people know can really say that they know Jack Kevorkian, especially when you get to know him or you get to get his read on things and get to know more about him. When you see the image that was portrayed of Jack Kevorkian during his time, and you get you get a sense of someone quite different than the personality that I got to know. Not that I got to know him personally, mind you, but just to the research I did and the work I did, in order to get closer to who I could sort of interpret. I think the title is apt because you don't know this guy. And, hopefully, in the movie you still don't."
Al, I love you, but sometimes you make my head spin.
Best anecdote(s) during a panel: Louis C.K.
His new FX sitcom, "Louie," offers a look into the stand-up comedian's life as a divorced dad, showing both his interactions with his kids and his attempts to reenter the world of dating. During the course of the panel, he proceeded to tell a worst-case scenario situation from each side, and they were both pretty awesome.
On the topic of his worst date, Louis hemmed and hawed at first, explaining that pretty much all of his dates have been pretty bad. "Dating is horrible," he said. "It's awful. I don't get it. It's just…you're standing there, going, 'Hi, do you want to have sex and later wish you hadn't?' It's horrible. And it's awkward at 42 because I don't have the body or the drive. I don't have sex drive. I have sex sit-in-the-car-and-hope-somebody-gets-in. And I'm amongst young people, because most people my age aren't dating unless there's something wrong with them…like me."
Finally, however, he conceded that maybe one of dates did kind of stand out. "I went out with a woman once," he said, "and I flew her to New York City. I was living in Boston. I said, 'Hey, I'm not going to tell you where we're going,' and I had this romantic image that we would get on the shuttle and go to New York and go to Tavern on the Green and then fly back, but it was just a debacle. The flights were delayed – y'know, security problems – and we got to New York really late, sat in a cab in Queens for about two hours, and Tavern on the Green…you can't just walk in there. I'm an idiot. We got turned away. And I stand outside Tavern on the Green with her, going, '"I'm sorry, I guess I didn't plan this well,' and a pigeon shat directly on top of my head. Just a huge amount of shit. White pigeon shit. With black streaks.
"That one," he admitted, "was pretty bad."
Insofar as his kids were concerned, Louis focused on a moment with his daughter, and although you'll soon see that the subject matter was, in general, about as unfunny as it gets, I couldn't help but laugh, because as the father of a 4-year-old daughter, I've had to battle back from similar bouts of speechlessness in order to come up with a halfway intelligent answer to a very serious subject.
"I was on the subway with my daughter," he said, "and she said to me that her friend in school told her that his grandparents were put in an oven during a war. And, I mean, this is the kind of high wire act parenting is, because you don't get warned that you're going to have this conversation. I'm just holding onto a strap, and she says (this), and I was like, 'What the fuck?' And she says, 'Daddy, does that happen? Do people put each other in ovens?' And what do you say, because you can't just go, 'No, your friend's a liar.' And you also can't go, 'Oh, yeah. That was Hitler, and just," you know. And you also can't just go, 'Yeah, that happens sometimes. You never know. Sometimes somebody will grab you and shove you in an oven.' So she's standing there, waiting, and you have to come up with the thing. And what I ended up saying was…like, to me, with my daughter, it's always the truth. I try to tell her the truth. And so I told her the truth, which was, 'I don't know what to say to you about this right now.' I said, 'I'm not sure you should know about it. If you really want to know, I'll tell you.' I was just buying time while my brain was working behind me. But she said, 'Yeah, don't tell me yet.' She's smart, but she doesn't need to know about Hitler yet. She was six years old when this happened. How do you take a kid from Santa Claus to the evil of Hitler and Stalin and all that shit? I don't know."
I don't know, either, of course, but I know that Louis should be very proud of his daughter: not every little girl would allow their father to retain his dignity in such a manner, let alone give him a story that he can use during the TCA tour.
Largest panel that really only needed to consist of two people: "The Pacific," HBO. Surely the network knew full well that the cast of this upcoming WWII miniseries weren't going to be asked nearly as many questions as its producers, Tom Hanks and Steven Spielberg, but it was a pleasant surprise to find Hanks taking the reins of the panel as often as not. He tackled the first question – about the differences between this program and its predecessor, "Band of Brothers" – with the seriousness it warranted, but when the second question was posed, he began, "If I can be so bold to continue talking and not let anybody else have a moment…"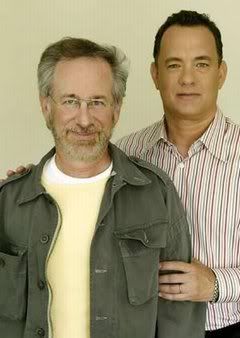 Spielberg soon managed to find his way into the conversation with some frequency as well, though he and Hanks often slipped into Abbott and Costello mode when trying to determine who was going to get to answer a question.
Tom Hanks: Go ahead.
Steven Spielberg: You go.
Tom Hanks: No, no, no. Go ahead, because I'll pontificate for an hour and a half. I'm going to sound like Ricky Gervais in 20 minutes.
Steven Spielberg: Now I can't follow up, because I was going to get really serious here
Tom Hanks: Oh, please.
When Spielberg cracked a joke about how they maintained their relationship with HBO because the network gave them a lot of money, Hanks added, "I'm going to assume that all you cracked members of the fourth estate can appreciate sarcasm when it comes your way." With that assumption made, he then later claimed that the network had approached them about continuing their collaboration by saying, "We are more successful, we make more money than all the commercial networks combined, we've got $250 million to blow. Do you want to do anything with it?"
Eventually, fellow producer Gary Goetzman acknowledged that he and his fellow panelists knew their place in the proceedings and, as such, weren't even trying to answer any of the questions. "Why would we?" he asked. "We've got Steven and Tom!"
Best opening line from any interview that I did during the tour: Jonathan Demme. I opened by telling him that I was a huge fan of his Robyn Hitchcock concert film, "Storefront Hitchcock." His reply: "I love you very much."
Best one-on-one interview with a fabricated American: Warren the Ape. I hope to talk to him at greater length before his new MTV series premieres, but in the meantime, I'll always have these moments to treasure.
Best one-on-one interview with a human: Patrick Stewart. And, believe me, no other human even comes close.
We were originally only supposed to chat for ten minutes, but when his publicist came back to check on us at the 10-minute mark, we'd talked solely about Shakespeare, so I asked if I could ask him a couple of questions about his work in comedy. The next thing I knew, I'd virtually doubled my interview time and was left reeling from the fact that not only he was telling me about how much he enjoyed the "Phil McCracken, Scottish Therapist" sketch he'd done on "Saturday Night Live," he'd actually launched into the character for a line or two.
It's a testament to Stewart's career that it wasn't until I stood up to leave that I finally managed to mention "Star Trek: The Next Generation." Turns out we both have the same favorite episode: "The Inner Light." You know, I knew there was a reason I liked that guy…
Most unnecessary event by a cable network: TV Guide Network's "'Curb' Your Appetite" Luncheon, which the network staged mostly to let critics know that they'd soon be running "Curb Your Enthusiasm" reruns, throwing in a reminder about their then-upcoming Golden Globes coverage. Yes, it was nice to see Cheryl Hines, and her remarks about the experience of working with Larry David were entertaining enough, but I'm pretty sure I wasn't the only one who beat a hasty retreat as soon as they'd finished their meal. I kind of wanted to talk to Hines for a minute, but it wasn't worth having to feign interest in chatting with the network's red-carpet regulars, Carrie Ann Inaba and Chris Harrison.
Best party by a cable network: the Discovery Networks' 25th anniversary reception.
Even though there isn't a single 100%absolute-must-see series for me anywhere within the Discovery family of networks, there was just way too much going on at this function for me to give the award to anyone else. There was barbeque and ribs from the guys from "BBQ Pitmasters," cupcakes from the "Cake Boss," and a huge cast of characters from the various series, including Ed Begley, Jr., Bill Nye, Stacey and Clinton from "What Not to Wear," the Little Couple, and – courtesy of Animal Planet, of course – a baby giraffe who was quite happy to accept some leaves or even a pat on the nose.
On a side note, this was also the event which found me witnessing one of the funniest moments of the tour, but I'd feel guilty if I called out the person who was involved, as she's such a complete sweetheart. As such, I will only say this: if you're about to approach someone who you think is Adam Savage from "Mythbusters" but not you're not 100% sure it's them, be sure to lead by asking, "Are you the guy from 'Mythbusters'?" Because if it turns out they're actually Mikey from "American Chopper," it could be really embarrassing.
The party by a broadcast network that I was clearly supposed to think was awesome, even though I was personally only "meh" to it: CBS's gala to celebrate the 10th anniversary of "Survivor."
I am assured by the network's press release that it was the largest gathering of former "Survivor" contestants ever, but if I'm to be honest, I've only ever watched one episode of the show (the season finale of the first season), and the only person I had any real interest in meeting – Rudy Boesch – is from my area, anyway, so it's not like I had to fly to California to accomplish that. Still, I did remember a buddy of mine telling me that Jonny Fairplay from Season 7 was from Danville, VA, where I went to college, so I approached him and told him that I'd attended Averett University. He replied, "Oh, so you paid too much for your education, huh?" He then proceeded to reply to my request for a photo with the following pose:
That's right, Jonny, keep it classy. You've got a reputation to keep up, after all.
Best all-star party by a broadcast network: Fox. You know how you can tell Fox is #1? The open bar at their all-star party offered 18-year-old Scotch.
I wasn't the only one impressed by this, either: by evening's end, I was getting tips on the proper way to drink the beverage by Tyler Labine (soon to be starring in "Sons of Tucson"), a scenario made even more surreal by the fact that he was imparting me with this wisdom with Tim Roth sitting next to him. I've been led to understand that I might've been less impressed with the festivities if my goal had been to talk to the kids from "Glee," since most of them were apparently in possession of personal publicists who were trying to shield them from conversations lasting longer than 60 seconds. Personally, though, I had a blast.
Best cocktail party by a broadcast network: CBS. I might've been indifferent to the "Survivor" function, but CBS really came through for me by kicking off the first night of the tour with "Drinks with the DiNozzos," an "NCIS"-themed cocktail soiree which served to spotlight the then-upcoming 150th episode of the series.
The pluralization of Michael Weatherly's character's last name was due to the appearance of the man who played Tony's father in the episode: Robert Wagner. As someone who grew up worshiping at the altar of "Hart to Hart," just being able to meet RJ – it's totally cool to call him that, btw – was enough of a thrill for me, but as ever, it was wonderful to once again see my photo buddy, Pauley Perrette, who remains one of the sweetest people I've met during the course of my TCA tour experiences. I also had the opportunity to speak with Cote de Pablo (Ziva) for a few minutes, as well as to ask executive producer Shane Brennan about the challenges of making southern California look like the Hampton Roads area of Virginia, but the best bit definitely came when I was chatting with Wagner and Weatherly together.
When I told Weatherly that I hailed from Norfolk, he said, "I might've told you this one before, Will, but…hey, RJ, I've got a joke for you." He then launched into a joke which, rather than relate in full, I'll just tell you that the punchline was, indeed, "Norfolk, Virginia," with the second half of "Norfolk" pronounced with a decidedly obscene inflection. We all had a good laugh, I turned off my recorder, and as the conversation closed, Wagner and Weatherly decided to work out their golf plans for the next day.
"Now," said Wagner, "you should go home to your wife."
"What are you going to do, RJ?" asked Weatherly…and RJ, with a perfectly deadpan expression, told him rather explicitly what he was planning to go do. Immediately after doing so, however, he adopted a horrified look, and I watched his eyes move from Weatherly down to my recorder.
"Oh, no, don't worry," I said. "I turned that off back at 'Norfolk, Virginia.'"
RJ roared with laughter and clapped me on the shoulder. "You're a good man," he said, then strolled off to, I can only presume, do exactly what he'd said he was going to do, the lucky bastard.
I should add that, while this was the first thing that I attended after arriving in Pasadena, it wasn't the first event of the tour. It was actually the third. I'd planned to attend all three, but…well, therein lies a tale.
Biggest disappointment of the tour: missing the opportunity to visit the sets of ABC's "FlashForward" and NBC's "Community." Since I live in Virginia and don't always have the opportunities afforded by my L.A.-based peers, I'm always excited by the prospect of a visit to the set of a TV show. The idea of hitting the "FlashForward" set was intriguing, given that the show's had some turmoil, but since I'd declared "Community" to be my favorite new series of the 2009 fall season, I was really psyched at the thought of touring the campus of Greendale Community College. Heck, I'd even checked in with my Facebook friend Yvette Nicole Brown to tell her to keep an eye out for me! As such, when I arrived at the airport in Newport News and got word that my flight was delayed such that I would likely miss my connecting flight in Atlanta, you can probably guess how crestfallen I was. Still, I am a professional, so I sucked it up and only wept openly for about five or ten minutes. Later, one of my peers told me that the cast of "Community" made them laugh 'til they cried, and I rationalized that I'd been given the opportunity to cut to the chase and avoid all of that time-consuming laughter.
Most awesome visit to the set of a network show: "How I Met Your Mother." Although it's tempting to include "Glee," particularly since both Lea Michelle (Rachel) and Amber Riley (Mercedes) gave us phenomenal performances of "Maybe This Time" and "Don't Make Me Over," respectively, I cannot describe the trip to the set of "How I Met Your Mother" as anything but legen…wait for it, and I hope you're not lactose-intolerant…dary. Not only we were treated to breakfast while sitting in McClaren's (or, at least, on the set of it, anyway), but we were witness to the cast's table read for an upcoming episode ("Hooked"), and although Carrie Underwood was unavailable to read her part (she plays Ted's new girlfriend), Bob Saget turned up to read his narration in person.
Cheapest thrill of the tour: shaking hands with Alyson Hannigan after the "How I Met Your Mother" table read.
I've always been a sucker for a redhead, but, c'mon, this is a redhead who manages to be both cute as a button and sexy as hell…which is, for the record, why she's one of very few actresses who could successfully play a kindergarten teacher who loves porn.
I was so caught up in my enjoyment of the table read…seriously, it's one of the funniest episode this season…that I managed to resist blatantly staring at her, but when things wrapped up, even though we were being hustled back to the bus, I couldn't resist going up to her to shake her hand, thank her, and tell her that I'd had a great time. I realize I'm reading between the lines here, since all she did was smile and say, "Oh, thanks," but I'm pretty sure it was good for her, too.
Coolest moment of the tour that had to be seen to be appreciated: Chevy Chase doing a double-take when he turned around to do an interview with me.
Most awesome live performance of the tour: Nope, it's not the "Glee" kids here, either. It's Mary Chapin Carpenter, who turned up to help hype PBS's upcoming airing of Rounder Records' 40th Anniversary Concert.
Like the majority of her fans, I came aboard with the release of Come On Come On, so the fact that she opened with "The Hard Way" and closed with "Passionate Kisses" was enough to make the evening worthwhile for me, but he also threw in some songs from her more recent records, along with two tracks from a forthcoming release that were good enough to make me want to pre-order it the moment the house lights came up.
Best off-site visit that was in no way connected to the tour: Pie 'n' Burger. I can't vouch for any other items on the menu, but if the goal of this Pasadena institution was to name themselves after two things that they make spectacularly well, then, by God, they succeeded in spades.
I actually ended up hitting this fabled joint on two occasions – first with one of my closest friends and her beau, then again with some of my compatriots from Popdose.com when, even after a delicious and filling Mexican dinner, my description of the pie proved far too tempting a lure to resist – but it was my initial trip which resulted in concrete proof that I can't escape from the TCA even when I try.
Within five minutes of sitting down for a well-done cheeseburger and a piece of coconut meringue pie, Jorge Garcia, a.k.a. Hurley from "Lost," strolled in. Guess I wasn't the only one who was disappointed by ABC's decision to take a pass on offering an evening event. Fortunately, we both found solace at the Pie 'N' Burger.
Best in-joke amongst a small handful of TCA members: Zombie Harry Chapin. There is very possibly no way to make this funny to anyone who either wasn't part of the original conversation or doesn't enjoy zombie humor, but I'll give it a shot.
It all started with someone in the midst of the panel / performance for PBS's "Rounder Records 40th Anniversary Concert" forgetting the name of the actual performer, Mary Chapin Carpenter, and asking if it was Harry Chapin playing. After explaining that Harry Chapin had been dead for almost 30 years, someone began to riff on the idea that we would soon be seeing a rare concert appearance by none other than Zombie Harry Chapin. Soon, we began to consider ZHC's possible between-song patter ("Here… another… song… about… brains…"), and by the time the Golden Globes had rolled around, we were imagining how he might accept his award. ("Zombie… Harry… Chapin… not… know… where… to… begin…").
Rather than ending with the tour, this strange one-note joke has since expanded to include a Facebook presence (Zombie Harry Chapin – Official Fan Group), and with the recent announcement that AMC has greenlit a pilot based on Robert Kirkland's zombie comic, "The Walking Dead," I have every reason to believe that Zombie Harry Chapin is poised for global domination…but, then, what else would you expect a zombie to do?
Funniest case of mistaken identity than was funnier to me than the other person involved: Right before I left, I had a copy of David Bianculli's new book, "Dangerously Funny: The Uncensored Story of the Smothers Brothers Comedy Hour," sent to me at the hotel, but although it was scheduled to have arrived on the first Monday, it never made it to my room.
I went down to the front desk and asked about it, and they said that, yes, it had arrived, yet no one could seem to figure out where it had gone. I said, "Well, it's not in my room, and it's not in the TCA suite, so I'm pretty sure I can guess where it is." You see, there's a suspicious character in the TCA who goes by the name of Bill Harris. He writes for the Toronto Sun and, owing to his encyclopedic knowledge of all things "Simpsons," he refers to me as "Senor Spielbergo," since I'm his non-union American equivalent. I told the concierge, "I guarantee it was accidentally delivered to his room."
Within a few minutes, there came a knock at my hotel room door, and it was a hotel employee holding the book in one hand and the press release and envelope in the other. "You were right, sir," he said. "It was delivered to him. He wasn't in his room, so I just went ahead and picked it up. Unfortunately, he'd already opened it. I hope that's all right." Stifling a laugh, I thanked him, then sat down and composed an apologetic E-mail to Bill entitled "The Case of the Mysterious Disappearing Book," explaining that he could request a copy of the book from the publicist. He accepted the apology, but he admitted, "That's just not nearly as much fun as getting your copy."
Best trend of the tour: confirming that Facebook has helped me create friendships rather than just fly-by-night encounters. Okay, that sounds dirty, so let me clarify that a little bit. As a work-at-home writer who sits in front of his computer all day, it's somewhat of a given that I tend to frequent Facebook on a way-too-regular basis, but in order to feel a little less guilty about it, I tend to befriend folks I've interviewed, publicists that I regularly deal with, and, of course, my fellow TV critics. As a result, I felt more a part of the TCA tour than ever before, and it was awesome.
Worst trend of the tour: actors with belligerent or just plain rude personal publicists. The problem with complaining about this issue, however, is that you don't know for sure if the problem is really the publicist. It's possible that the actor has simply given the publicist specific instructions to be the bad cop. I have heard through the grapevine, however, that the network publicists are generally no more thrilled with the personal publicists than we are. It doesn't change anything, but, hey, at least we both get someone to commiserate with.
And on that note, allow me to close with…
The If-You-Don't-Want-To-Be-Here-Then-Why-Don't-You-Get-The-Hell-Out-Already? Award: Jerry Seinfeld. After offering up an entertaining performance during the panel for NBC's new reality show, "The Marriage Ref," on which he's serving as an executive producer, Jerry decided to take up residence in a little alcove within the area serving as the location of the network's all-star party. Sounds great, except for one thing: he apparently decided from the get-go that he wasn't going to be doing any interviews.
When I first spotted him, nestled in his little hideaway, he was having a bit of wine with Chevy Chase, but when Chevy departed to fulfill his own publicity duties, I approached the gentleman hovering on the fringes of Jerry's private area and, as there were no other writers nearby at the moment, politely asked if I could just ask Jerry two questions. The gentleman said, "I don't think so, but just a moment." He leaned over and talked momentarily to a woman who I cannot definitively identify (but who others seemed to think was Seinfeld's missus), then returned to me and said, "No, I'm afraid not. He's very tired."
Really, Jerry? Sorry, but at the risk of maintaining the status quo and never getting an interview, I really feel as though I have to ask: why did you bother to attend the party in the first place? It's not as though it was held as a social event. It was a working function for the television critics to chat with the cast and producers of NBC-Universal's new series. If you wanted to have drinks with Chevy, then the least you could've done was go somewhere where your presence wasn't serving solely to taunt the critics with the possibility of an interview that they were never gonna get.
Hear me and hear me well: the day will come…oh, yes, mark my words, Seinfeld…your day of reckoning is coming, when an evil wind will blow through your little play world and wipe that smug smile off your face, and I'll be there in all my glory, watching, watching as it all comes crumbling down!
By the way, I totally stole that last bit from the "Seinfeld" finale, but, oddly enough, I think the sentiment works just fine here, too.