MONDAY
Mike & Molly (Mon., Sept. 20 @ 9:30 PM, CBS)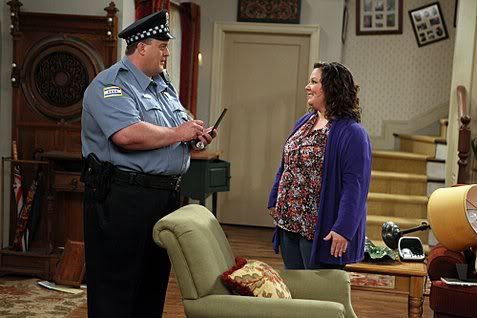 * The competition: "Dancing with the Stars" (ABC), "The Event" (NBC), "Lonestar" (Fox), "Gossip Girl" (The CW)
Starring: Billy Gardell, Melissa McCarthy, Reno Wilson, Katy Mixon, Nyambi Nyambi, Swoosie Kurtz
Producers: Chuck Lorre and Mark Roberts ("Two and a Half Men," "The Big Bang Theory")
Network's Description: a comedy about a working class Chicago couple who find love at an Overeaters Anonymous meeting. Officer Mike Biggs is a good-hearted cop who sincerely wants to lose weight. Mike's partner, Officer Carl McMillan, is a thin, fast-talking wise-guy who, despite his teasing, encourages Mike on his road to slimness and romance. While speaking at an O.A. meeting, Mike meets Molly Flynn, an instantly likeable fourth-grade teacher with a good sense of humor about her curves. For Molly, focusing on smart choices isn't easy while living with her sexy older sister, Victoria, and their mother, Joyce, both of whom flaunt their effortless figures while indulging their healthy appetites right in front of her. Mike also faces temptation at the diner he and Carl frequent, where they've become friends with a Senegalese waiter, Samuel, to whom dieting is a foreign concept. Mike and Molly found each other in the most unexpected of places. Now, they're about to find out where their quest for companionship will take them.
The Buzz: Even the people who hate the show's abundance of fat jokes…I'm one of them, and I'm pretty sure I'd still be one of them even if I wasn't overweight…aren't arguing with the odds of a Chuck Lorre show becoming a success, especially not on the night of the week that's spawned his biggest hits.
Pilot Highlight: when Mike speaks to Molly's class and reveals the origins of his career in law enforcement…or, really, anytime Mike and Molly are together. They're a ridiculously cute couple.
Bottom Line: If the writers don't put the show on a low-fat-jokes diet immediately – there are, no weight pun intended, a ton of them – in favor of embracing the great chemistry between Gardell and McCarthy, viewers' romance with the show will be short-lived, but Lorre's track record is such that we're willing to give him the benefit of the doubt that he'll get "Mike & Molly" into shape sooner than later.
Hawaii Five-0 (Mon., Sept. 20 @ 10:00 PM, CBS)
* The competition: "Castle" (ABC), "Chase" (NBC)
Starring: Alex O'Loughlin, Scott Caan, Daniel Dae Kim, Grace Park, Karyn Manning
Producers: Peter Lenkov ("24," "CSI: NY"), Alex Kurtzman and Robert Orci ("Alias," "Fringe")
Network's Description: a contemporary take on the classic series about a new elite federalized task force whose mission is to wipe out the crime that washes up on the Islands' sun-drenched beaches. Detective Steve McGarrett, a decorated Naval officer-turned-cop, returns to Oahu to investigate his father's murder and stays after Hawaii's Governor persuades him to head up the new team: his rules, her backing, no red tape and full blanket authority to hunt down the biggest "game" in town. Joining McGarrett is Detective Danny "Danno" Williams, a newly relocated ex-New Jersey cop – a working man in paradise who prefers skyscrapers to the coastline – but who's committed to keeping the Islands safe for his 8-year-old daughter; and Chin Ho Kelly, an ex-Honolulu Police Detective, and former protégé of McGarrett's father, wrongly accused of corruption and relegated to a federal security patrol. Chin's cousin, Kono, is a beautiful and fearless native, fresh out of the academy and eager to establish herself among the department's elite. McGarrett, repairing his relationship with his estranged sister Mary Ann, vows to bring closure to their father's case, while the state's brash new FIVE-0 unit, who may spar and jest among themselves, is determined to eliminate the seedy elements from the 50th state.
The Buzz: If it's not the strongest of the season, it's pretty close. CBS is waging a seriously impressive tightrope-walk of an ad campaign, playing up as many of the familiar elements as possible – you'd better believe the theme song remains the same – while also underlining that this is a modernized reboot rather than a continuation of the old show. And how about that cast, huh? Well, I suppose you've got to have pretty people to fit in with the gorgeous landscape…
Pilot Highlight: The opening sequence sets up the series – and McGarrett's tortured past – in seriously kick-ass fashion, confirming that this is not your (grand)parent's "Hawaii Five-0," but the more sentimental viewers will giggle with glee when McGarrett finally gets to deliver his signature line, "Book him, Danno."
Bottom Line: The combination of a familiar title, a solid ensemble, the beautiful backdrop, and O'Laughlin crossing his fingers and putting his faith in the power of the "third time's the charm" rule should make this into a hit.