Old Show, New Season: "Scrubs"
Q. Is "Scrubs" funny?
A. It's a matter of opinion. If you ask Peter Griffin, the answer is "no." ("You ever watch that show 'Scrubs'? Lois had it on the other night, and I was kinda fading in and out, you know. I was watching and wondering: which one is the funny guy?") Personally, though, it's one of my favorite sitcoms, with a great ensemble cast and an ability to move from laughter to tears without making it feel forced.
Q. Has the writing on "Scrubs" maintained the same level of quality since its premiere in 2001?
A. I think even those most die-hard fans of the show would have to say that the answer is an unequivocal "no." And so, for that matter, would the show's creator. Bill Lawrence said outright in his chat with me for Bullz-Eye, "I let it get too broad and goofy in the middle, and, y'know, we got a little lazy sometimes and were a little bit of a caricature of ourselves."
Q. So given that "Scrubs" just finished up seven seasons on NBC, isn't the show outstaying its welcome by moving to ABC for an eighth season?
A. Oh, hell, no. And if you think otherwise, then I ask you to at least check out the first two episodes of Season 8 before you make a final decision on the matter, because I've seen them, and they're good.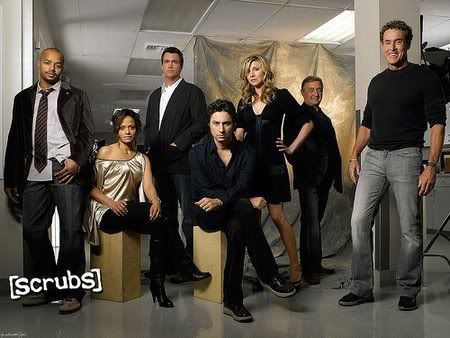 There's an immediate change in "Scrubs" from the moment Dr. Dorian…or J.D., if you like…steps onto the screen, sporting what the Janitor describes as a "pre-pubescent 'Miami Vice' beard." ("There are some who say I look like a young Kenny Loggins," claims J.D., though you'd be a fool to believe him.) Taking a coincidental cue from "House," the show finds Dr. Dorian dealing with a new class of interns, including Katie the know-it-all suck-up (Betsy Beutler), the incredibly callous Denise (Eliza Coupe), and the awesomely inappropriate Ed, played by Aziz Ansari from "Human Giant." The powerhouse within the list of guest stars, however, is Courtney Cox, who plays Dr. Taylor Maddox, Dr. Kelso's replacement as Sacred Heart's Chief of Medicine.
Posted in: Actors, Actresses, Reviews, TV, TV Comedies
Tags: Aziz Ansari, Betsy Beutler, Bill Lawrence, Courtney Cox, Eliza Coupe, Scrubs, Scrubs eighth season, Scrubs on ABC, Scrubs Season 8, Zach Braff