I'm a big fan of CBS's "NCIS," but I'll freely admit that I didn't get in on the ground floor. I didn't find my way into the series until the second season of the show was released onto DVD, but once I started working my way through the set, I found that it was almost impossible to stop. Ever since then, I've been making it a point of watching the show…though, of course, I'm far from the only one at this point. Back then, it was still kind of an under-the-radar series, but, really, how far under the radar can a show possibly fly when the USA Network is running three back-to-back episodes every weeknight?
This heightened off-network profile, combined with the remarkable accomplishment of having its new episodes grow in popularity with each subsequent season, is no doubt why CBS has decided that the time is finally right to gift the show's fans with a spin-off: "NCIS: Los Angeles." It's probably also why the new series has no less than three instantly recognizable faces – Chris O'Donnell, LL Cool J, and Oscar winner Linda Hunt – within its cast.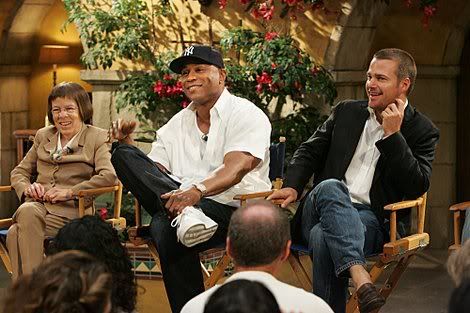 It's gotta be tough to break out from a series like "NCIS," where the fans are about as die-hard as they come, but at least the cast is aware of their responsibilities.
"My biggest concern, and I think for most of us, is to please the current 'NCIS' fans first and foremost, because they're very loyal fans and a huge following," said O'Donnell. "And, you know, if new people tune into the show, that's great, but I feel more pressure to live up to their expectations than I do maybe to the network or the studio expectations, to be honest with you. I was overwhelmed how many people were watching the show. It was a similar reaction to when I went on 'Grey's Anatomy,' and I would go through the carpool line, and every mom wanted to know what was happening in the show. Everywhere I've gone this summer, you know, it's just…I'm overwhelmed. People that I don't even think watch TV are coming up to me. 'What's going to happen? I love her. I love him.' It's amazing. You look at the numbers there, and everyone says, 'Well, his TV numbers are pulling back, and not as many people are watching network TV.' I've got to tell you, so many people are watching 'NCIS.' It's amazing."
"I think the main thing for us is just approaching it with humility and being clear that nothing is guaranteed and that our job is to do the best work that we can," said Mr. Cool J. "We depend on Shane (Brennan, the show's executive producer) to bring the best stories to the table, and then we will try to bring those stories to life in a great way. And I think that that, for us, is the main focus. Obviously, we want to maintain the current 'NCIS' fan base and all of those people that are joining the show. We don't want to, you know, make them have an allergic reaction to what we're doing on screen. But I think it's just about having fun. You know, the pressure part of it…I don't think anyone here is being arrogant. We're not making any guarantees or predictions for the playoffs. We're cool. We just want to do a great show, and we hope that you guys like it. That's the real thing."