A Chat with Bill Rebane ("Monster A Go-Go")
Although the competition for the honor of being declared "The Worst Movie Ever Made" is one of the strongest in all of popular culture, there are some titles which continue to come up again and again. "Monster A Go-Go" is one of them…and, unlike "Plan 9 from Outer Space," it's a film so bad that even the man who directed it is willing to concede that it deserves to take home the win. Premium Hollywood had the opportunity to chat with Bill Rebane, who helmed "Monster A Go-Go," upon the release of a special edition DVD, and even though 45 years have passed since the film's original release, he still stands by his position on the matter.
Bill Rebane: Hello, Mr. Harris! How are you?
Bullz-Eye: I'm good! How are you?
BR: Hanging in there!
BE: (Laughs) Same here! Well, it's a pleasure to speak with you. I actually just finished watching the special edition of "Monster A Go-Go" this morning.
BR: Oh, I feel so sorry for you…
BE: (Laughs) Well, it's funny: at first, I wasn't sure how I was going to broach the subject of the film's reputation, but throughout the special features, you pointedly say that it is the worst movie ever made.
BR: Well, that was my impression when I first saw it. Three years after I gave it to Herschel Lewis to finish, the first time I saw it, I said, "Oh, my God, this is the worst picture I've ever seen." That's not exactly what we had in mind when we started…
BE: So to jump to prior to "Monster A Go-Go," how did you get into filmmaking in the first place? Were you a movie buff as a kid and worked your way into the business gradually?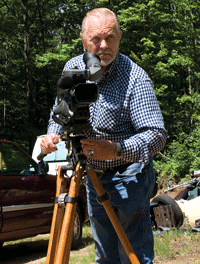 BR: Well, when I came to this country, I was obsessed with movies of that time, the old movies from Hollywood's golden age, and I went to the theaters and spent maybe half a day…more than half a day…watching movies to learn English. I was a singer and dancer during that time. In fact, I actually started out wanting to make musicals. And then the occasion arose in Germany…I went back to Germany and worked with some filmmakers there, professionals, and learned a little bit, and came back to the States and started making short subjects.
BE: How did you make the move from short subjects to the feature-length?
BR: Well, it was timely. I was a realist. I was acutely aware of the marketplace, what was going, and it seemed very timely to do a science-fiction monster movie at that time for the drive-in theaters. We wrote a pretty cohesive script, a story-oriented project, and I dove into it. But I didn't know that Chicago wouldn't… (Hesitates) I made those short subjects with the union, and when they heard that I was making a feature film, they pretty much clamped down on me and said, "Yeah, you're going to make it union, right?" I said, "Those were not my intentions." And then they merrily went on to basically confiscate the whole budget, put it in Escrow, and they would take care of it. So we ended up with maybe two hours of good time of shooting, and the rest of it was spent on setting up heavy equipment. There wasn't much of a break we got in those days. It's not how independent pictures should be made to begin with. I lost the star, Peter Thompson, a week into production because of time constraints. And then I went on to a second part the same year, actually…1961, '62…to do the rest of the picture with a non-union crew. And that's how Herschel Lewis entered the picture. I hired him as a cameraman and a production manager, and we finished all the exteriors and everything that I thought we needed to do, except the actual final ending. We never got to that, which was about 10 minutes or 20 minutes of stuff, again running out of money. Herschel Lewis needed a picture for a double bill at drive-in theaters, and I turned the picture over to him for post-production, not knowing what he would do and what he could do. And about three years later, I looked at it. It was not the same title. It was now "Monster A Go-Go." It had already run in some theaters in the South. And… (Starts to laugh) …I was more than surprised. I was a bit shocked. I said, "This has got to be the worst picture I've ever seen."
Posted in: Horror Movies, Interviews, Movie DVDs, Movies, Sci-Fi Movies
Tags: Alan Hale Jr., Barbara Hale, Bill Johnson, Bill Rebane, Blood Harvest, Capture of Bigfoot, From Roswell With Love, Herschel Lewis, June Travis, Monster A Go-Go, Peter Krause, Peter Thompson, Ralph Meeker, Robert Easton, Ronald Reagan, The Alpha Incident, The Giant Spider Invasion, Tiny Tim