Joan wants a chat with Roger…and the talk is serious: "I'm late. Very late." I guess I shouldn't have been surprised at how Roger immediately did his best to calm her down, speaking to her in a tender voice and assuring her that he'd take care of everything. His doctor, however, isn't nearly as tolerant of the fact that Roger's gotten Joan pregnant, but he still passes along information so that she can get an abortion…if she decides to actually get one, that is.
The mere fact that Roger broached the possibility of Joan keeping the baby made me sure that we were going to spend the rest of the episode playing "will she or won't she," and I was right on the money about that. Even now, Joan's impossible to read. I hate to believe that she actually went through with it 'til we get formal confirmation on the matter, but she probably did, as it would go against standard "Mad Men" storytelling for her to do something as cliched as say, "I changed my mind, I'm keeping the baby."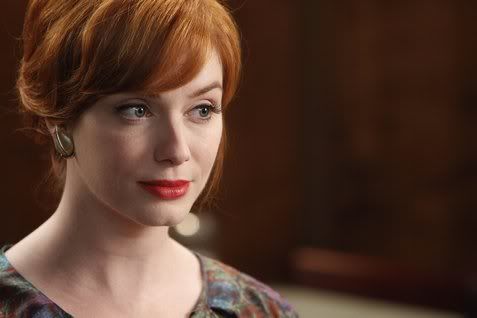 Lee Garner, Jr. is back…but not for long. After the Christmas episode, you'd think they'd be glad to see him go away for good, but since Lucky Strike is basically the client that's keeping Sterling Cooper Draper Pryce afloat, their departure could literally sink the firm. It's a little disconcerting to see Roger shift from angry into being legitimately upset. Will he be able to save SCDP in 30 days…or before he has another heart attack?
Isn't it amazing how the promise of a ticket to see the Beatles at Shea Stadium – which dates the events of the episode as taking place near August 15, 1965 – can make up for years of half-assed parenting? But, my God, even Betty's icy exterior cracked when Don told her where he was taking Sally…and, perhaps even more impressively, mother and daughter actually shared a smile. Unfortunately, the way Don kept having to put pressure on Harry about the tickets, coupled with Harry's expression while assuring him that he'd get the tickets, had me worried almost immediately that the grand event wouldn't go off as planned. Little did I know that it'd be the only thing that would pan out.