Now that I'm back from Los Angeles and have begun to recover from the nasty ear infection and sore throat which gripped me almost immediately after getting off the plane in Virginia, I'm finally able to get back to writing up the remainder of the panels I attended during the TCA Press Tour. Sorry for the delay, but I just naturally presumed you were more concerned about my health than in getting these updates. (And if I'm wrong, I don't want to know about it.)
When we last left the tour, I had finished up my coverage of upcoming PBS programming and the various new and returning cable series, so now it's time to move onward to the broadcast networks. We'll start with Fox, which started their day off in a very fun way by offering up a "Simpsons" breakfast, complete with Bart, Lisa, Homer, and Marge – who was holding Maggie – wandering around and greeting us all.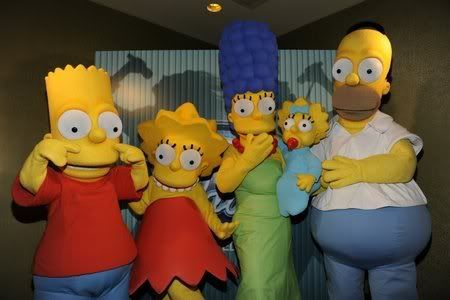 Also on hand were a couple of real people involved with the show, most notably producer Al Jean, who was able to spare me a few minutes to provide a few tidbits about what we can expect from the show, which is now entering an almost-inconceivable 20th year on the air.