The Biggest Loser: did they have to leave us hanging?
Last night NBC's "The Biggest Loser" left us hanging after two long hours, and for that I'm pissed. You had all that time to kick someone off and this is what you do? And then before you do that, you change the rules AGAIN? This show is really annoying me. Anyway, here is how it went down…
The show began with the contestants at Rocco DiSpirito's cooking school, and they had to compete by cooking healthy variations on fast food….burgers, Mexican food and pizza. But they had to make those items taste good. The black team won, and their prize was being cooked dinner by Rocco, with the blue team having to clean up after them. Then each member of the black team had to choose fortune cookies and one of them had the prize of an extra vote at the weigh in, and Laura won that.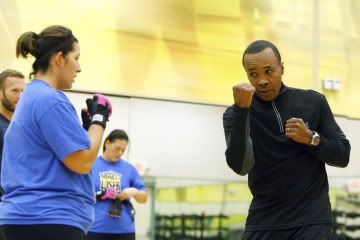 Then they showed the blue team working out with Bob, but not at the ranch, in a boxing academy with none other than Sugar Ray Leonard. Man, that had to be cool. Sugar Ray taught them his "POWER" technique of competing: "Prepare, Overcome, Win Every Round."
Posted in: Reality TV, The Biggest Loser, TV
Tags: Alison Sweeney, Biggest Loser blog, Biggest Loser recap, Bob Harper, Helen, Jillian Michaels, Kristin and Cathy, Mandi and Aubrey, NBC, Reality TV, Rocco DiSpirito, Ron and Mikey, Sione and Filipe, Sugar Ray Leonard, Tara and Laura, The Biggest Loser, The Biggest Loser: Couples, weight loss