TCA Tour, Jan. 2009: "In Treatment"
The good news: "In Treatment" is returning to HBO for a second season. The bad news: after the network provided us with several great photos of Gabriel Byrne to utilize along with his quotes during the panel, we were given the bad news that Mr. Byrne had come down with a nasty case of the flu and would not be in attendance after all. In a word: d'oh!
Still, we must rise above our difficulties. Though the panel contained 100% less Gabriel than originally advertised, we were at least graced by the presence of Executive Producer Steve Levinson and Executive Producer and show runner Warren Leight. But, dammit, we got these photos and we're damned well going to use them anyway! And, besides, it's not like Dr. Paul Weston isn't going to be a major topic of discussion.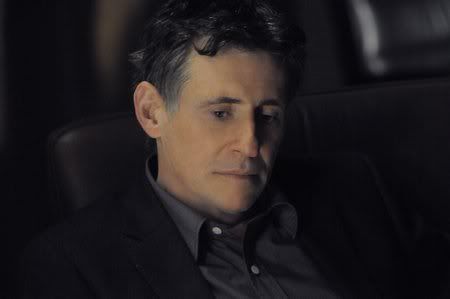 As you may or may not know, Dr. Weston's marriage has failed, resulting in a new setting for the series; possibly not coincidentally, the series itself is now being produced in New York, which is exactly where Dr. Weston is moving. Now he's practicing in a Brooklyn brownstone, baby!
"I think once we knew we were doing it there, we thought we would embrace the city and embrace the location and certainly make reference to it," said Levinson.
New York also happens to be where Gabriel Byrne himself lives. This is definitely not a coincidence.
Posted in: Actors, Actresses, Celebrities, News, TCA Blog 2009, TCA Press Tour, TV, TV Dramas
Tags: Gabriel Byrne, Glynn Turman, HBO, In Treatment, Michelle Forbes, Steve Levinson, Warren Leight