Greetings to the New Show: "Castle"
Nathan Fillion is one of those actors who just about everyone loves. There are exceptions to this, I'm sure, since nobody is universally adored, but based on my experience, girls tend to think he's hot, most guys think he's pretty cool, both genders think he's funny, and just about everyone can imagine having a drink with the guy. That's why we hate it when he ends up on a show that deserves to succeed but doesn't ("Firefly," "Drive") or, worse, find himself within a series that isn't nearly as good as he deserves…like, say, "Castle."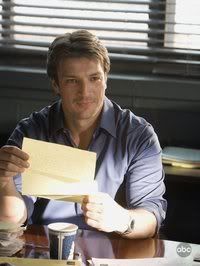 Given that the guy's coming off a relatively successful stint on "Desperate Housewives" as well as a phenomenal re-teaming with Joss Whedon ("Dr. Horrible's Sing-Along Blog"), you'd think that Fillion would be looking for the best of all possible projects, in order to build on his career momentum. Unfortunately, there's just no way "Castle" is going to be that project.
Brought to you by Andrew W. Marlowe, a man responsible for writing flicks like "Air Force One," "End of Days," and "Hollow Man," the premise of "Castle" sounds like something that would've emerged during the 1980s. Famous mystery novelist Richard Castle (Fillion) is called in to help the NYPD solve a copycat murder based on his novels, and after teaming up with attractive young detective Kate Beckett (Stana Katic), he decides to write a new series of novels using her as the basis of the lead character…and given that he's friends with the mayor, it's easy for him to pull a few strings and be allowed to work alongside Beckett when she's on a case.
The semi-good news? The premise allows for gimmicky cameos by famous authors such as James Patterson and Stephen J. Cannell, both of whom turn up as Castle's poker-playing cronies in the first episode, and provided you remember that most authors aren't going to be great actors, it's a fun idea.
The bad news? Nothing else in "Castle" is nearly as much fun.
Posted in: Actors, Actresses, Pilots, Reviews, TV, TV Action, TV Comedies, TV Dramas, Video
Tags: ABC, Castle, Jon Huertas, Molly Quinn, Nathan Fillion, Ruben Santiago-Hudson, Seamus Dever, Stana Katic, Susan Sullivan, Tamala Jones