TCA Tour, Day 2: "Spartacus: Blood and Sand"
Back in January, I covered Starz's panel on their upcoming series, "Spartacus," and at that time, I freely acknowledged that I didn't personally have much to say about the show because there wasn't anything to see. I mean, nothing. All we had to work with were the assurances of the executive producers that it was going to be a hell of a show, which I responded to thusly:
Executive producer Rob Tapert describes it as "our reinterpretation of the famous Stanley Kubrick movie," calling it "a hard-core, testosterone-driven action drama unlike anything on television right now" and "a totally R-rated, hard, hard show that still has all the things that you need in storylines but that delivers the action component that theatrical audiences expect from their entertainment." Sounds great…but it would sound a lot more impressive if they actually had anything at all to show us or, indeed, had even cast Spartacus yet.
Well, it's over six months later, and the premiere is "Spartacus" is still another six months away, but at least we're finally making some headway. Hell, just hiring some actors would've been forward motion from where we were last time, but we actually got to see a clip from the show…and, better yet, it was a kick-ass, completely unedited version that had never been screened for anyone else. So suck it, Comic-Con!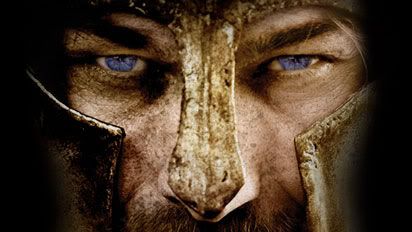 First and foremost, Spartacus will be played by Andy Whitfield, an actor who's virtually unknown outside of his native Australia (and, to look at his paltry list of credits, possibly isn't even known very well when he's at home), with Lucy Lawless and John Hannah playing the owners of a gladiator camp, and Peter Mensah serving as Doctore, a trainer of gladiators.
As you may already know, "Spartacus: Blood and Sand" is going to have a very unique look for television, though it's similar in appearance and tone, not to mention subject matter, to a certain numerically-named film, a fact which executive producer Rob Tapert tackled headlong.
"Yes, '300' had a particular look and style," Tapert admitted. "Zack Snyder brought that hyper-realistic style to a period piece, you know. Certainly, 'Sin City' prior to that had been all digital backgrounds, and there's other shows currently on television that have digital background, from 'Blue's Clues' all the way through to 'Sanctuary.' So what '300' did so well was make a great deal of money so everyone said, 'Hey, the audience will accept that,' and equally the drama played. So it was very easy to point to something and say, well, it worked in that style. Plus, having a digital environment and not having to have ultra-realistic backdrops and an arena like in '300,' or in, like, 'Gladiator,' it allowed us to actually bring this to the screen. There was no way to do it without having the artifice, so to speak."
As Tapert noted last year, this is a reinterpretation of the classic story presented within the 1960 Kubrick film, but there is most definitely a tribute to the man who played that version of Spartacus. At least, I think it's a tribute.
Posted in: Interviews, News, Rome, TCA Blog 2009, TCA Press Tour, TV, TV Action, TV Dramas, Video
Tags: 300, Andy Whitfield, Bill Hamm, Erin Cummings, John Hannah, Kirk Douglas, Lucy Lawless, Peter Mensah, Rob Tapert, Rome, Sam Raimi, Spartacus, Spartacus: Blood and Sand, Stanley Kubrick, Starz, Steven S. DeKnight, TCA Blog 2009, TCA Press Tour