United States of Tara 2.2 – Baby, I'm Your Man
Okay, I admit it: when I ended last week's blog by suggesting the possibility that there might've been sparks between Buck and the bartender, I'd already seen Episode 2.2, so I knew full well that it was going to be kicking off with a shot of the two of them in bed together. I have to imagine that many a viewer laughed at the sight of Tara offering up a "what died in my mouth?" face, given the obvious implications, but in my case, that quickly gave way to surprise over the fact that it wasn't Tara. It was Buck. Have we ever seen Tara wake up with an alter in control? If so, I can't remember it. I have to presume that this is an occurrence of note, as opposed to simply being an excuse to let Buck look proud of himself. Either way, Tara quickly took over again, returning home to find Charmaine unabashedly flashing her new engagement ring.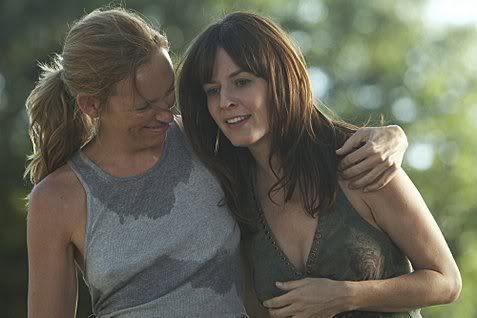 It's so hard to maintain excitement for Charmaine, given Tara's history of fucking up everything in the lives of her family, but her enthusiasm is so freaking infectious. Still, the idea of Charmaine staying at Casa de Gregson is clearly going to make for some rough going particularly given that Tara can't even remember what lies she's spinning about her past whereabouts. Also, in Charmaine's hesitation to believe that she's actually found a good man who truly loves her, she offered up a comment that struck me as possibly relating to Tara's condition: "We were raised to believe we should eat dog shit, so you get used to dog shit." This is presumably a metaphor rather than a description of their actual childhood, but it strikes me as telling. It may, however, not have anything to do with Tara at all. It may just mean that Charmaine's so used to expecting the worst from her relationships that she'll end up sabotaging this one because she can't believe she's good enough for it…and I thought that before she started obsessing over the engagement ring to an unhealthy degree.
Posted in: Reviews, TV, TV Comedies, TV Dramas
Tags: Ballsac, Brie Larson, Joey Lauren Adams, John Corbett, Keir Gilchrist, Rosemarie Dewitt, Showtime, Toni Collette, United States of Tara, United States of Tara blog, United States of Tara recap, United States of Tara Season 2, United States of Tara second season, Viola Davis, Your Fucking Face is the Fucking Gay Size, Zosia Mamet