Bullz-Eye's TCA 2011 Winter Press Tour Wrap-Up: Kneel Before Oprah!
The TCA Winter Press Tour is an event which never quite seems to live up to the TCA Summer Press Tour…but, then, that stands to reason, as the mid-season series rarely match the ones which hit the airwaves in the fall, right? Still, the experience never fails to be one which I enjoy, mostly because you never know what's going to be around the corner, and Day 1 really set the stage for that: during the course of 12 hours, I interviewed Betty White, Henry Rollins, and Bruce Jenner, and, thanks to National Geographic, I wore a giant snake around my neck. Not a bad way to begin things…
It felt like there was more star power on hand than usual for a winter tour…but, then, having Oprah in your midst kind of skewers your perceptions on that sort of thing. I suppose it's a testament to how many famous people I've met over the years, though, that one of the biggest reasons I look forward to the tour is not because of who I might interview but, rather, because I'll get the chance to hang out with the friends I've made within the TCA. All told, it was another great time, but, as ever, when it was over, I was more than ready to get back home to my family and share my memories with them…and with you, too, of course.
Well, let's get on with the reminiscing, shall we?
Oh, but one word of warning: if you followed my daily dispatches during the tour, then a couple of these stories will sound strikingly familiar, but please rest assured that the majority of the material has not been copied wholesale and is, in fact, 100% new. Swear to God.
Most entertaining panel by a broadcast network: "Made in Spain" (PBS)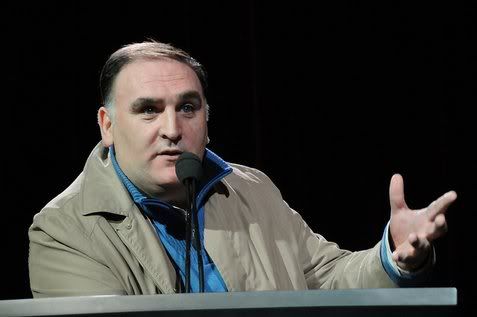 Not being a foodie, I wouldn't have known José Andrés prior to his kick-off of PBS's first day at the TCA tour if he'd been standing next to me…and, even then, I wouldn't have known that I was supposed to care who he was. After several minutes of clips from the first season of "Made in Spain," however, I was already in love with the series, and when Andres himself took the stage, it was impossible not to be charmed by him. He's a sweetheart of a guy for whom food truly is life, but he's also a hoot.
Most entertaining panel by a cable network: "An Idiot Abroad" (Science Channel)
I was seriously bummed when I heard that no one from "An Idiot Abroad" was going to be in attendance for the show's panel, but I figured, "Okay, at least they'll be there via satellite." In retrospect, there's no way they could've been funnier if they'd actually been onsite. Naturally, just being in Karl Pilkington's presence was enough to inspire Ricky Gervais and Steven Merchant to dissolve into a fit of giggles, but they were utterly warranted this go-round.
Here, see for yourself:
Most annoying panel: "Platinum Hit" (Bravo)
Between Kara DioGuardi handling a question about "American Idol" about as poorly as she possibly could have – read more about that here – and Jewel dropping names like they were hot potatoes ("I was talking to Steven Spielberg…"), I'm hard pressed to think of any panel that left a worse taste in my mouth.
Panel which had the least need for an audience: "The Best of Laugh-In" (PBS)
It wasn't entirely surprising that a panel consisting of Lily Tomlin, Jo Anne Worley, Ruth Buzzi, Gary Owens and George Schlatter would be able keep things moving along without any of the critics in attendance actually needing to ask a question, but they kept passing the conversational ball back and forth until someone in the crowd finally had to stand up and ask if it was okay to ask a question. Schlatter instantly shot back, "We're trying to talk here!" Laughter ensued, as did plenty of questions about the history of "Laugh-In." "Are you guys having fun?" Schlatter asked later. "Because we're having a ball!" Must be what keeps them looking so young: you'd never in a million years believe that Worley – that's her in the feathered boa, in case you hadn't guessed – is 73 years old.
Funniest panel that you probably had to be there to appreciate: "Community" (NBC)
The only person not in attendance was Chevy Chase, who was described as being "very under the weather,' but his co-stars more than made up for his absence. If I tried to tell you about it, though, you'd probably just stare blankly at me. Some of the funniness came from the giggling of the various panelists, some it involved one-liners which would require a lengthy amount of set-up for you to appreciate, some of it was totally visual, and…well, you get the idea. But it really was hilarious, I swear. The most easily-translatable moment is probably Donald Glover's story about how they had to teach Betty White the lyrics to Toto's "Africa" on the set. "I assumed she knew 'Africa,'" he said. "I was, like, 'Everybody knows that song!' But, like, that song was out when she was already old. She was already 50-something."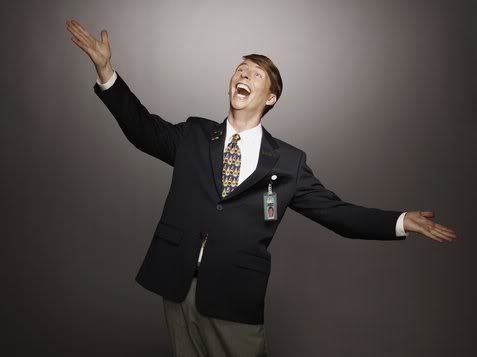 Greatest Moment of Complete Honesty During the Tour: When I approached Jack McBrayer ("30 Rock") to ask him a question, he agreed, but then he looked down at my recorder and said, "Oh, my! You're not going to record this, are you? I'd rather you didn't." At this point, he performed a perfect mock aside, holding a hand to his mouth and whispering, "I'm a little bit tipsy!" So I turned off my recorder. Kudos to you, Mr. McBrayer. Would that more actors had that blend of good humor and common sense.
Posted in: Actors, Actresses, Celebrities, Interviews, News, TCA Blog 2011, TCA Press Tour, TV, TV Action, TV Comedies, TV Dramas, TV Reality, TV Sci-Fi
Tags: 2011 Winter TCA Blog, 2011 Winter TCA Recap, 30 Rock, America's Next Great Restaurant, An Idiot Abroad, Animal Planet, Betty White, Bill Pullman, Billy Crudup, Bravo, Bruce Jenner, Caligula, Can't Stop the Music, Charice, Children's Hospital, CHiPs, Community, Conan, Conan O'Brien, Cormac McCarthy, Cynthia Nixon, Dan Hedaya, David Foster, Donald Glover, Donna Summer, Ed Asner, Elijah Wood, Gary Owens, George Schlatter, Grambling's White Tiger, Great Performances, HBO, Henry Winkler, Jack McBrayer, Jackie Chiles, James Woods, Jeff Bridges, Jerry Rice, Jewel, Jo Anne Worley, Jose Andres, Julie Bowen, Kara DioGuardi, Karl Pilkington, Kathy Baker, Laugh-In, Lily Tomlin, Lord Buckley, Love That Girl!, Mad Love, Made in Spain, Malcolm McDowell, Mark Burnett, Matthew Modine, Michael O'Keefe, Mike Tyson, Modern Family, NBC, Oprah, Oprah Winfrey, Paris Hilton, Parks & Recreation, Paul Giamatti, Paul Provenza, PBS, Phil Morris, Platinum Hit, Reaper, Ricky Gervais, Rob Corrdry, Robert King, Royal Pains, Ruth Buzzi, Samuel L. Jackson, Sara Rue, Science Channel, Seinfeld, Shedding for the Wedding, Sons of Tucson, Steve Young, Steven Merchant, Steven Tyler, Taking on Tyson, The Best of Laugh-In, The Good Wife, The Green Room with Paul Provenza, The Sunset Limited, Tommy Lee Jones, Tony Shaloub, Too Big To Fail, Topher Grace, TV One, Tyler Labine, Wilfred, William Hurt, Year of the Quarterback