TUESDAY
No Ordinary Family (Tues., Sept. 28 @ 8:00 PM, ABC)
* The competition: "NCIS" (CBS), "The Biggest Loser" (NBC), "Glee" (Fox), "One Tree Hill" (The CW)
Starring: Michael Chiklis, Julie Benz, Romany Malco, Autumn Reeser, Kay Panabaker, Jimmy Bennett, Stephen Collins
Producers: Greg Berlanti ("Eli Stone"), Jon Harmon ("Tru Calling"), David Semel ("Life"), Morgan Wandell
Network's Description: The Powells are about to go from ordinary to extraordinary. After 16 years of marriage, Jim feels disconnected from his workaholic wife, Stephanie, and two teenage children, Daphne and JJ. To encourage family bonding time, Jim decides the family will join Stephanie on her business trip to South America. When their plane crashes into the Amazon River, they barely enjoy a moment to celebrate their survival before returning to the grind of everyday life. But they will soon realize that their lives have been forever changed. Each member of the family starts to show signs of new, unique and distinct super powers. Will their newfound abilities finally bring them together or push them further apart? For the Powells, embarking on a mission to understand their new abilities becomes the key to rebuilding their family life, as they learn what defines and unifies them. Despite the fact they can collectively lift a car, run at lightning speed, read your mind and calculate the dimensions of the Eiffel Tower — all before you say "superhero" – they are first and foremost an average family with everyday problems.
The Buzz: Decidedly strong at Comic-Con, as you'd expect, and there's no question that ABC's treating it as a major player in the season, given all of the intrusive pop-ups promoting the series during its current programming. The big question, though, is whether or not non-nerds (and as a nerd myself, please understand that I'm simply using this phrase as to separate us cool kids from those other people) can be sold on the show.
Pilot Highlight: Perhaps unsurprisingly, the members of the family discovering their respective abilities make for the most fun, but as for the best of that bunch, it's a tie between Jim learning how to jump and Stephanie speeding around the track.
Bottom Line: The pilot is a heck of a lot of fun, offering a sense of humor and a sense of adventure that's more like a live-action "Incredibles" than another "Heroes," but given the tough competition, superhero fans had better tune in from the get-go, keep on coming back for more, and spread the good word on the show for all they're worth if they want "No Ordinary Family" to stick around.
Detroit 1-8-7 (Tues., Sept. 21 @ 10:00 PM, ABC)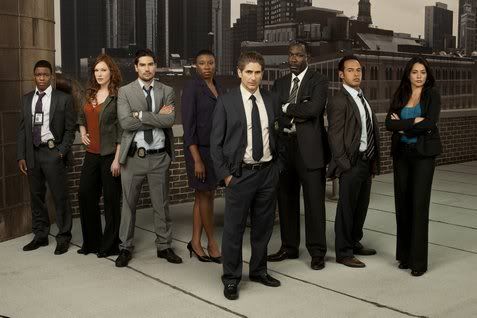 * The competition: "The Good Wife" (CBS), "Parenthood" (NBC)
Starring: Michael Imperioli, James McDaniel, Aisha Hinds, D.J. Cotrona, Jon Michael Hill, Shaun Majumder, Natalie Martinez, Erin Cummings
Producers: David Zabel ("ER"), Jason Richman ("Bangkok Dangerous"), Kevin Hooks ("Prison Break"), David Hoberman ("Monk"), Todd Lieberman ("The Kill Point")
Network's Description: What does it take to be a detective in one of America's toughest cities? Follow one homicide unit as Detroit's finest reveal the crisis and revelation, heartbreak and heroism that characterize these inner city cops in this series shot entirely in Detroit, Michigan. There's the damaged but driven Detective Louis Fitch, a wily homicide vet who is the most respected — and most misunderstood — man in the division; Detective Damon Washington, Fitch's new partner, who finds the first day on the job is a trial by fire, complicated by the imminent birth of his first child; Detective Ariana Sanchez, sexy, edgy and beautiful, who has emerged from a rough background to become a rising star in the department; narcotics undercover cop John Stone, a streetwise smooth talker, clever and quick with a smile made for the movies, who is teamed with Sanchez — a combustible pairing rife with conflict and sexual tension; Sergeant Jesse Longford, a 30-year veteran and sage of the department struggling with his impending retirement from the force and the city he loves, who, together with his partner, Detective Vikram Mahajan — a fully Americanized son of Indian immigrants — form an amusing mismatch of experience and enthusiasm, intellect and instinct, old school and new world, but whose combined skills have never encountered a case that couldn't be cleared; and all are headed by Lieutenant Maureen Mason, a strong-willed single mom struggling to balance home and work. The unit works with the primary medical examiner, Dr. Abbey Ward, who has an unusual hobby in her off-hours-roller derby. The men and women of Detroit Homicide are as smart and tough as they come. They have to be, as they struggle with their own inner demons, using only their sharp sense of humor to keep them grounded while working the neighborhoods of the historic Motor City.
The Buzz: The show earned a few headlines when it had to deal with an impossible-to-predict change from its original faux-documentary format after a real death in Detroit during the filming of an episode of A&E's "The First 48" led the city to ban camera crews from following cops around. The producers, of course, have put the most positive possible spin on the situation, but given that it was one of the few things that instantly helped the show stand out from its fellow police dramas, you know it had to hurt, especially since there hasn't really been any buzz about the show.
Pilot Highlight: The conclusion to Washington's first day as a detective. You won't see it coming, and it wipes away many of your concerns that the show might wallow in schmaltz.
Bottom Line: The cast is strong, but the show still ends up feeling like a typical cop drama. Having both Imperioli ("Life on Mars") and McDaniel ("NYPD Blue") back on the beat is nice, and the last scene of the first episode will no doubt bring just about everyone who's watching back for Episode #2, but it still may not be enough to help "Detroit 1-8-7" compete against two shows that absolutely do have buzz.
WEDNESDAY
Better with You (Wed., Sept. 22 @ 8:30 PM, ABC)
* The competition: "Survivor" (CBS), "Undercovers" (NBC), "Hell's Kitchen" / "Lie to Me" (Fox), "America's Next Top Model" (The CW)
Starring: Joanna Garcia, Jennifer Finnigan, Josh Cooke, Jake Lacy, Kurt Fuller, Debra Jo Rupp
Producers: Shana Goldberg-Meehan ("Friends"), Greg Malins ("How I Met Your Mother")
Network's Description: a comedy about three different couples at various stages in their romantic relationships. There's a couple in a happy, long-term relationship and not married. Another couple is in a brand-new relationship and unexpectedly motivated to make a rush to the altar. Last but not least, there's a longtime married couple who've been together for 35 years but may have a new take on life. Maddie and Ben have been together a long time, and the relationship they have works, but they'll come to learn that there may be value in Mia and Casey's impulsiveness and spontaneity. And both sisters could surely learn something about relationships from their long-married parents. With three very different relationships intertwined in one family, is it free thinkers vs. over-thinkers, or will each couple begin to see things a little bit differently?
The Buzz: It's hard to imagine any TV critic who won't immediately make mention of ABC's dodgy decision to repeat the exact same mistake they made last season with "Hank," plugging a laugh-track-ridden sitcom into a night otherwise filled with single-camera comedies. Word's going to get around quickly that this is the weak link in an otherwise hilarious night of comedy.
Pilot Highlight: When Mia's parents arrive for the dinner where they're meeting Casey for the first time. If they gave an Emmy for Cutest Delivery of a Line, Garcia would win it for the way she says, "Just be yourself…but better. I'm sorry…but I mean it!"
Bottom Line: A strong contender for first cancellation of the new season…and when it happens, don't be at all surprised to see Matthew Perry's single-camera sitcom, "Mr. Sunshine," find its way from the wings into the Wednesday night lineup. (Frankly, I'm wondering if that might not have been ABC's plan all along.)
The Whole Truth (Wed., Sept. 22 @ 9:00 PM, ABC)
* The competition: "Defenders" (CBS), "Law & Order: Los Angeles" (NBC)
Starring: Maura Tierney, Rob Morrow, Eamonn Walker, Sean Wing, Anthony Ruivivar, Christine Adams
Producers: Jerry Bruckheimer and Jonathan Littman ("CSI"), Ed Zuckerman ("Law & Order"), Tom Donaghy ("Without a Trace"), KristieAnne Reed ("Dark Blue")
Network's Description: a show which employs a unique alternating narrative structure that chronicles the way a case is built from the perspectives of both the defense and the prosecution. Portraying each side equally keeps the audience guessing – shifting allegiances and opinions on guilt or innocence until the final scene. Kathryn Peale, the product of a New England background and a sheriff father, is a Deputy Bureau Chief in the Manhattan District Attorney's office. Jimmy Brogan, born and raised in Hell's Kitchen and a friend of Kathryn's since their days at Yale Law School, is one of New York's rising criminal defense attorney stars. With the support of their respective teams, these two evenly matched legal aces will square off each week. The pilot episode centers on a high school history teacher and family man who's arrested for the rape and murder of a female student. Aiding Kathryn in the prosecution is the DA's Bureau Chief Terrence "Edge" Edgecomb and Chad Griffin, a very junior ADA and a total player. Over at Jimmy's firm, his defense team includes Alejo Salazar, Jimmy's faithful and extremely competent second, and Lena Boudreaux, a recent hire angling to be Jimmy's second on the murder case. Creating two different stories from the same set of facts, this up-close, behind-the-scenes look at the legal process mirrors the excitement of a great championship match. Ultimately, it becomes evident that innocence and guilt have nothing to do with the truth – the only thing that matters at the end of every trial is what the jury believes.
The Buzz: Despite trying to put a slightly different spin on the legal drama (which is somewhat surprising, given Jerry Bruckheimer's appreciation of the formulaic), the only real reason that people are talking about this show is that it's bringing Maura Tierney back to work for the first time since her battle with cancer…and if Tierney hadn't stepped in to replace Joely Richardson, who was the series' lead in the original pilot, it's likely there'd be no buzz for it at all.
Pilot Highlight: Ominously, ABC still hasn't managed to provide us with a revised pilot, despite the fact that the show will be premiering less than two weeks from the date that I'm writing this line, but what's really odd is that the original version of the pilot – the one with Richardson – still remains on the site. I guess it's in order to at least give us some idea of the feel of the show, but I'm not going to cite a highlight from something that's never going to see air.
Bottom Line: It's hard to make a formal declaration without final product, but between "ER," "NewsRadio," "Northern Exposure," and "Numb3rs," Tierney and Morrow have together spent so much time on TV over the years that their familiarity to viewers may give them an edge over "The Defenders," at least.
THURSDAY
My Generation (Thurs., Sept. 23 @ 8:00 PM, ABC)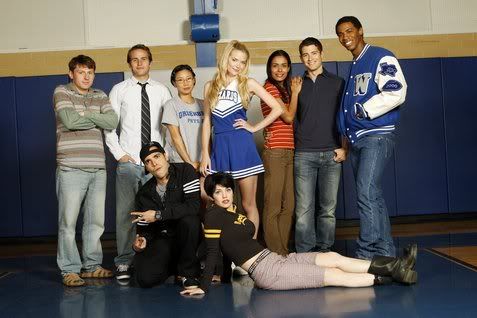 * The competition: "The Big Bang Theory" and "Bleep My Dad Says" (CBS), "Community" and "30 Rock" (NBC), "Bones" (Fox), "The Vampire Diaries" (The CW)
Starring: Michael Stahl-David, Jaime King, Kelli Garner, Keir O'Donnell, Sebastian Sozzi, Mehcad Brooks, Anne Son, Daniella Alonso, Julian Morris
Producers: Noah Hawley ("The Unusuals," "Bones"), Warren Littlefield ("Keen Eddie"), Henrik Bastin, Peter Magnusson, Martin Persson
Network's Description: What a difference ten years can make. In 2000 a documentary crew follows a disparate group of high school seniors from Greenbelt High School in Austin, TX, as they prepare for graduation, and revisits them ten years later, in 2010, as they return home to rediscover that, just because they're not where they planned to be, that doesn't mean they're not right where they need to be. None of these students could wait to graduate and head out into the real world, but the world they were entering got very real, very fast. Personal, social and global events of the last decade shaped and altered their life courses, and when the documentarian reconnects with them, they're faced with the questions of whether their old hopes and dreams were realized, what they've become and where they're still headed.
Camera lenses takes us on a path of self-discovery, offering a window into the personal lives of these fomer classmates. There's Steven Foster, "the overachiever," who found it impossible to live up to his father's expectations and escaped to Hawaii to become a surfer. Steven returns to Austin after a call from Caroline Chung, the shy "wallflower" in high school, who has decided to break the news that she's raising his nine year old son, conceived on prom night. Kenneth Finley, "the nerd" and all-around good guy, is now a teacher and wants nothing more than to have kids and a family of his own. He has created a sort of surrogate family in the meantime by allowing his former high school sweetheart, Dawn Barbuso, "the punk," to stay at his house until her baby is born in three months. Dawn's husband, Rolly Marks, Greenbelt High's former star athlete and "the jock," is serving his country in Afghanistan. High school "beauty queen" Jackie Vachs returned to Austin when her Hollywood dreams didn't pan out. She's in a marriage of convenience to "rich kid" Anders Holt, and wears a thin veneer of polished marital bliss… until she bumps into Steven following his return to Austin. Brenda Serrano, the class "brain" who thought she had found her soulmate in Anders, has not fully recovered from their high school break-up, despite her high-powered job working for a Congressman in DC. A call about her ailing mother will bring her back to their old stomping grounds. And The Falcon, "the rock star" free spirit, is still chasing his rock & roll dreams. Though producing, deejaying and tapped into the underground music scene, it's his ties to his old friends that keeps him rooted.
The scripted drama follows the personal stories of these nine friends. The promises they thought their futures held, as well as how far they've come and just how they got here are all told through the camera of a documentary film crew.
The Buzz: Most of the critics who've spoken of the pilot have been less than enthusiastic, but the question which drives the concept of the show – "How much has changed for you over the last ten years? – has the kind of mainstream appeal that results in audiences defying critical opinion, and the fact that it plays like a Richard Curtis film done by the producers of "The Office" probably won't hurt its chances at success.
Pilot Highlight: The best moments are invariably the small characters moments, but the best is when slacker Steven is introduced to his half-Asian son for the first time, suggesting, "I could teach you how to be a ninja or something," then hesitating and asking uncertainly, "Is that racist?"
Bottom Line: There's an overabundance of cliches and some seriously heavy-handed placement of world events from the past ten years into the lives of the characters, but the biggest problem is that there are so many characters that the pilot doesn't have time to develop them beyond pencil sketches, each with at least one highly defined attribute to help them stand out. Obviously, they'll all be expanded upon as the season goes on (barring cancellation), but at the moment, I'm not sure if any of them are interesting enough that I really need to see that happen.
FRIDAY
Body of Proof (Fri., Sept. 18 @ 9:00 PM, ABC)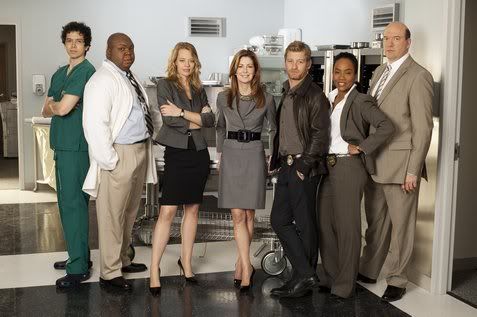 * The competition: "CSI: New York" (CBS), "Dateline NBC" (NBC), "The Good Guys" (Fox), "Supernatural" (The CW)
Starring: Dana Delany, Geoffrey Arend, Nicholas Bishop, John Carroll Lynch, Windell D. Middlebrooks, Jeri Ryan, Sonja Sohn
Producers: Christopher Murphey, Matthew Gross ("Dirty Sexy Money"), Sunil Nayar ("Three Rivers," "CSI: Miami")
Network's Description: Brilliant and driven neurosurgeon Dr. Megan Hunt had it all, or so she thought. As the first female Head of Neurosurgery at a prominent Philadelphia university hospital, she never appreciated how the demands of her profession were taking a toll on her personal life until her husband divorced her and she lost custody of their then seven-year-old daughter. Still reeling from this emotional trauma, Megan soon suffered a physical one, a car accident that left her with a condition called paresthesia — random attacks of numbness and cramping of her hands. Tragically, this condition failed to manifest itself until Megan's first trip back to the operating room. She lost control of her instruments and her patient died on the table. Megan's life as a neurosurgeon was over. Five years later Megan has found a new life as a Medical Examiner. Although she's no longer in the business of fixing what's wrong with living patients, she's still instinctively drawn to finding out what killed her dead patients and uncovering who was responsible and why. As she pursues the answers, the bodies of the dead provide the clues. The body is, in effect, the proof. And with her unique blend of smarts, instinct and a warehouse of medical knowledge, she can read a body like nobody else.
Megan can also ruffle feathers like nobody else. In her new career she has already developed a reputation for flouting convention and blurring the lines between the Medical Examiner's Office and the Police Department. Dr. Kate Murphy, Megan's boss, sympathizes to a degree. As Philadelphia's first female Chief Medical Examiner, Kate didn't get where she is without ruffling a few feathers herself. She hired Megan for her expertise and the results she could bring to the job. But Megan's unconventional way of doing things presents Kate with an ongoing dilemma. Megan is brilliant but also polarizing. How much should Kate rein her in? Megan's partner is Medical Investigator Peter Dunlop. A former cop, he doesn't hesitate to tell her the hard truths about her work style. And he's invaluable as a bridge between the Medical Examiner's Office and the Police Department. Also frequent contacts at work are Dr. Ethan Gross, whose boyish, geeky ways Megan finds endearing, as well as Deputy Chief Medical Examiner Dr. Curtis Brumfield. It is Megan to whom Curtis is constantly trying to prove his medical chops. Detective Bud Morris is an old school cop and finds Megan's Sherlock Holmes-like ways exasperating, but he can't deny her effectiveness. His partner, Detective Samantha Baker, is eager and bright. She possesses a quiet respect for Megan's input, even if her partner doesn't.
Death is a fact of life. The irony is, death has brought new life to Megan Hunt. As she investigates what happened to her patients, she finds their lives and the lessons they hold are in a way a bequest to her, to learn from them what she can and to apply to her own personal journey of redemption and forgiveness. In return, Megan is determined to get them justice.
The Buzz: Dana Delany remains easy on the eyes, and teaming her with Jeri Ryan, who's also unlikely to result in viewers suffering ocular damage, makes for a pretty hot property, even if it's a premise that's far from new. An egotistical, injury-hampered physician who struggles with both personal and professional relationships…? Don't be surprised to read reviews which describe Megan as the "House" of coroners. They won't consistently mean that as a compliment, but it's a familiar point of comparison, and viewers love that.
Pilot Highlight: Not surprisingly, it's whenever Delany and Ryan get the chance to square off, but beyond that, Delany shines brightest – and, most likely, defines how we're going to be seeing her interacting with suspects on a regular basis – when she confronts a prominent businessman about his possible infidelity.
Bottom Line: It might not be original, but it feels like the kind of show that could thrive on a Friday night…but, then again, that's what I thought about "Women's Murder Club," too, so I guess we'll just have to see what happens.