Much as the CBS family of networks split their efforts into two days worth of panels – one for CBS, the other for Showtime and The CW – so did Fox give us some breathing room by placing their presentations for FX's slate of new programming on a separate day. (I wish to God NBC / Universal would take a cue from their peers. I'm so sick of being rushed through a mishmosh of NBC, USA, Bravo, and SyFy series in one long can't-stop-won't-stop day.)
Executive Session
Your personal mileage may vary, but for my money, John Landgraf is one of the nicest network heads currently in the game. He's very low-key, but he's always ready to give you a quote when you're looking for one. Today, he offered up the following bits and pieces about the future of FX.
* "Louie" has been renewed for a second season of 13 episodes.
* Ben Garant and Tom Lennon, late of "Reno 911!," are going to do a pilot for FX called "The USS Alabama." It's another partially-scripted, partially-improvised series, and, according to Landgraf, "It takes place in space on the USS Alabama with a crew of spacefarers who might not be too much brighter than the cops in 'Reno 911!'"
* There are two other pilots in the works as well, the first being "Outlaw Country," which will star Mary Steenburgen. "Some really talented young actors have joined that cast," said Landgraf. "That goes into production in, I think, six weeks. It's a fantastic script. Something we're really, really excited about." The other is "Wilfred," a comedy pilot based on an Australian comedy series, which completed principal photography last week.
* The "Damages" deal done with DirecTV is different from the one that was done with "Friday Night Lights" in that FX will not be offering up the episodes after they've run on DirecTV. "The season that has aired, which was the third season of 'Damages,' is the last season it will air on FX," said Landgraf. "For us, we're also producers on 'Damages.' We've been co-owners and co-producers through FX Productions, and DirectTV felt very strongly. They were willing to underwrite it, and to a very substantial amount financially, they enabled it to move forward. That was the deal that Sony worked on very aggressively, but they wanted it exclusively, so this was really the best and only way for 'Damages' to move forward. So we stepped aside as a network entity, and we're still involved as a production entity."
Sons of Anarchy
I don't know that there's any series currently on the air that I feel worse about not watching than "Sons of Anarchy." Everyone tells me it's fantastic, I have every reason to believe that those people are right, and yet I just haven't had the time to go back and revisit the show's first two seasons. But that won't stop me from bringing you the info that creator Kurt Sutter and his cast provided to us during the show's panel, of course.
As far as the "big bad" for Season 3, as it were, Sutter says, "We have a couple dual storylines going in Charming and as well as in Belfast, but I guess if you had to pin it down to one specific adversary, I would say that it's probably the Titus Welliver character, Jimmy O."
What of the theme of the new season? "I don't know if there's one specific overriding theme," said Sutter. "I think the theme is always about family and Jax sort of defining his role as a father and as a partner and as a son and as a member of this club, and the Abel storyline drives us through pretty much the entire season, and…I don't want to give anything away in terms of what that means and where that takes us, but, you know, the thing is our seasons, the actual span of time within our seasons is very short. It's potentially a couple, two or three weeks. So there isn't a lot of time that passes where you can have a lot of things unfold organically. So it is a very concentrated period of time which I think helps feed, I think, the sense of urgency for the tasks that they have at hand this season."
Sutter also tackled the question of where Chief Unser would be heading this season. "I think we've defined this relationship between Unser and the club as being…you know, it's not so much that Unser is in Clay's pocket, it's that they've made this deal a long time ago where they would each would do their part to keep Charming safe," he said. "I think what happens is that gets turned on its head a little bit this season and the nature of the violence that happens is perhaps what neither the club or Unser had in mind. I think that relationship will be tested in a very heated way this season."
"I'm in a bit of a pickle is the way the season goes," clarified Dayton Callie, with a grin.
Maggie Siff, meanwhile, addressed the future of her own character. "Tara's decided to stay, and she's decided to be in this relationship and be a part of this family," she said. "And yet everything sort of just when she makes that decision, everything falls apart. So there's a kind of chaotic commitment to being there. And it's been very satisfying as an actor, actually, because it's a lot more fierce, you know. It feels like she's taking a stand in the world, and yet the world has completely fallen apart around her, and she has very little to hold onto. It's just a fierce chaos."
That's really all that was said about Season 3, but I'll close with the decidedly entertaining comments made by Sutter and the cast when they were asked about the dearth of Emmy nods received by the show.
"Can I first say that — and not just to kiss all your asses because we're out here, but — I so appreciated and it was so important to me to get the TCA nomination for the show and for Katey," said Sutter. "It was just one of those moments where I said, 'Okay, I'm not fucking crazy," you know, that we are actually doing good work, that there is some recognition to that. And, you know, all I'll say about the Emmys — and clearly I've had a very specific opinion – is that every year when the Emmys are announced, the stories that come out…half the stories are about the nominations, and the other half of the stories are about the absurdity of the nominations and the snubs. So to me, perhaps that suggests that the system is somewhat flawed. And that's all I'll say.
"I would just say that it's the reaction of the people," said Mark Boone Junior. "When I hit the streets, you know, it's amazing, the reaction. Emmy or no Emmy.
"Yeah," agreed Tommy Flanagan. "Emmy-shmemmy."
"Fuck 'em," said Ron Perlman.
Charlie Hunnam's mindset was clearly in line with Perlman's. "I would just like to say, honestly, and this is kind of controversial, and I'm sure I'll garner a little bit of disappointment or confusion from colleagues, but I personally was really happy," he said. "I don't subscribe to Emmys or awards or any of that shit. I think it's all a crock of shit. And I think it's corrupting. And I was happy that we weren't on the receiving end of a force that could change the dynamic that we have, because I think it's working, and it's an environment where we're able to do good work and feel fulfilled as artists. And all of that crap, I just think, is secondary and completely unimportant…but it does have the potential to ruin a good thing. So like he said, fuck 'em.
"Fuck 'em," repeated Perlman.
Katey Sagal, meanwhile, merely shrugged, smiled, and said, "You asked."
Terriers
There are so many reasons to like this show that it's hard to know where to begin, but since we've got to start somewhere, let's go with Donal Logue first. If I listed off all of the projects he's worked on over the years that I've loved, we'd be here all day, but just the trio of "The Tao of Steve," "Grounded for Life," and "The Knights of Prosperity" are enough to keep him my good graces for the long haul. Put him into a series created by Shawn Ryan ("The Shield") and Ted Griffin ("Ocean's Eleven," "Matchstick Men"), and you've definitely got my attention, but then you throw into the mix that Logue met his co-star, Michael Raymond-James, when they both appeared on NBC's late, lamented cop drama, "Life," and, baby, I am sold.
"Michael did an episode (of 'Life'), and it was one of those all-night-shoot-til-6-in-the-morning things where by the end of it, it's, like, 'I've met a new best friend for life,'" said Logue.
"He was walking around carrying a copy of Kerouac's 'Big Sur,'" said Raymond-James.
"That's how we started talking: about Jack Kerouac," said Logue. "Michael and I became kind of good friends over the course of that night, and then I came in to meet Ted and Shawn and Craig Brewer, who directed the pilot, and was lucky enough to be asked to be part of this thing. So I became part of the casting sessions for the show, and, of course, you know, the really tricky one was who was gonna be Britt, and then I remember going in for the first set of auditions with a bunch of guys sitting around waiting to go in, and I saw Michael, we gave each other a hug. And then…you could see the deflation (in the room). 'Oh, great, man. They're fucking best friends! I told you this kind of crap would happen.' But then when Michael and I did the show, we ended up renting a house together in San Diego, so it was kind of on 24/7 the whole time. I actually think that our friendship and just even the amount of work we did kind of when we weren't working on the show…I don't know, it really helped the kind of endeavor we had."
"My big concern when they told me they were going to live together during the entire shoot…I was, like, 'Please don't hate each other by the end,'" said Ryan. "In fact, it seems like it brought you guys closer together. It's such a great story that these guys would work 13 hours a day. There's barely a scene in the entire series that doesn't include at least one of them, and oftentimes both of them. We work them really, really hard, and then for them to sort of drive back to the same house…"
"It really made it a lot better," said Logue.
"A lot better," said Raymond-James. "It also helps that we shared an addiction to carne asada burritos."
"San Diego was fantastic, too, by the way," Logue added. "And I think it was such a great idea these guys had to go down there, because there's something about San Diego that is quite different than Los Angeles, and something specifically about Ocean Beach's community that we shot in, that it's still this kind of working-class enclave that's right on the beach that really fought hard against having big, kind of corporate condo development, no-Starbucks-type stuff, and it's really — it really gave us this kind of foothold to create this universe in."
Although Logue is ostensibly best known for his work in comedic roles, he explained that it was a career direction that had less to do with personal desire as it did the luck of the draw with what projects proved to be the most successful.
"To be honest, when you're young and when you watch 'The Deer Hunter' for the first time, that's when you're, like, 'That's what I want to do,'" said Logue. "To be that guy to slap Robert De Niro…? That's what I meant. But what happens is all of a sudden you have some success in comedy. I ended up doing these weird MTV shorts with my friend improvising this cab driver thing, and then at that point, you're kind of like, well, that's what this guy does. And you always want to do everything. I think, though, that I've been lucky enough to kind of go back and forth, and there was something about this, though. There was something about that form of comedy that…it's just difficult. It never really felt like you could just fully commit to just all the kind of colors that you carry with you. I did a pilot for HBO called "1 Percent" that they didn't end up picking up, but it was a pretty intense and dramatic piece, and there was just something about it that felt really right at that time in life. I feel more comfortable in this milieu."
"I love doing comedy," Logue continued. "I think our show's quite funny in a lot of ways, but I love not feeling this hydraulic pressure that you have to create this kind of comic moment within every scene. You can just play it as it is. This is kind of where I vibrated towards for a while. I don't know where else it will go, but I feel actually quite blessed that I can actually balance between the two worlds, that I can do 'Grounded for Life' and then do 'Zodiac,' because I think a lot of really talented actors I know, they end up getting set in a certain category, and no one will ever buy that they can exist outside that category, even though you know full well that they can, but it's just difficult for people to be able to cross those fences, so I feel pretty blessed that I've been able to."
Although Ryan certainly has a solid history on FX, it wasn't necessarily where he first envisioned the show ending up.
"When Ted first talked about the idea of doing a PI show, dollar signs started ringing in my head," he said. "'Man, I got the guy from 'Ocean's Eleven.' We're going to be able to go out on the town and sort of sell this PI show, and ABC's gonna want that. NBC's gonna want that. We're going to make a killing.' He was like, 'I really want to do it at FX. I don't really want to do it anywhere else.' And which was fine by me. But then I said, 'How is it going to be different? How is it going to be different than the USA stuff? How is it different than that?' And he went away and came back with these pages that I read, and was like, 'Oh. That's how it's different.' And so for me, it was the joy sort of accepting the idea of how to do a PI show that isn't going to seem like it could be anywhere else other than FX."
Lights Out
I'm not a sports guy and never have been, but for some reason, I still enjoy films and television series about sports. Go figure. Less easily swayed by the genre, however, is my wife, but she nonetheless found herself caught up in the pilot for "Lights Out," which revolves around a former heavyweight boxer who finds his financial opportunities drying up, leaving him to pursue slightly unscrupulous options to make ends meet and support his family. "It's kind of like 'Rocky,'" said my wife, and there were indeed some similarities to the more desperate times in Mr. Balboa's career, but what's particularly interesting about "Lights Out" is that, rather than existing in a vacuum, it acknowledges the existence of boxing in popular culture.
"There have been a lot of movies about boxing," admitted executive producer Warren Leight, "but I don't know that there have been that many TV shows about it. So when we prepped, we watched, I'd say, dozens of mediocre and maybe a dozen great boxing movies and just tried to understand. And, also, there's not just great boxing movies. There's great boxing literature. It's been one of the places writers have gone to prove themselves in a way. So we tried to draw on all of that, and what the advantage we have is almost every boxing movie – except for 'Rocky,' which kind of went on and on and on — it's a one-off. And to serialize a story about the life of a boxer and what it's like to try to put food on your family's table when times have changed, to serialize that story over time really allowed us to open it up. The great challenge was to avoid the cliches and make the world come to life. And, of course, there's usually some truth to the cliche. I hope and think we pulled it off, but we were aware we were walking where others had walked before."
Indeed, a member of the cast is one of those who'd done some of that walking: Stacy Keach, who starred as a boxer in John Huston's "Fat City," which he described to us as having been released "some years before you were all born." (He was close: it was only 2 in 1972.)
"Jose Torres was my trainer at the time," said Keach, "and it was a great eye-opener for me because I had never had this kind of close-hand experience with the boxing community, and my respect for boxers and what they go through in order to perform what they have to perform in the ring just grew enormously. I had no idea what kind of emotional and physical stamina is required in order to sustain the beating that you take when you go into the ring. I was in the best shape of my life in those days, and it was thanks to Jose Torres, mainly, because he drove me. He pushed me, and I think that one of the most important things about successful fighting is the will to win. You've got to be able to survive and sustain the tremendous amount of punishment and still come back and do your job."
So that's one cast member with boxing street cred. Plus, Holt McCallany – who plays Patrick "Lights" Leary, the aforementioned boxer with financial woes – played a boxing trainer in "Tyson," and his brother was a former Golden Gloves champion, both of which ought to count for something. In fact, Leight said that he was shocked at how easy it was to find people for the show who could both act and box.
"Actors will always rise to the occasion," said Leight. "Holt was a gift, and I think Holt is the reason the series was picked up, but Holt has a nemesis in this show played by Billy Brown who plays 'Death Row' Reynolds, and that guy is a terrific actor and was not an experienced boxer when the show began but became a terrific boxer. It was an odd experience for us because we stage fights in the course of the season, and to find people with that physical skill set who can deliver emotional truth at the same time would seem to be daunting, but I guess if you can box, you have the nerve to act, and if you can act, you have the nerve to box. It worked out. I think Holt can speak to some of the guys he got in the ring with."
"Yeah, you know, we definitely wanted guys who were going to be able to deliver on the physical side of things as well," said McCallany. "Warren was very adept. When I first come in the room to audition, it's a bit like asking actors, 'Have you ever ridden a horse?' A hundred percent of them will say, 'Of course, I rode horses all my life as a boy. Did I box? Yes, I boxed, yes, back in summer camp when I was 14.'"
"They do all lie to your face telling you they box," admitted Leight. "And I'm thinking, 'You're going to have to go in the ring with Holt!'"
Rescue Me
We weren't expecting to get a "Rescue Me" panel this tour, and, really, we only just barely got one as it was, since it was thrown into the mix as part of our lunchtime and therefore didn't last as long as most panels. Don't worry, though: series co-creator Peter Tolan is a man who knows how to make the most of his time.
"I have nothing really to say," began Tolan, "except I'm so glad to be here by myself and not with Denis Leary, because he is an attention hog, and the secondhand smoke, really, I'm lucky to be alive, frankly, at this point. It's been seven seasons…and, of course, 'The Job," the show we did before, which was my idea, as was 'Rescue Me.' I am really lucky to be
alive. I'm sure there are tumors just waiting to take me pretty much after this lunch."
The reason for the panel was to give Tolan the chance to discuss the impending final season of "Rescue Me," which is set to end at approximately the same time as the 10th anniversary of 9/11. He took full advantage of the opportunity, so if you're a fan of the show, you're going to love reading this stuff.
"Denis and I had talked about how the series would end," said Tolan. "Initially, around…let's say, the fourth season or fifth season…when we had those conversations, they would sometimes go to a dark place where Denis was saying, 'I think Tommy goes and he gets in a fire, and I think he just sort of sits down in the middle of a room on fire, sits in a chair, and that's how it ends.' I'm like, 'I don't know if that's going to really work. I don't think that's going to work for us.' Because, obviously, you create a series that lasts this long, there's gotta be some reason at the end why people watched it. Otherwise, they will feel like they're maybe watching 'The Sopranos' again. I'm just kidding, of course. That was very, in its own way, an inappropriate finale.
"So we kept thinking about that, and we thought about…you know, we thought at one time that he was going to end up with Maura Tierney's character and find some sort of happiness, and she had a house by the beach, and then one day he sort of takes his clothes off, goes down to the water's edge, and just keeps swimming out. And that's the end of the series, like he's going to commit suicide. That's probably not going to do it either. And in the end, what we came to right around the time we started the sixth season was something that would justify the reason that people had sort of stuck with the series all that time. And we actually found a hopeful place for that character, and I think sort of a positive message in terms of…the idea of the entire series is will a person succumb to the pressures created by living through a life-changing experience. I mean, is that going to destroy them or are they going to overcome it? And I think at the end Tommy does overcome it.
"You're actually seeing now, just in terms of where the show is right now, because the fifth episode of the sixth season…the fifth episode was the turning point for everything that happens from this point on. People always wondered if Tommy Gavin was going to hit bottom, and last week was it when he loses his daughter after a night of drinking, the two of them, and that really gave us sort of a starting point almost for the end. So I think all of the episodes, from 605 all the way to 709 follow a really strong line that ends in a very hopeful place. And actually, in a much lighter place than I had imagined. Even in writing it, I thought, 'Oh, it's 9/11, and it's the end of this era for these characters, and it's gonna be very profound,' and we wrote a version that was that. But in the end, it didn't turn out to be there. It turned out to be much lighter, and actually much more life-affirming and about the resiliency of people in the face of a tragedy. So maybe all those things don't sound like 'Rescue Me,' but that's what it turned out to be."
This lengthy speech inevitably led to someone asking Tolan if the show's relatively kinder and gentler conclusion proved creatively problematic for him, given everything that has come before.
"It was not a problem, but it really was a surprise," he admitted. "The way we wrote the show was there were really only three writers. It was Denis, myself, and Evan Reilly. Those were the only three guys who wrote that show. And many times, especially in the later seasons, you know, the day would come where you'd have pages that you were going to shoot, and we'd go, 'Are we really going to say this? What's the quicker way, or what's the funnier way, or what's the way that's a left turn that people won't expect?' And I think I went into the finale thinking, oh, this is very important now. If you love the show and you love the characters, you want that thing to be a great experience for you, forgetting about your viewing audience. You want it to be good for you and you want to do right by the characters and the cast and the crew and everybody, really. You wanted to have it be a good experience. And like I said, there was some writing in that finale that was just was a little bit more momentous. You know, it was more like, 'Look at this moment and the time and how we've survived this and how this series is coming to an end.' And the day came and we threw it out, and what replaced it was much lighter and much more life goes on. And I had a moment. I really had a moment, because I directed the episode, where I was like, 'Boy, this is so not what we wrote,' and I went, 'But it's right. It's right. Let's get off the soapbox and let's not make a big speech about it.' It was right, but it was a little daunting in the moment.'"
You'll be able to see what Tolan is talking about next year, when the nine episodes of the seventh and final season of "Rescue Me" premiere.
It's Always Sunny in Philadelphia
Although it's never been must-see TV for me, "Sunny" is definitely one of those sitcoms I can always count on for a laugh when I need one, so it's good news that, even though the series is heading into its sixth season, the cast still seems to be enjoying themselves.
"The good news is we actually still like each other," said Glenn Howerton. "So even though it is a ton of work, we actually enjoy each other's company throughout the process, for the most part."
"It seems that our audience is growing at such an accelerated rate for the past few years and so many people are new viewers," said Rob McElhenney, "and it's sort of coinciding with us, I think, crescendoing in with our greatest creative season, and feel like, as long as new viewers keep showing up to watch, we'll keep doing it."
And how much longer will that be?
GLENN HOWERTON: Ooohhh.
ROB MCELHENNEY: It's hard to say.
GLENN HOWERTON: Tough to say. We'll take it year by year.
ROB MCELHENNEY: Yeah.
GLENN HOWERTON: We've got at least one more year for sure after this.
As far as what to expect from this season, Chase Utley and Ryan Howard of the Phillies, along with Tom Sizemore, are guest-starring in an episode where the gang dares to go on an adventure outside the city…to the wonderful state of New Jersey!
I have to admit to you, however, that for as funny as "Sunny" is, the panel for the show was somewhat of a letdown. One of my peers commented that it's amazing just how seriously comedians take their art, and I have to agree: I'd even suggested to my wife that she might want to stick around, figuring it would be non-stop hilarity. It was pleasant enough, but I definitely wouldn't say it was more than that.
Still, there was a lengthy but interesting discussion that arose from someone asking how the group felt about the fact that, although "Sunny" began as somewhat of an envelope-pushing comedy, it now feels almost tame when compared to a show like, say, FX's own "Louie."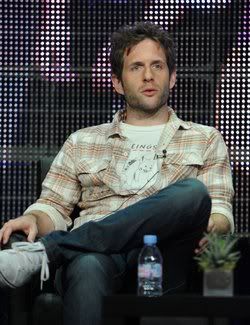 "Well, it was never our intention necessarily to push the envelope," said McElhenney. "Our goal is always to do what's not being done elsewhere. And something that we're really proud of and something that I think that the true fans of the show really understand that a lot of people don't know is that we are not simply just going out and trying to push the envelope for pushing the envelope's sake. We're trying to introduce into comedy a part of the national conversation that we hear and see people talking about behind closed doors, but aren't doing in public. I've never seen an episode of any show that deals with gay marriage, and we decided that that was something that we wanted to do. And we're going to do an episode about that this year. We felt like we could have a very distinct and different take than any other show on television. And sometimes we do dick jokes. And, honestly, I feel like there's a happy medium in there, and I think that if you do just go out and go for the low-brow or you are just pushing the envelope for pushing the envelope's sake, that ultimately people are going to get bored with it and they're going to move on. I think if you are building a foundation of a show that is a part of the national conversation and then you also can bring in some base humor, I think it cannot only appeal to a larger audience, but also can have some sort of setting in real life."
"Yeah, and has a certain social relevance," said Howerton. "That's not to say that all those other FX shows are doing that. I mean, I happen to be a fan of 'Louie' also. I mean, I think that show is really smart, and I think it's really funny. And I think with our show and with that show, if something happens to be shocking or, you know, crossing a line, so to speak, it's not ever good if it's just for the sake of crossing the line.
"It's based in something else that's smart," said Kaitlin Olson.
"Also," added McElhenney, "if you remember, the pilot of 'The Shield,' which was done many years before us, a cop kills another cop. I mean, that's pushing the boundaries…and that's your main character. And Vic Mackey's one of the greatest characters in television."
"But it's like Rob said: we're just trying to do something different that we haven't seen, that we aren't seeing, something that we would want to watch as viewers," said Howerton. "And then oftentimes that happens to be something that pushes the limit or crosses a line or whatever it happens to be. But I mean, personally I think that's just what makes something good."
"You haven't seen it before, a lot of times," said Olson.
"It needs to be surprising," said Howerton. "It needs to be shocking a little bit. That's why I watch television, to see something I've never seen, to watch something unfold that surprises me and shocks me. And whether it makes me laugh or it makes me cry, that's what is effective in telling a story, I think. So we're always coming at it from the standpoint of telling an interesting story that you haven't seen."
The League
When I first heard about "The League," I thought, "I know the cast of this show is funny, but…how much of it am I going to appreciate if I'm not into sports?" It didn't take very long into the panel for the series before creators Jeff Schaffer and Jackie Marcus Schaffer thoughtfully provided me with an answer to my question.
"The first thing is – and this is one of the challenges of the show – telling someone else about your Fantasy league is like telling them about your dreams: people just don't care," said Jeff. "That was an original challenge of the show. But as we started to write the show and we started to shoot the show with these guys, the audience and us loved hanging out with them so much that the Fantasy Football is just a prism through which we see their lives. It's all really about how they interact with each other."
"Also, people that do tune in to watch the show, we want to make sure that we don't disappoint the Fantasy fans as well," said Jackie. "If we naturally feel like it makes sense to have our characters sort of go "Crimson Tide" and start speaking submarine-talk version of Fantasy, we let them do it, and that we just let it feel natural and hope that the audience enjoys that and catches up and feels like it's authentic."
"The other thing about that is it's Fantasy Football, not Fantasy j'ai lai," added Jeff. "It's, like, 30 million people do play Fantasy sports, so while we don't want to drown people in it, and while it's not the sort of focus of the show- I think the focus is the dynamics – we're never afraid of doing it, because I think a lot of people in our audience has said, even if you've never been in a Fantasy Football league, 'Oh, my God. I know someone like that. I know someone who acts that insane on Sundays,' and I think the other thing that we always say is to enjoy the show, you don't have to know anything about sports. You don't have to know anything about Fantasy Football. You just have to have friends that you hate."
"It's such a fun world, because really, you know, the language is just part of it," said Jackie, "but it really is sort of the social structure for so many men and women of how they get together on a regular basis. Jeff used to say that my book club had nothing to do with the book, that basically the book was a coaster."
"For the wine glass," said Jeff, with a smirk.
"It's the same thing in Fantasy sports," said Jackie. "Yes, people are very passionate about the sports. They're very passionate about following the games, but they're as equally passionate about using it as a time to get together and crush one another. So we would like to think we just are giving people an opportunity to sort of see great comedic talent in our cast sort of as an example of the kind of league that either they're in or find entertaining to watch."
"And I think for us, the question is, 'How can we do a show about Fantasy Football?' Well, we couldn't believe there hadn't been one. There are shows about people who make wedding cakes and there are shows about people who drive trucks on icy roads, and I don't know anybody who drives a truck in the Yukon, but I know a lot of people who just lose their minds every Sunday in the fall."
Archer
If you've watched "Archer," then you already know that, although it's animated, it's definitely not for kids…but just because it has a tendency to be filthy doesn't mean it can't be intelligent, too.
"I read about three pages of the pilot for this show and said yes because it was so funny and it was so filthy," said Aisha Tyler, who voices Lana Kane on the show. "I felt as if the heavens had opened and a pony had fallen into my lap, and then the pony was a script for this show. Do you know what I mean? It's a dream show for me, and it has that combination of what we used to call when I did talks, sort of 'the thinky and the stinky.' It's an intellectual show, and it's also really, really dirty, and it's for grownups. And I think it's about time that you have a show that's sophisticated and elegant and smart and referential and also, you know, really saucy and bawdy, and I think, you know, it's really rare to be surprised by anything in television ever. Ever. So the fact that we get these scripts that are surprising and shocking and wonderful and terrible, and they make you cringe and make you laugh and make you call your friends and go, 'You have to watch this.' I'm really, really, really, really proud of it, and I'm not saying this because I'd like to be written more lines."
"And I invariably have to look up a word or several words in the script because I don't know what they are," said Chris Parnell, who voices Cyrill Figgis. "Adam (Reed)'s a lot smarter than I am."
"You don't get a lot of farrier jokes in regular TV shows," said Matt Thompson, executive producer.
"We had a long conversation about the Stuven reference last night at dinner," said Tyler. "It's a really smart show. It's rare that you learn from a show. There's also referencing statutory rape in a really bold way, and then you learn something, and don't we all?"
"I think there's a joke that you guys just recorded," said Thompson. "There was an argument between the difference between ledger domain and bailiwick."
"We did," agreed Tyler.
"And, you know, in the next sentence, it's like, 'Hey, you really shouldn't be raping that 16-year-old girl,'" said Thompson.
"And, boom, magic unfolds immediately afterward," said Tyler.
Unlike a lot of ostensibly "adult" animated series, "Archer" has and will continue to have an over-arcing storyline.
"God bless it, you know, I love the shows like 'The Simpsons' and 'Family Guy' and stuff, but that's not this show," said Thompson. "I hope that you won't come back a year later and say, 'I am completely bored by Archer. He's just doing the same thing over and over again.' So there has to be change that goes along into it. For example, for Judy's character, how much further can we go with her getting off on being choked while she's having sex? Only so much. So it does have to kind of constantly evolve, and what it fits in best with is an over-arcing plot line."
So what sort of storylines can we expect to see this season?
"There's a couple," said Thompson. "One of them is Archer gets an illegitimate baby. And also finding out about Archer's father. And, lastly, it hasn't been written yet, but it's been talked about a greatdeal with the FX executives and such, is a huge love interest for Archer with a femme fatale Russian spy. And as far as Cyril and Lana going, it's kind of open-ended, you know. Adam is up to the sixth script, kind of playing around with it. Right now, we're focusing on Cyril having sexual addiction and Lana being completely mad at him and wanting to punch him in the nuts."
"She's awesome," said Tyler.
"One of the cool things about the newseason for us is we have more people in our staff of drawers," said Thompson, "and stuff has gotten better. So I think it's actually going to be a better-looking show, and we're going to be able to see a lot and do a lot more action. The show that we showed at Comic-Con had a third act, which was entirely a snowmobile chase. And this isn't a large-budget show, and we're going to have to watch what we're doing. And I think this season is going to look…well, I think it's going to look awesome, at least according to me, unless somebody can tell me and hurt my feelings."
"It looked amazing," confirmed Tyler.
"It…it wasn't great," said H. Jon Benjamin, to much laughter.
To close, I'll just offer up the cast's response to being asked to compare their first TCA experience – which took place back in January – to their first Comic-Con experience, which took place last month.
MATT THOMPSON: You guys are a lot more handsome. A lot more handsome.
AISHA TYLER: The first TCA was just Jon and Adam and I. So we talked amongst ourselves on a podium while people ate croissants with chicken salad inside.
H. JON BENJAMIN: Most people left. They didn't stick around.
AISHA TYLER: And people slowly streamed out, checking their watches.
H. JON BENJAMIN: Yeah.
AISHA TYLER: And then we went to Comic-Con, and there was, like, a thousand nerds crying and screaming, a lady who was pregnant and is naming her baby Archer, right? Stormtroopers who threw money at us and one white lady who looks alarmingly more like Lana than I do. It was awesome. It was great. And it was so nice to watch the show in front of a crowd, because I think the show is hilarious. I mean, I really love this show, and I would watch it even if I wasn't on it. But, you know, you're watching it with your friends or whatever. You're watching it with your husband over and over again and making him pick out your favorite line. To see it in front of a crowd of fans, I think we heard about a third of the jokes because they were laughing so hard that, like, only every third joke landed.
H. JON BENJAMIN: In fairness, there's at least 300 nerds here.
Well, when he's right, he's right.