A highly accomplished stage actor, trained at Julliard under the tutelage of such exacting instructors as the legendary John Houseman, Kevin Kline pretty much started his film career as one of the best of the best, a genuine "actor's actor" and also something of an old fashioned movie star with the presence to match. His first movie role was opposite Meryl Streep in Alan Pakula's 1982 Oscar-winning film version of "Sophie's Choice." That was followed by Lawrence Kasdan's Oscar-nominated ensemble dramedy, "The Big Chill," and a leading role opposite Denzel Washington in Richard Attenborough's portentous 1987 apartheid drama, "Cry Freedom."
Though that was followed up by a part in Kasdan's lighthearted homage to classic westerns, "Silverado," Kevin Kline's comic gifts remained under-recognized until his utterly ingenious, deservedly Oscar-winning turn as the murderous and hilariously insecure and pretentious Otto in the farce classic, "A Fish Called Wanda." After that Kline became one of the screen's most reliable comic leading men with parts in such high-quality mainstream comedies as "Dave" and "In and Out," was well as the occasional part in such hard-edged tragicomic dramas as "Grand Canyon," again with Lawrence Kasdan, and Ang Lee's "The Ice Storm."
Kline, who recently completed a successful stage run in Edmund Rostand's Cyrano de Bergerac opposite Jennifer Garner, has — like other outstanding actors of his generation — gracefully moved from the A-list to the art-house. Though once noted for turning down movie roles in favor of stage work — John Stewart reminded him of his "Kevin Decline" nickname on his recent "Daily Show" "Colbert Report" appearance — Kline has been a busy and hugely reliable film actor for decades. More recent roles include the screen's first correctly gay Cole Porter in the 2004 musical biopic "De-Lovely," Garrison Keillor's radio detective Guy Noir in Robert Altman's 2006 swan song, "A Prairie Home Companion," Jacques in Kenneth Branagh's version of Shakespeare's "As You Like It," and the 21st century's version of Inspector Dreyfus opposite Steve Martin's Inspector Clouseau in the rebooted "Pink Panther" series.
Add to those the role of the suave but irascible platonic male escort Henry Harrison in Shari Springer Berman and Robert Pulcini's adaptation of the Jonathan Ames novel, "The Extra Man." Taking in a confused and nervous younger protegee (Paul Dano of "There Will Be Blood"), Harrison is an utterly reactionary self-made throwback to another time and place, and an ideal role for an actor gifted with the finest of old fashioned acting virtues.
In person, Kline seems almost exactly the coolly confident and funny man you would expect — though he was also surprisingly soft-spoken, as if saving his voice for a theatrical production. In any case, like any fine theater actor, his voice carries beautifully and was delightfully easy to transcribe after about four or five other writers and myself sat with him to discuss his newest film and his long and distinguished career.
We had just spoken with directors Berman and Pulcini (see my earlier interview with the husband-and-wife directing team), who relayed some humorous anecdotes relating to the fact that the actor did his own driving in certain scenes which required him to be rather aggressive at the wheel. According to Berman and Pulcini, that came rather naturally to Kline who they described as a less than perfectly cautious driver on the New York City streets where the movie was filmed.
"The fact is," said Kline, "the movie was done inexpensively — notice I didn't say 'cheaply' — on a very tight budget. So, usually when you're doing a driving scene you have a police escort, or you own the street and it's all filled with extras and all the cars you see, they're all driven by stunt men. Not us."
"We're out in the street and it's rush hour and everybody's moving about five miles an hour. Stop and start. And I'm supposed to be racing around and [Paul Dano] is supposed to be saying 'slow down!' So, I just did the best I could. Is that what they told you?"
No, not quite.
"The guy in the back with the camera thought he was going to die. But he didn't. I just did a lot of swerving and stuff."
And then I brought up another driving-related incident, in which Kline's stage and screen acting contemporary, Jeremy Irons, happened to be crossing the street in front of the very decrepit '74 Buick Electra driven by Henry Harrison.
"Oh that," Kline said. "'Jeremy, hi. Shooting right now. How nice to see you.'"
But, did he ever explain to Irons that it wasn't his car?
"Oh God, I never even thought of that. 'He really has fallen on bad times.' No, I haven't seen him since. He might have seen the guy in the back with the camera and put two and two together."
Kline did not go on to assure us that, despite whatever we might have heard, in real life he is a very safe driver and has never had an accident.
Changing the subject, I returned to the old-school nature of Henry Harrison and noted what I've always seen an old-school quality to Kline's acting, somewhat reminiscent of legendary stage and film actor John Barrymore, who died in 1942.
"I loved everything about the character but you're right, there is that — I don't what you'd call it — but panache and extravagance and style and the way Barrymore spoke. Yeah, [Harrison] would have been a fan of John Barrymore's for sure."
But, I couldn't let go of the topic so easily. Wasn't there something about Kline's acting, even in other, more "regular guy" kind of roles, that was of another era? From me, that's nearly always a compliment as my tastes habitually lean towards the retro side of things, but the actor didn't know that about me.
"Are you saying I'm outdated and passe?"
Laughing, I doubled down. I meant even his roles back in the eighties. Somehow, that seemed to relieve him.
"It's probably because I grew up watching those films and those [older actors] were probably models of mine. And, I guess, working in the theater, doing a lot of classical theater… going to drama school and learning how to speak in that orotund, plummy way. But I hope I wasn't like that in movies like 'The Big Chill.'"
And how did that connect to his great work as the hilariously vile Otto from "A Fish Called Wanda"?
"I've always really been attracted to outrageous comedy. I like pushing the envelope as much as possible while keeping it real. That's the fun challenge, to make the implausible still seem within the realm of human behavior and believable as such. But I grew up watching the Marx Brothers, and W.C. Fields was my favorite comedian. Different. Harpo Marx, Chaplin… I love all that big, physical, crazy stuff."
One of the other writers picked up the theme. Considering his love of outrageous comedy and characters, would he label Henry Harrison as "outrageous"?
"Yes. Definitely."
How would he rate Harrison' outrageousness on a scale from 1 to 10?
"He's up there. Nine and a half or ten. This guy — an aristocrat who can pee in the street. There's a way to do it. He's at the bottom and just desperately poor but he lives this delusional, grandiose existence because he has a self-image which is full of grandiosity and self-esteem. That's why I loved him when I read it. He's his own man. He's living life the way he wants to live it. If it doesn't come up to his standards, he scorns it. He's a poor snob. He's in no position to be as snobbish as he is, but it doesn't stop him."
Speaking of being poor, were they any tricks Kline used as a struggling actor low on cash that were similar to Harrison putting black shoe polish on his feel in lieu of socks? How about the scene where Henry and Louis sneak into the opera?
"It's called 'second acting.' You just go and you wait for someone to leave and you go watch the second act… You just know how to kind of be loitering in the lobby and then, 'Oh, look, an empty seat.' It backfires sometimes when you take a seat and the guy who's still in the men's room comes back. 'Oh, there's my seat," and then you [go]. I did that a couple of times."
Yes, it turns out there was a time when Kevin Kline was a fiscally deprived young actor.
"The rich friends of John Houseman or Margo Harley, who ran Julliard, would leave clothes. My overcoat was from them and I got a couple of shirts. In ["The Extra Man"], there was a scene in the book and the screenplay, but we never had time to shoot it, where [Henry] takes Louis [Paul Dano's character] where he does all his shopping, which is at thrift stores up on the Upper East Side, where you can find really elegant suits from the rich who've grown tired of last year's beautiful three-piece suit."
"But all of my costumes were by a brilliant, brilliant lady [Suttirat Anne Larlarb] — we went to thrift shops on the Upper East Side. It all came from thrift shops. In the book, his trousers all have rips in it and everything is sort of strategically covered. His zippers are all broken. I had my zippers open in every scene. And the costume person would say 'your fly's open.' 'I know, I want it that way. I almost forgot to leave it open.' You never see it, but his fly's always open. It's subtext that I think adds a texture to the character, that no one will appreciate," said Kline chuckling.
Speaking of method acting, I noted, we had already been told that Kline really did learn to urinate publicly while wearing a raincoat as Henry Harrison claims to do in the film. One writer was doubting Thomas and declared this form of semi-public urination impossible to accomplish (neatly, in any case).
"No, it's not at all," declared Kline. "It's not that hard. If you have the raincoat — and that's actually an old raincoat of mine because the one they got didn't have the pockets… It's important that you have the pockets," said Kline miming holding a coat in front of him to create a sort of large tent and walking slowly backward. "It's all pretty simple, though he says it's an art."
The other writer was still not quite getting it. "So you've actually done that?" he asked.
"Listen, it's a low budget film," said Kline getting a big laugh from the table. "And, 'Oh we're about to roll? 'Cause I have to pee.' It's 20minutes to go back to the trailer or the nearest men's room. So, hey, it's research. It's late at night… I wasn't doing it in front of the crew or anything to see if anyone would notice, but yeah, I tried it once or twice."
Someone brought up the issue of what he called "balancing" the performances, since Kline was working a lot with two very strong actors with equally quirky characters in Paul Dano and John C. Reilly as the humorously hirsute Gershon.
Kline seemed slightly befuddled by the question. "I basically told them what to do in every scene and they wisely followed my advice," he joked. "No, we never talked about it. I mean all three [characters] are just off the wall. We never thought 'If I do that, you can't do that,' you just kind of do it instinctively."
The conversation turned to the scenes involving Louis/Paul Dano's onscreen flirtation with crossdressing. How would Kline rate Dano as a tranny on, yet again, a scale from 1-to-10?
Kline was either starting to get tired and didn't really hear or seemed to want to sidestep that question. (If you see the movie, you might understand why.) "Like Paul in real life, he's very literate. He loves Russian literature, we talked a lot about, you know, intellectual things."
"While he was dressed as a tranny?"
"I kind of stayed away from him on those days," Kline responded, unfazed. "I wasn't quite ready for that. No, but Paul and I worked together on 'The Emperor's Club' when he was 16… did I tell you that already?"
No, he hadn't, that was another group of journalists at the roundtable chat next door.
"Same shape table. Sorry. No, but yeah. He was one of the students in [the 2002 educational drama], I was his teacher there. Different, different tone. Serious teacher, trying to imbue my students with the highest values as opposed to this guy, who's a misleader of youth. But we had worked together, so we had this past. It's a while ago but I think he's a terrific actor and I've loved watching him since… especially the most recent being 'There Will Be Blood.' [Putting on a funny, quasi-parental voice] That's my little student."
But, the inquiring mind of the questioner, who was starting to reveal something of a hang-up with numerical ratings, wanted to know, how would he rate Dano as a transvestite — naturally on a scale from 1 to 10?
Kline got humorously annoyed in a highly John Barrymore-esque fashion. "I don't rate my fellow actors! They're all 10s! I happen to be an 11, but that's just me!"
That led to a question about a remark from directors Berman and Pulcini, who noted that one major reason they pursued Dano for the part of Louis is that they needed someone who could hold his own with Kline onscreen. Dano had already very much held his own with the similarly potentially overpowering presence of Daniel Day Lewis in "Blood."
Kline found it "sweet" that the directors thought it that way, however…"We don't think about that. 'They're not standing up to me.' 'They're not holding their own in this scene.' That's a filmmaker talking. [To an actor] it's all about love, you love one another and try to bring out whatever you can."
But how had he seen Dano grow over the ten-plus years since "The Emperor's Club" was shot?
"He stood up to me just fine when he was 16, but I never thought of that way. But now that you mention it, yeah, he's the real thing. It's not a question of can he hold his own against you. If you're a good actor you do your job. If you're working with an actor [does a funny voice] 'Oh my God, it's Laurence Olivier'… no, you work maybe that much harder or try not to work too much, and don't make it overworked. You just do your job. I never sensed that he was intimidated. I wish he'd been a little intimidated by me, but I don't think he was. You'd have to ask him. I tried, God knows, I tried to scare the crap out of him. To no avail."
Then I trotted out the artist-pleasing question crafted by Will Harris. Which of Mr. Kline's many projects did he feel didn't get enough attention?
"Hmm. It's funny, but I remember when I did 'I Love You to Death.' No one saw it in the theater. Came and went in a week. 'Soapdish' came and went in a week. No box office. 'Grand Canyon' for Larry Kasdan. These are, I think, really good films. Didn't do that great theatrically but have had a life on cable and DVDs. People come up to me and say, 'Oh, I loved "I Love You to Death" or 'I loved "Grand Canyon," what a great movie.' So I have no [movies where I think], 'it's too bad nobody saw it.' They found their audience eventually, but it's too bad they didn't see it in a theater on a big screen."
Of course, those films, particularly "Grand Canyon," did get a fair amount of press attention, I noted, but that's obviously not the same thing as generating major box office.
"Even 'The Ice Storm' — which is now a real masterpiece of early Ang Lee — didn't do that well at the box office. It got critically [praised] but people said, 'Oh, it sounds ewww.' The same thing with 'I Love You to Death' about a woman [Tracey Ullman] who keeps unsuccessfully trying to murder her husband, who's a philandering idiot. It's a dark comedy, but when they found it on television, it found its audience."
Then someone brought up Kline's family. In 1989, Kline threw generations of males into paroxysms of jealousy when he married 80s It-girl Phoebe Cates ("Fast Times at Ridgemont High"). After the pair worked together in the 1994 comedy "Princess Caraboo." Cates retired — so far, semi-permanently — to raise the couple's son and daughter. However, she, Kline, and both children made a memorable appearance, presumably playing versions of themselves, in 2001's underrated low-budget slice-of-Hollywood life, "The Anniversary Party." In 2005, Owen Kline, now 19-years-old, won praise for his work in Noah Baumbach's darkly comic, "The Squid and the Whale."
So, is there any chance of a re-teaming for the Kline family?
"At the moment, none of them are interested in acting. I don't see that happening. My son's going into art school next year. Just graduated high school. He might be a filmmaker, but he says at the moment he's more interested in being behind the camera. That could change. I didn't know what I wanted. I went to college to study music. How'd I end up here?"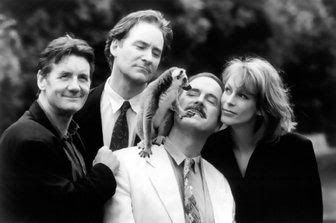 Then someone mentioned his other "family" — if that's the right word — from a "A Fish Called Wanda." Might there be one more go-round from him, John Cleese, Jamie Lee Curtis, and Michael Palin, last seen together in 1997's non-sequel "Wanda" follow-up, "Fierce Creatures"?
"Oh, I hope so. I'd love to do something with John. He tells me he's writing a musical of 'A Fish Called Wanda.' So, maybe I'll play Otto's father."
Then some discussion turned to Kline's supporting role in the upcoming film from Robert Redford, "The Conspirator," a post-Civil War legal drama with some important parallels to modern-day civil rights and constitutional issues. Someone brought up the 19th century costumes for the film — which led to some crossdressing jokes from Kline — and it occurred to me that the classical actor once dubbed "the American Olivier" by then New York Times drama critic Frank Rich, hadn't done as many period dramas as you might expect, especially considering how often he's done period drama on stage.
"It's not a big deal to me, dressing up. I've dressed up in frocks from many periods. There was 'Princess Caraboo'… Not a lot of period films. I've got to do some!" (He later remembered "As You Like It," which does count.)
Having just watched some of the television version of his "Cyrano," I suggested he might try a film that required some fencing, as he seemed to be pretty good with a blade as the big-nosed French swordsman and poet.
"Thank you very much. I had a broken shoulder at the time of filming and it was more sort of like this," he said, miming how he manipulated the sword without using his shoulder much. "You should have seen me the week before."
Then I brought up "The Anniversary Party" which, while the Kline-Cates family are definitely supporting characters in the film, felt like a glimpse into the real family. That verisimilitude led me to a bit of a factual error when I asked if he'd done anything else that was "quasi-improvisational."
"It's funny you're asking me that. Leonard Maltin just asked me that. He really loved it. And the fact is there was hardly any improvisation. It was just so well-written it sounded like improvisation. There was a little bit, but not much. It was actually scripted, and it was one of those films that my wife's dear old friend, Jennifer Jason Leigh, wrote and said, 'I'm writing this thing. Will you guys be in it if I write parts for you? 'Yeah, sure.' I had no idea she was really going to do it or that anyone would. I read it and I thought, 'That looks like fun.' But the whole thing was like 12 or 13 days and it was like going to a party… that was when I first worked with John C. Reilly."
Then someone else asked if the English had forgiven him for playing Otto, the ultimate ugly American who made probably the funniest anti-Brit putdowns ever captured on celluloid. "They love Otto. They're the most self-deprecating race of men. [Doing a plummy "public school" accent,] 'Oh, I'm sorry. I'm terribly sorry. Thank you for being so critical of us.' No, they love that movie."