CBS's big day of TCA panels kicked off with an Executive Session from the one and only Nina Tassler, the network's President of Entertainment, who brought us the following tidbits and newsbriefs:
"The Big Bang Theory": The show is moving to Thursdays. "Certainly, it was difficult, but not in the sense that you don't have complete faith and belief in the show," said Tassler. "The time felt right. The show is certainly enjoying an extraordinary amount of support and love, and this was a great opportunity for us to really move it into a strategic place and open the night."
"Survivor": The new season of the popular reality series will find the castaways divided into Young vs. Old. The members of the La Flor Tribe will all be aged 30 or younger, while those in the Espada Tribe will all be 40 or older.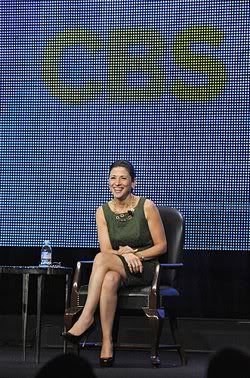 "Undercover Boss": Four of the companies which will appear in the show's second season have been revealed: NASCAR, DirecTV, Chiquita Brands, Inc., and Great Wolf Resorts.
"CSI: Crime Scene Investigation": Justin Bieber will be playing a character in the season premiere, playing a character that is "quite different from his wholesome real-life persona."
"CSI: Miami" and "CSI: NY" timeslot changes: "Going into this season, we had very strong development, we really wanted to get a number of those new dramas on the air, and both 'Miami' and 'New York' are still strong players for us, so we said, 'Look, we can use them to improve the time periods they're going into, as well as support new shows that they're launching side by side with.'"
"Criminal Minds: Suspect Behavior": Janeane Garofalo has been added to the cast.
New gay characters: GLAAD will no doubt be pleased to hear that, according to Tassler, there are three on the horizon for the new season. "You're going to meet Alicia's brother in 'The Good Wife,' a gay character. We're also going to be adding a new character to 'Rules of Engagement.' Jeff and Audrey's surrogate will be a member of Jeff's softball team, and she's a lesbian. We're also going to be recurring a character in '$#*! My Dad Says,' the character Tim Bagley played." I'm particularly happy to hear about that last one, mostly because the scenes between Bagley and William Shatner are arguably the funniest in the pilot.
After Tassler's remarks and Q&A were completed, she evacuated the stage in order for the day's show panels to begin, starting with…
"The Big Bang Theory"
At first glance, the fact that "The Big Bang Theory" is the only pre-existing CBS show to get its own panel on the network's TCA day would lead one to deduce that it's because it's so popular. In reality, though, it's much more likely that the series got the spotlight because they want to make sure it's still a major player when it returns on Sept. 28th and shifts on the CBS schedule from Mondays to Thursdays. Ah, but who cares why they're here? It's just good to see the gang again. Johnny Galecki, Jim Parsons, Kaley Cuoco, Simon Helberg, and Kunal Nayyar were all in attendance, along with creators / executive producers Chuck Lorre and Bill Prady, and, as usual, they gave us some great, fun stuff.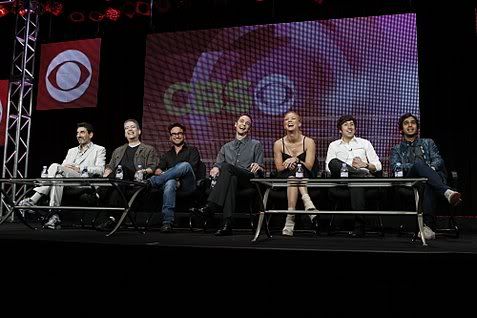 Jim Parsons commented on his occasional difficulties in mastering the slight variations of his famous knock (which, for the record, was the idea of executive producer Lee Aronsohn), admitting, "It's easy to get tripped up, and I have to do it a few times to figure out, 'Well, where the hell is the rhythm of this new one?'"
Parsons and his co-stars also regaled the crowd with the story of filming the scene with Sheldon diving around in the ball pit.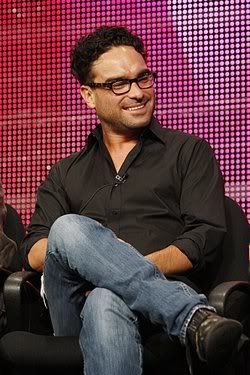 "That was a blast," said Parsons.
"Once they cleaned the balls, it was fun," said Galecki. "They were filthy."
"Every single one of those balls was Purell'd," said Helberg.
"(Jim) came in from rehearsal from that," said Cuoco, "and he's looking at me, and I'm, like, 'Have you showered today?' It was like a film of black across his face."
"It was awful," admitted Parsons.
"Dirty balls," Cuoco sighed.
"I washed my hands, and the sink was black water," said Parsons. "Then I wiped my clean hands on a towel, and it would be damp, and I brushed it over my face, and there would be this swath of pink and gray."
"And we had disinfectant spray for one another," said Galecki.
"It was good for my hair, though," said Parsons. "I realized that I need a drier product. I don't need to use a gel or something."
"Ball pits are kind of on the way out," explained Prady. "They don't really make them anymore. And we're looking at the set, and we kept saying, 'More balls!' They said, 'This is all the balls in Southern California!'"
"I think we emptied every bin at every Chuck E. Cheese's in Los Angeles," said Lorre.
Possible guest star in the new season: Steve Wozniak.
Definite guest star in the new season: Mayim Bialik.
When asked point blank if Sheldon would "finally get it on this season," Parsons' first reaction was to scoff and say, "Oh, come on." Pressed to consider the possibility that he might get close, he admitted that he didn't know but added, "I wouldn't hold it past anybody at this point. I think I might've said 'no' for sure six months ago, but now…? I never thought we'd even stumble upon a female that communicated with, but we did that."
"He'll have a very specific relationship with Mayim Bialik," said Lorre. "A unique relationship."
Lorre's dream guest star: Neil Gaiman.
"Neil deGrasse Tyson is a big fan, and he passed along a comment that he got on the Hayden Planetarium website, which was a suggestion as to how he might appear on the show," said Prady. "He's famous as the fellow who demoted Pluto from planet status…and, actually, that does sound kind of fun. There are some other things we want to do, but we're just, at this point, talking to people, and it's a matter of scheduling, so it's a little too soon to talk about."
Galecki and Cuoco are in agreement that the time was right for Leonard and Penny to break up.
"I thought it said natural to where they're at in their lives right now," said Galecki. "They have a whole lot to learn in the ways of love."
"I think it was super realistic, actually," said Cuoco. "I mean, relationships are up and down, and people get together, and they break up, and they're not friends, and they're friends. I mean, you know, this stuff happens all the time. So I think it actually was perfect timing…and you never know what's going to happen with them."
On a romance-related note, Melissa Rauch will be returning this season to reprise her role as Howard's girlfriend, Bernadette.
Lorre admitted to being surprised when he got the news that the powers that be at CBS were moving the show to Thursday nights, but while not entirely thrilled with the move, he also doesn't have a real problem with it, either.
"One assumes they've given it a lot of thought and that it's a good thing for the show," said Lorre. "Given where we are now after three seasons, I'd be crazy to argue with the choices that CBS has made along the way because it's been…just look at this. This is wonderful. So if they think this is a good call, then that's great. Our job is to make a good show. It's not to program the show. You know, we grow the crops. We don't have the truck that brings it to market. With the time slot moved to 8:00 on Thursday night, it's almost like a re-launch of the show, establishing it. It feels like a do-over in a way, so we are really doing everything we can to make it everything we believe it should be."
"Mike & Molly"
I don't know if you've seen the previews for this new sitcom from the Chuck Lorre camp, but it's about a man and a woman who cross paths at an Overeaters Anonymous meeting and fall for each other. Having seen the pilot, I'll be the first to stand up and applaud the instant chemistry between the two leads, Melissa McCarthy and Billy Gardell, but, man, they've really got to cut back on the fat jokes. This should be a sitcom about a cute couple, with the weight class of the stars something that's acknowledged but not constantly dwelled upon.
When someone suggested to Lorre that he might be tackling a politically incorrect subject with the series, he claimed otherwise.
"It's about real people with real issues trying to have a relationship," said Lorre. "Television would normally have cast Chris O'Donnell and Courteney Cox as the people who meet at Overeaters Anonymous, but in this case we had the courage and, I think, the wisdom to just cast people that are just…you know, they're trying to make their lives better and find someone that they can love and be loved by. It may be odd for television, but I hope it's reflective of some kind of reality that people will experience."
"I think it's good just to have something a little more realistic so people aren't always, like, 'Oh, I could never be that perfect,'" said McCarthy. "Guess what? No one is, except in this little set somewhere in Hollywood. I think anytime a show kind of bridges into the real world…I don't know, I think it just takes the pressure off some people, so maybe subconsciously it will make people take it a little easy on themselves."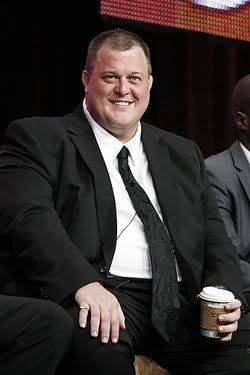 When asked if he was comfortable with his weight or if he felt he should lose a few pounds for health reasons, Gardell couldn't resist first mentioning that he actually has a better cholesterol level than his wife, who's smaller than he is.
"Of course, I think I'd like to lose some weight," he said. "I mean, everybody'd like to be a little bit better than they are, you know, but everybody has a different tick, man. Mine just happens to be pizza."
When there was a moment's silence from the audience, Gardell said, "It's okay, you can laugh at that. I've got a mirror. Lighten up."
Continuing, Gardell explained that wanting to lose weight doesn't always make it easy to do so. "When you're not great at coping with all your emotions, sometimes you push 'em down with a piece of cake. That's just how it works. Some people do it with booze. Some people do it with gambling. Some people do it with other things, and that is a part of this. But make no mistake. This is a love story. And the great thing about this love story is, this is a show people can look at and go, 'You know what? I'm like that,' or 'I look better than that,' instead of looking at the show and going, 'God, I'm never gonna look like that.'"
Gardell admitted that he's had his troubles getting good parts in Hollywood because of his weight. "I don't know how your experience has been," he said to McCarthy, "but when you're a fat guy in Hollywood, you're the bad guy, the cop, or the neighbor. That's what you're doing. 'Bring them to me!' 'You kids get out of here!' 'She's going to kill us both!' That's what you're doing. To be at this weight and this age in Hollywood and to be one of the leads of a show of this caliber, with this team…? I'm absolutely humbled. It's like I got the Willy Wonka ticket, you know? 'Run, Charlie! Run home as fast as you can!' That's how I feel. I can't wait to go to work. This is unbelievable, and…I think it has a lot to do with my age, too. I'm 40. You know, if I'd have got this at 20, I wouldn't have been able to handle this. I'm looking so forward to this. Man, I've been a road comic for 20 years. I'm not in a Holiday Inn this weekend. You understand? I'm excited."
McCarthy agreed wholeheartedly with Gardell's sentiments. "I'm thrilled," she said. "I always think back to when I was 22 in New York, and I was somewhere between a size four and a size six, and she said, 'First of all, you're never going to work at that weight.' I wish I remembered the agent's name. I would love to call her in her studio right now and tell her, 'Oh, yeah?' I just feel like I got hit with the lucky stick."
"The Talk"
Fair warning: I'm not going to spend a heck of a lot of time discussing this new CBS daytime talk show. I'll admit that I'm intrigued by the blend of individuals they've selected to serve as the six (!) hosts of the show – Julie Chen, Leah Remini, Sara Gilbert, Sharon Osbourne, Holly Robinson Peete, and Marissa Jaret Winokur – but I can't tell you that it's something I'm chomping at the bit to watch, and I rather expect that the majority of Bullz-Eye's predominantly-male readership will probably feel the same way.
The idea for the series – all of the hosts are mothers – came from Gilbert, who does double duty as one of the show's executive producers. "I was a new mom when I thought of it," she explained. "I was feeling overwhelmed. Was I giving the baby enough? Was I giving my son enough attention? And literally, I started going to this mom group, and I thought, 'Wow, people need this kind of support,' and it was just sort of like a light bulb. I thought, 'What if there were a show where a bunch of women sat together and talked about the world through that perspective?'"
So there you go. That's what the show is. I don't know that anything else really needs to be said.
Oh, okay, one more thing: the most entertaining part of the panel came when someone asked the ladies to reveal the most annoying pet peeve they have about their significant other, so I'll close by sharing their answers with you.
Marissa Jaret Winokur – "My husband is just a procrastinator. Basically, I'm the one who's, like, 'I want to buy the carpet. Let's buy the carpet,' and he'd rather sit around and go through 20 different stores and find the perfect carpet."
Holly Robinson Peete – "He's a really bad snorer. I mean, he just got really bad. I tried to put on one of those Breathe Right strips in his sleep. He doesn't want to wear them. So picture me sort of straddled over him trying to press it down. And I ran out of his size, so I had to go to the kids and get the small size. I put one on each nostril, and it just didn't work. You know, that's something that we would be talking about if we were on the air this morning and the New York Times had a story about one in four couples are sleeping in separate bedrooms, and I'm not lying. Last night, I was thinking about, you know, it might be time. 15 years, I love the man, but we are on different schedules. I had to get up early this morning. He's snoring. It doesn't work for me. I think it's by year 2015 the New York Times said something about 60 percent of houses are going to have double masters. I'm okay with this."
Sharon Osbourne – "There is nothing. He's perfect. Let me tell you something: he doesn't even know I am doing this show. I am here today, and he thinks I've gone to 'America's Got Talent.' He has no idea. He gives me all the freedom in the world that I want. He's just a perfect partner for me. He does his thing. I do mine. We have the best family. We adore each other. You know, yeah, my husband snores. He farts. He pisses on the seat. On the toilet seat, that is. But, hey, that's life. That's what we all do. It doesn't annoy me. It would annoy me if he was sleeping with a room full of women. That would annoy me. But if he throws food on the floor and he's messy, it doesn't bother me. So he's perfect."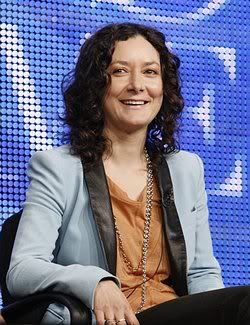 Sara Gilbert – "Ali is much taller than I am. So if we get dressed, I just think that clothes always look better on her, and I think that that can be kind of annoying."
Julie Chen – "When I got married, I said to my husband, 'One of the reasons that I know this is going to work is because you're the first person in my life who doesn't annoy me,' and when someone gets on my nerves, there's very little turning back, if at all. But…my baby is ten months old, and my husband works very hard. Quite often he leaves in the morning when the baby is just waking up or is still sleeping, so he doesn't have a lot of time to bond with the baby. We put the baby down hopefully by 7:00, and he doesn't always make it home by 7:00, but when he does make it home, it doesn't matter if we just put him down, he wants to go look at the baby. And to make sure that everything is okay, I'll go with him, and if we can see him breathing, I'm like, 'Okay, don't touch him.' And one day we went in…and he still does this now…and we could see the baby, he moved around, and he touched him. And I said, 'What are you doing?' And the baby woke up. I said, 'What are you touching him for?' He's like, 'That's how we connect.' I said, 'You're not connecting. You just woke him up. You pissed him off!' But he has this thing. Even though I made him promise me, 'If you see him breathing, don't touch him,' he still touches him!"
Leah Remini – "There's so many things, but for me the most annoying thing would be that for every holiday or every birthday, I go, 'What do you want?' 'Sex.' 'I have a headache.' 'What can I get you?' 'Sex.' It's like that's all that's on his mind. Everything that he does like on a daily basis that's sweet is to have sex. And I guess that's the most annoying thing to me. I guess I should be happy that my husband wants to have sex with me. But when you know that everything he does is because of that, you're like, 'Just stop. It's not going to happen tonight. Just be you.'"
Hawaii Five-O
Although "Hawaii Five-O" is a reboot of the classic CBS series that ran for 12 seasons, neither Alex O'Loughlin nor Scott Caan – who play Steve McGarrett and Danny "Danno" Williams, respectively – have gone out of their way to revisit the original in order to get inspiration on how to play their parts.
"I purposely didn't go back and look at too much of the old show," said Caan. "I wanted to start fresh, and I didn't want to have any old ideas, so, no, I didn't do any of that."
O'Loughlin remembers the old show from his childhood, but he's extremely conscious of how far things have come since then.
"There's been a lot of changes in television and in the way we act stylistically and with technology and with what we can do with the money that we have with special effects and stunts and all the rest of it," said O'Loughlin. "So it's not a remake. We're not kind of picking up where they left off. It's a reboot, and the characters are very different. My character, Steve McGarrett, in the old show, you didn't know much about the character that Jack Lord played, whereas in the pilot on our new show, you learn a lot about my Steve McGarrett. I didn't look to that to make decisions. I just did my character work based on the script that these guys wrote."
As for the show's chances of success, it's clear that O'Loughlin is pretty well putting all of his remaining eggs in this basket.
"I don't want to take anything away from the other shows I've done," he said. "I've worked with some incredible people and some wonderful showrunners and…well, 'Moonlight,' I don't know if I ever met the showrunners. There were about 17 of them. But the other shows were great in their own ways. The thing is, there's a reason things either work or don't work in television, and I don't know what the answer is. I just sort of keep blundering along to the next thing and hoping. But the team behind this, the two men here who are at the helm of this show, Peter (Lenkov) and Alex (Kurtzman), and the writing staff that we have, everyone feels so capable. I read the pilot, I did the pilot, and I saw what they did with it, and…there's something special about it. So, I mean, if this one doesn't go, I'm completely bewildered. I have no idea how television works at all."
The Defenders
First of all, if you're old enough to remember the original "Defenders" series with E.G. Marshall and Robert Reed, I hate to disappoint you, but this "Defenders," while also about a pair of attorneys, is in no way connected to it. Then again, maybe it isn't a disappointment. I guess it really all depends on how you feel about Jim Belushi and Jerry O'Connell.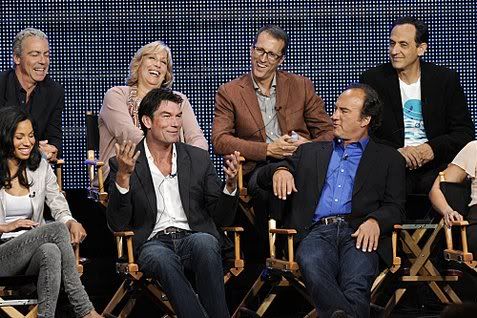 As it happens, the show was originally going to be a reality series based on a pair of real-life Las Vegas attorneys, but although it eventually evolved into a dramatic series, Belushi and O'Connell still ended up meeting with their real-world counterparts, Michael Cristalli and Marc Saggese, in order to get some insight into their characters.
"They're great," said Belushi. "We hang out with these guys. They were on the set the whole time. We went to Piero's in Vegas and drank those big martinis. They can hold their liquor, these guys."
"They're fascinating," said O'Connell. "And from a professional standpoint, they represent a lot of people that I'm not even sure public defenders would represent."
"There was one case where a guy goes into a liquor store, holds up the liquor store, 'Give me all your money,'" said Belushi. "The guy gives him all the money, and the guy says, 'Now, give me that handle of vodka, that Johnnie Walker scotch, and that Jack Daniels.' And the guy said, "Oh, sir, I'm sorry. I can't give you the alcohol.' And he said, 'No, give me the alcohol. I want it.' He says, 'No, no. It's obvious you're underage.' And the guy goes, 'I am not underage.' 'No, sir, it's obvious. I'll get in a lot of trouble with the state. They'll lose their license here.' He goes, 'I am not underage!' And he pulls out his ID. I mean, they get some really stupid people…"
Despite being set in Vegas, much of "The Defenders" is actually filmed in California…not that the show's stars are so terribly heartbroken about that.
"My relationship with Vegas has switched from being a person going to enjoy the weekend to an employee of Vegas: I have a band, and I do a lot of corporate work with my band in Vegas," said Belushi. "It changes the whole chemistry of the town. So what I do is I go there, and I perform with my band and have a nice dinner and play roulette for 20 minutes and go home. I'm kind of a boring guy."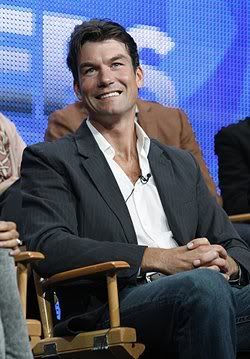 "I used to go to Vegas with about 20 or 30 friends, and we'd share one hotel room," said O'Connell. "There would be 30 of us sharing two single beds. So that's how I remember Vegas, but now that I'm married, look, I go there with my wife. A lot of shopping is done. To be honest, my credit card maxed out the last time we went there. I had a call, and I'm glad it maxed out, because then the bleeding stopped at some point. But, really, for my wife and I, we left the kids with my parents when we worked up there for close to a week when we did 'The Defenders' thing. We saw shows. The dining is great. It's just a really fun grownup experience…and I don't have to share a room with 20 other male friends and get passed-out drunk."
Blue Bloods
Tom Selleck certainly hasn't been hurting for work over the past several years, what with the success of his "Jesse Stone" series of films for CBS, so it's a little surprising to see him make the decision to settle into a regular series role. Given that he's done so, however, it isn't surprising to find that the resulting program – "Blue Bloods" – is a top-notch drama. Indeed, when asked what brought him back to series television, he admitted that there were two reasons: 1) the show was good, and 2) it was an ensemble piece that would require talented actors to fill the parts.
"Having done a lead, as I did in 'Magnum, PI,' I was in every shot," said Selleck. "And I wasn't complaining, but it's a tough road. And 'Magnum' was never canceled: I kind of left it after eight years because I was tired from it, not tired of
Donnie Wahlberg, who co-stars as Selleck's son in the series (it's about a family filled with cops and law-enforcement types), was also impressed by the ensemble nature of the show, particularly during the family-dinner scene in the pilot episode.
"A lot of people try procedural shows – there are many successful procedurals – and some people try character-driven shows," said Wahlberg. "And a lot of times when people try to do both, they don't really work because there's not a sort of a consistent element that ties the two together. I don't know if it was by design, but the dinner scene (in the pilot) almost serves as that. It's really a place where the work and the procedural stuff comes into the character stuff directly, and you see how everyone is connected. Tom plays the chief of police, and I play his son, who is a detective, and if I'm on a major case, he's going to deal with it. So all the characters ultimately are intertwined somehow, so it makes it much easier. If one was a baseball player and one was a fireman and one was a doctor, it would be probably difficult to follow all the storylines. But we all work in the same thing. We all work within the law to uphold the law."
By the way, if you're wondering, Selleck's role on "Blue Bloods" will not prevent him from making further "Jesse Stone" films…indeed, that was one thing he made sure to confirm before he ever took on the series…and if the reason you aren't wondering is because you think those films are for old folks, well, Mr. Selleck would just like to point out that "Jesse Stone: No Remorse" is, as of this writing, #2 in video sales, behind only the "Clash of the Titans" remake.
"I don't see any conflicts in the two guys because they're so different," said Selleck, "but it's my job to make these two characters, I think, different enough where the audience enjoys both. I hope people want to keep watching him because I love playing that guy, enough to make sure I could do him if I took this role."
$#*! My Dad Says
All hail the Shatman…if not necessarily his new series. Despite being based on a consistently hilarious Twitter feed by Justin Halpern, what we've seen of the show thus far – which is, to be fair, a pilot which has since had one of its characters recast and one of its major plotlines dropped – has in no way lived up to its source material. Still, it's William Shatner, so I'm still going to give it a chance and see if it manages to get any better.
In regards to the changes that are taking place with the series, executive producer David Kohan said, ""You know, it really came down to a question of…we feel like we have a great concept and a great brand and a great star, and we just wanted it to be perfect. It just came down to the question of, 'How do we make this as good as it can possibly be?' The character (of Henry) isn't going to be changing that much except inasmuch as that there this kind of alchemy that goes on. You cast an actor, and the role necessarily changes because the person inhabiting that character changes. And you end up writing to who that actor is to a certain degree, but the dynamic also changes."
"We're telling the same story, and all of the things that we thought were great about the pilot that we first shot will be in the second take," said executive producer Max Mutchnick. "The same team is in place. Jim Burrows will be directing. And we just kind of…we're streamlining the first paths of the pilot, and this love story that we had threaded into the first pilot, we've taken out because we saw that there was so much fun in just writing this buddy-buddy comedy. At least that's the way Henry sees it. So that's what we're going for."
For his part, Shatner seems beside himself with excitement about doing the show, even though he admits that he wasn't familiar with the Twitter feed that inspires it when he got the pitch. Instead, it was the creative team behind the series that caught his eye. " I was aware of the limitless talents that were attached to the whole thing, and the people that are connected with this show are the top-talented people in the business," he said. "I didn't want to do another series, but I wanted to be connected with these talented people."
Shatner was also intrigued by the opportunity to play a part that is – relatively speaking – somewhat low-key. "I'm trying to get another dynamic as an actor and make a character that comes from a different place," he said. "There's a stillness, and yet there's an anger, a passion, perhaps better than anger, that's inside that we don't yet know. We're all fumbling for what this character is because the character emerges out of the writer's imagination. Then I flesh that out, and exactly what the facets are will come about as we do it. And it won't become known to any of us until several shows go by as to what exactly it is."
In addition, Shatner admitted that he has been attempting to capture the warmth of Halpern's father that, while often sometimes hard to find in the Tweets, is evident when one reads the book based on Halpern's life and times with his father.
"To sustain a character like that over weeks to make it palatable so people will watch and learn to love the character even through his idiosyncrasies, you've got to be careful that you are not overbearing, overwhelming people. And so I'm sure that was a writing choice, although we never discussed it as specifically as we are now. But it was certainly an acting choice, realizing this isn't just one moment. We are aiming at wanting all of you to listen in every week, to look in every week and see the evolution of this relationship between the sons and the father, and to condemn hardly all the time is unpalatable."
The best moment of the panel came when the topic of the show's title came into play. Mr. Shatner, it seems, is growing more than a little bit tired of the whole controversy.
"Do you know what I wish?" he asked. "I wish they would call it 'Shit.' What's wrong with 'Shit'? I've got grandchildren. I brought up three girls. They've all got kids. Okay? You say 'boopy doo-doo, you've got to make poo-poo. Come on, make poo-poo in the toilet.' Eventually, 'poo-poo' becomes 'shit.' 'Go take a shit, and you'll feel better.' You say that to your kids. The word 'shit' is around us. It isn't a terrible term. It's a natural function. Why are we pussyfooting?"
And that, my friends, is why William Shatner is a legend.