True Blood 3.3 – Lie Back, Sweetheart, And Think Of Estonia
I feel obliged to open this week's blog by asking a question that's been gnawing at me for the past two weeks: am I the only one who isn't really caught up in Season 3 of "True Blood" in the same way as Season 2? At first, I blamed it on the fact that I was coming off the ridiculously-real feel of "Breaking Bad" and hadn't yet re-acclimated myself to the town of Bon Temps, then I considered the possibility that it's because no one thus far in Season 3 has really grabbed me the way Maryann the Maenad did when she first made the scene, but now I'm just wondering if it's because the pop culture landscape is so riddled with vampires that I'm starting to feel the overkill. I'll give the show credit this week for a consistently enjoyable episode, but I wish it hadn't opened and closed with scenes that were so thoroughly disconcerting that they couldn't help but leave a significant impact: to leave me thinking, "That's not awesome. That's just disgusting."
As for the opening, I obviously heard the gun go off at the tail end of last week's episode, but I didn't really think much about what the end result would be, as I was focused more on what Eric was about to do. As such, I certainly didn't expect the end result to be Eric leaping in front of the bullet so that the werewolf would survive at least long enough for him to interrogate him for a bit. It was good to hear Sookie using her powers again, and the back-and-forth between the werewolf and Eric made me laugh, even if it was a predictable exchange ("You might as well go ahead and kill me now." "As you wish."), but you'll forgive me, I hope, for my feelings on the throat-ripping scene, which was so gross as to deflate what otherwise would've been a smirk-worth comment from Eric: "Got your rug all well." The duo quickly dispose of the corpse, with Eric acting surprisingly worried about the threat of werewolves. In addition to his not-very-couched hint about his feelings toward Sookie ("I don't expect you to understand." "I understand very well."), I also thought it was interesting the way Eric recognized the werewolf's accent. Who knew that vampires had an ear for such things?
The storyline within the King's palace in Mississippi wasn't nearly as interesting as the trip it served to take us on, but it was amusing to see His Majesty mock his "associate" and his tendency to overemphasize the importance of their nice things. The conversation between the King and Bill was somewhat educational, with the former asking Bill vampire to vampire about his feelings toward Sookie, basically saying that it wouldn't be such a bad thing if Bill were to turn her. Bill's not having any of that, though, and the next thing you know, he's on a trip down memory lane, recalling the awful experience that he was forced to endure as a result of being turned by Lorena. Revisiting his first post-turning encounter with his family, having to look upon the body of his dead son and suffer through the emotional torture of his wife's reaction to his vampirism…you wouldn't wish that on anybody. And then for Lorena to tell him that he'd be doing Carolina a favor by basically wiping her memory? Rough stuff, to be sure. You can see why Bill pledged dedication to Mississippi, but you know Sookie's going to have something to say about it.
Well, Tara certainly didn't hesitate to have a little tete-a-tete with her new friend Franklin. I reckon she now sees what Sookie has been seeing in vamps for all this time…which, based on the direction that her eyes rolled, probably looks something like the back of her head. Yowza. It was interesting to hear Franklin deny Tara's desire for death based solely on the fact that she wanted it. I guess it's no fun when they're begging for it. Clearly, based on her post-coital temperament, he must've boffed all the stress right of her…or, at least, that's how it appeared right up to the point when he started asking questions. Tara's next great moment in the episode came in conjunction with the brief return of Mike Spencer – I'm so glad Hollywood has recognized John Billingsley's calling as one of the great quirky character actors of his generation – and the realization that no one was going to be turning up for Eggs' funeral. How sweet of Sookie to have paid for everything, and what a perfect way to bring those friends back together again.
I have to presume that I wasn't the only one who was royally creeped out by the load Sam's daddy seemed to be packing in his tidy whiteys when he popped in for the family reunion early in the episode. I mean, seriously, ewwww. Tommy's still playing the tough guy ("I figured since we're related you could keep up"), but Mom seems incredibly sweet and legitimately so. Dad, however, is just plain weird. All the roles remain the same when the gang turns up later at Merlotte's, and the earlier assertion that Dad wasn't an alcoholic is utterly and totally disproved. I guess that was Tommy who flew out of Sam's office…? Or perhaps it was Mommy Dearest checking up on her newfound sonny boy? As for Sam's return to Bon Temps, the most notable part of his conversation with Sookie – aside from his comment about how he's lucky the town doesn't really have any other bar options – was the fact that he noticed her ring. It can't have been but so much of a surprise, though: that ship started sailing away quite some time ago.
Jason tells Hoyt that the universe has shown him his destiny: to be a cop. Uh-oh. Add to that the fact that Jason's pointedly comparing himself to Andy, and I think it's pretty clear that Jason's doomed, especially given that he scores 0 for 22 on his test exam before he interrupts the proceedings to offer Hoyt…relationship advice? That's like needing a Beatles expert and settling for Charles Manson: anything he tells you is suspect, possibly batshit crazy, and will almost certainly result in jail time. I did, however, love the small touch of having Jason refer to two kinds of people and then cite three types. The double-team nightmare about not being able to understand the exam and not wearing pants was pretty funny, too. Unfortunately, I guess the guilt he feels toward Tara for having shot her boyfriend will keep us from seeing Deputy Jason anytime soon. That's a damned shame.
So Eric's sent a werewolf to look out for Sookie? And a pretty decent fellow he is, too. It was pretty hilarious watching his mind be blown by her mental abilities. The trip to the were-bar was a fun little expedition, particularly Sookie's attempt to win friends and influence people by talking were-smack. If you didn't know already, Gus…the primary werewolf in the bar who, as it turns out, was also in the car…is played by Patrick Swayze's brother, Don. One observation about this sequence, though: the bit about Sookie's new pal and his ex, Debbie, was thrown in about as awkwardly as it possibly could have been.
A couple other moments of note:
* Arlene tells Terry that she's expecting, but not that it's not his "critter." I'm sorry, I'm not quite sure about the timeline of the series. Does that mean we're supposed to presume that the baby is Rene's, or is it some strange mystical baby that's came about as a result of Arlene's participation in all of Maryanne's orgiastic shenanigans?
* Eric gives Lafayette a car…oh, sorry, I meant that he sells him a car for a dollar. That was funny stuff about the gift tax. I don't take Lafayette as a guy who's prone to falling for a simple trick like Eric's lacking-in-ambition comment, but I reckon we'll see what happens.
* Sheriff Dearborne up and quit, calling time on account of too much horseshit. Say it ain't so! I don't to live in a world where William Sanderson isn't a cast member of "True Blood"!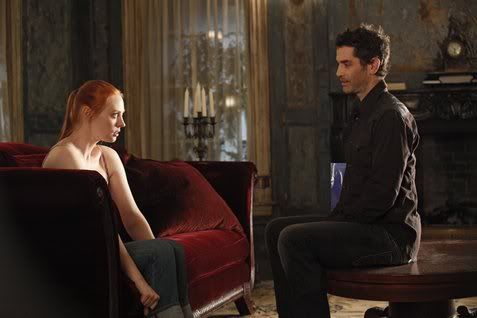 Tonight's title comes, of course, from Pam's highly memorable line while providing a bit of office romance in the back room of Fangtasia. Turns out Pam wasn't responsible for Jessica's incredible disappearing trucker. For a moment, I thought we might have a zombie on our hands, but, no, it's all to do with Franklin, who trades his "good deed" for information from Jessica. I loved the way they traded fang faces when he first turned up at the door, as well as his clarification that the whole you-have-to-invite-me-in thing doesn't work when a vampire comes a'calling to another vampire's abode. The next thing you know, Franklin's over at Tara's place, she's in his web, and God only knows what's going to come of that…
Lastly, I just wanted to very, very briefly touch on that last scene, with Bill and Lorena and their twisted close encounter. In a word: grotesque…and not in a good way. (I'm not really sure what a good take on grotesque would be, but this definitely wasn't it.) Yes, it confirmed that there's nothing he can do that will stop her from loving him, but, really, that was stomach-churning and felt completely gratuitous.
Posted in: Reviews, True Blood, TV, TV Dramas, TV Sci-Fi
Tags: Adina Porter, Alexander Skarsgard, Anna Paquin, Carrie Preston, Chris Bauer, Deborah Ann Woll, Evan Rachel Wood, Headlines, Jim Parrack, Kristin Bauer, Nelsan Ellis, Rutina Wesley, Ryan Kwanten, Sam Trammell, Stephen Moyer, Todd Lowe, True Blood, True Blood 3rd season, True Blood blog, True Blood recap, True Blood Season 3, True Blood Season Three, True Blood third season, William Sanderson