The TV Land Awards are not an "and the winner is…" kind of award show extravaganza. They're more a series of honorary nods to the very popular shows of television's illustrious, time-killing past with an emphasis on glitz. And so a bunch of us media types were invited to add to the hub-bub at the Sony Studios back lot on a breezy April, waiting on a red carpet for whichever celebrity was escorted to our assigned spots, with those from famed print and broadcast outlets obviously getting the first dibs. In the case of this lowly pixel stained wretch, I felt honored to chat with a few really terrific performers who, each in their own way, had made quite an impression on me personally.
That most definitely applies to Jane Leeves, the comedically gifted actress best known as Daphne, Niles Crane's Manchester-born one-true-crush and eventual wife from "Frasier." After confessing that I'd had a crush of my own on her since before her famed "Seinfeld" turn as "Marla, the Virgin" her response was typically blunt-yet-charming. "I'm not that old!"
"Neither am I!," I blurted. (I later learned that Ms. Leeves birthday was the following day. My own birthday was two days prior. I guess age was on both of our minds.)
Aside from being no non-TV star herself, Ms. Leeves was there to promote her now show, coincidentally to be aired on TV Land in a rare foray into original programming, "Hot in Cleveland." The show teams Leeves with Wendy Malick ("Just Shoot Me") and Valerie Bertinelli ("One Day at a Time"). The three play "very L.A." career women with show business-related backgrounds of various types. (Leeves plays an "eyebrow plucker to the stars.") Feeling a bit aged out of the L.A. game, they attempt a trip to Paris, but instead find themselves marooned at the home of the Rock and Roll Hall of Fame. They quickly realize that beautiful, middle-aged women who can refer to celebrities by their first name are actually in fairly short supply in the midwestern metropolis and they decide to stay and be big fish in a smaller glamor pond. Betty White costars as a neighbor, perhaps a wacky one. Cue the glib comparisons calling this a "younger 'Golden Girls.'"
Nevertheless, fans of Ms. Leeves should rest assured that her character is no retread of Daphne Moon. "She's focused her whole life on her career and has forgotten to have a life. She's the sort of smart aleck, wise-ass of the group, so it's very different."
Then, perhaps feeling a bit star-struck, I went with the fallback question I frequently steal from our esteemed Will Harris. What project has she done that she doesn't feel has gotten enough attention.
"It's my cooking, quite frankly."
A very funny and probably true answer, but not what I meant. "…When I did 'Cabaret' on Broadway. That was like the best thing I ever did. I got to sing, dance." Especially as she was following the late Natasha Richardson and Jennifer Jason Leigh in the instantly legendary 1998 revival overseen by Sam Mendes and Rob Marshall, that was impossible to argue with and also, very sadly, impossible to see. Was there anything she'd like to remind everyone of that's actually viewable by the public.
Acknowledging that she'd been on practically every sitcom imaginable — and a look at her Wikipedia page shows that her early credits include "The Benny Hill Show," "To Live and Die in L.A." and uncredited parts in "The Hunger" and "Monty Python's The Meaning of Life" — she finally settled on her character in a once wildly popular show that is, for whatever reason, not top-of-mind these days. "'Murphy Brown'…[I was] Audrey from the British Embassy." Even more impossible to disagree as I realized that that was the show before "Seinfeld" where I had developed my crush. The fact that her boyfriend on the show was the short, Jewish TV news producer Miles Silverberg, played by Grant Shaud, didn't hurt.
Not long after, I got to talk to another sitcom favorite of mine, though of a very different sort. Bernie Kopell may be better known to many as Dr. Adam Bricker of "The Love Boat," but to me he's the very fine and versatile actor who was CONTROL agent Maxwell Smart's most diabolical nemesis, Siegfried of KAOS.
Amazingly, Siegfried appeared on only fourteen episodes out of 138 installments of "Get Smart," but writers like Mel Brooks, Buck Henry, and Leonard Stern gave him some of the funniest/silliest shtick in TV history and Kopell knew how to make that kind of material sing. Even as a small child watching the show, I always paid special attention when Kopell's Siegfried appeared, forever reminding his henchman, Shtarker (King Moody), who had usually made a odd noise to illustrate a possible course of action, "This is KAOS, ve don't ' _____' here!"
Today, Kopell remembers his work on the show fondly. "It made me happy. I loved it. I was 33 at the time. We had 7:15 calls, I'd be there at 6:15 just to be around there….Very happy days." He also took a moment to praise the DVDs of the show, on which he participated in commentaries, while also praising the legs of Jane Leeves, who had he chatted with a moment before and was being interviewed next to us.
And what had Mr. Kopell done that he'd wished had gotten more love from the public? Serious Mel Brookians won't be too surprised at his answer. He named 1975's "When Things Were Rotten," a television spoof of MGM's "The Adventures of Robin Hood" that, for whatever reason, laid a giant ratings egg despite good reviews and the recent back-to-back big-screen success of Brooks' spoof classics, "Blazing Saddles" and "Young Frankenstein." The show starred Brooks regular Dick Gautier as Robin Hood and Kopell as right-hand merry man Alan-a-Dale
"It starts off #1, #2, #3….we're way up in the ratings but as it goes on, we only did thirteen shows — last, last, last. Dick van Patten [who played Friar Tuck] says 'they can't take it off, this is Mel Brooks for free on television.' He bets on everything, I never bet on anything. He said, 'I'll bet you it'll stay on. If they take it off, I'll give you $3,000. If they keep it on, you'll only have to give me $1,000. I could have been a rich man today." (Brooks recycled the concept somewhat more successfully in 1993's "Men in Tights.")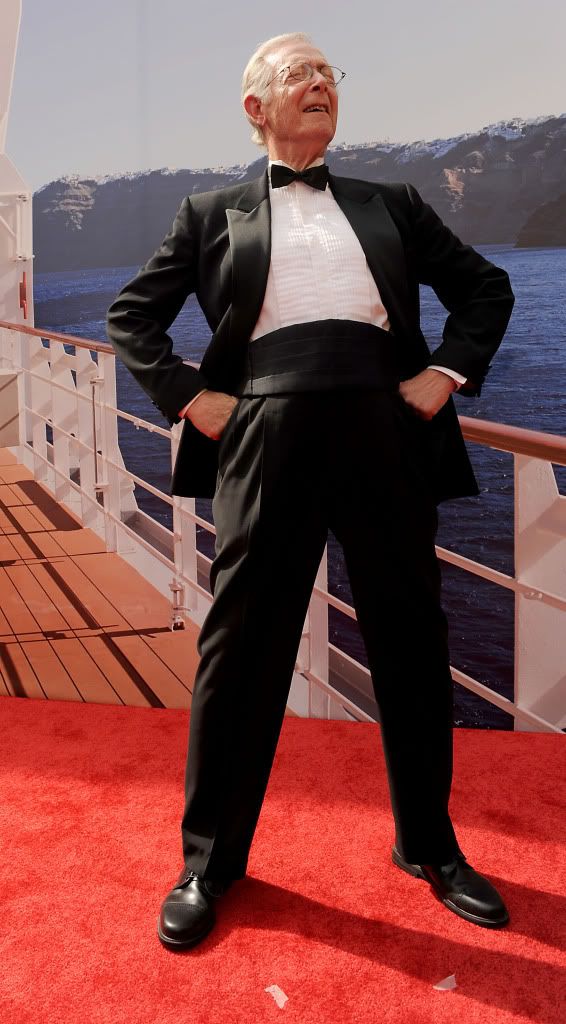 Then a fellow journalist from a slightly better known publication with the initials U.S.A. Today asked Mr. Kopell why he thought, "The Love Boat," for which he'd shortly be sharing a TV Land award, has lasted in the public consciousness since leaving the air some 23 years ago. "…It reminded people that life can be positive," he said. Discussing the show's tendency to resolve any all problems by "page 58," he mentioned an episode where guest star Tom Bosley ("Happy Days"), playing a paraplegic, got out of his wheelchair towards the end of the show. When he asked him why he was getting up, Bosley responded. "Page 58." (Fans of "The Love Boat" and fine culture in general will also want to check out  a very interesting chat between our own Will Harris and Ted Lange, who played Isaac, the bartender and also Othello.)
"People like happy endings," Kopell said. "Today, we have the magnificence of people eating worms and bugs and all this uplifting, life celebrating stuff."
After Mr. Kopell's departure, numerous celebrities ambled past us, urged on by time-conscious publicists. Or, in the case of once-and-forever Spanish sex-bomb Charo, hoochie-coochied her way by us entirely on her own considerable steam. I then proceeded to blow an opportunity to interview era hit-maker  Jack Jones, who sang the theme to "The Love Boat," because the only thing I could think to him ask him about was "Mad Men"-esque ultra-sexist lyrics to his Burt Bacharach penned early sixties smash-hit, "Wives and Lovers." The words may sound wrong to us today but, in any case, they were written by Hal David, he just sang them. However, looking at a 1964 TV Land clip of him performing the song, he certainly was in the spirit of his times.
I did get to talk to Phil Rosenthal, the creator of "Everybody Loves Raymond" alongside his spouse, Monica Horan who played the series-long love interest to Brad Garrett's character, Amy Louise MacDougall-Barone. I have to admit to some ignorance of the show which makes me almost alone in the universe, considering it's huge popularity and critical acceptance. I'm going to have to correct that and watch a few episodes sometime. It  shouldn't really matter but, much like the reputation of the show itself, Rosenthal and Moran seem unusually nice, especially for a power couple sitting on top of one of the most successful series in television history. How do they account for that success?
Moral spoke up. "[Phil] was so specific about our family's life. As my husband says, "everybody has a family, everybody has a friend — it's real interpersonal relationships."
A bit more chatter revealed that the reason Rosenthal looks so familiar to me is probably related to his uncredited role as a rabbi in "Walk Hard." (On the other hand, I don't remember there even being a rabbi in the movie.) We also discussed how, shockingly, "Everybody Loves Raymond" has been off the air since 2005.  It seems like it was only yesterday when it was a brand new show. What of the future of family-based sitcoms? Again, my sitcom-norance got the better of me.
"Now they're back," Phil Rosenthal said. "With [ABC's] 'Modern Family,' and "The Middle.'"
And it was at that point that Rosenthal did something that, at least up to this point, not one of my interview subjects has done. He popped a Tic-Tac and offered me one as well, spreading the meme of minty-fresh breath throughout TV Land.
And there was the matter of more recent shows I haven't had the opportunity to watch. I found myself in the middle of a journo-dog-pile around young Mark Salling, who plays the Mohawk-sporting Puck of "Glee." Now wearing an even more minimalistic "butch" hairdo, he answered the usual questions about how his life has changed since getting the "Glee gig. (Answer: He's working really hard now.)
Finally, as things were winding down. Several of us suddenly found ourselves chatting with actor Peter Scolari. Scolari is the first-rate thespian who, for reasons that point out the random nature of show business, costarred with a young Tom Hanks in the amusing cross-dressing 1980-2 sitcom "Bosom Buddies." Even as their careers have gone in rather different directions, with Scolari being a successful and highly talented, but decidedly non-superstar, working actor even as Tom Hanks is, well, Tom Hanks. While being mobbed by a gaggle of desperate writers, Scolari was philosophical, and very funny, about it all.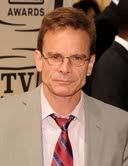 "'Bosom Buddies' is so long ago, I can barely remember it….I've only found any happiness all through the years in the big leagues — television and film, what have you, because I started as a stage actor — I've only found my comfort in having the human thing. We had that on 'Bosom Buddies.' Tom and I were, we used to say, closer than the 'Bosom Buddies' and that's turned out to be the case."
That led to a mention of Scolari's scheduled participation in "Larry Crowne," which will star and be co-written and directed by Tom Hanks and will costar Julia Roberts. "I have to leave the movie…I've got a play in New York and the schedule on the movie changed."
Then, prompted by another question I couldn't quite make out, he offered a joking alternative explanation. "Something about Julia Roberts being afraid. She didn't want to be close to me physically." Apparently the issue is not revulsion but excess attraction. "She's only human, some people go for short," he said.
At that point, it was time for the celebrities to scurry in to the theaters and for the rest of us to make our way to the press room. I'm not going to give a blow-by-blow description of the TV Land Awards show, which airs tonight and includes segments honoring "The Love Boat," "Bosom Buddies," "Everybody Loves Raymond," "Glee," twin television and film comedy greats Carl Reiner and Mel Brooks, and late seventies/early eighties power pop legends, Blondie — a great band in its day but one with no particular connection to television. It also features a salute to TV's "Charlie's Angels" and a surprisingly moving memorial to the late Farrah Fawcett.
Still, while avid TV fans will no doubt want to watch and many of the rough spots will no doubt be smoothed over editorially by air-time, there were some very rough spots indeed. The roughest was easily Tim Allen's performance as host. It's possible someone was laughing in the studio and the sound was lost amid the enormous set, vaguely reminiscent of the House of Blue Leaves restaurant-nightclub from "Kill Bill, Volume 1." Still, Allen's jokes seemed to elicit mainly silence and, if no actual flop sweat appeared on Allen's brow as he gamely trod on, it was a testament to his long experience in front of audiences. Of course, Allen had an especially tough act to follow as last year's host was Neil Patrick Harris, beginning his long award-show host winning streak by knocking the audience dead. Sometimes you kill and sometimes you get killed.
Things improved later on and even Allen recovered to some degree. Tom Hanks, putting on his slightly pompous jokester persona, appeared in his element as he accepted the award alongside Peter Scolari, and three of the show's noted female members, Telma Hopkins, Donna Dixon, and the eternally underrated Holland Taylor. After thanking series creator Chris Thompson, who for some reason was not on stage, he looked back fondly on the show which launched his career. "All we did was laugh. For thirty-nine measly episodes, all we did was laugh. And Tom Selleck and 'Magnum P.I.' still suck compared to 'Bosom Buddies.'"
Peter Scolari's initial rejoinder: "Congratulations…Tom."
During the "Everybody Loves Raymond" segment, Brad Garrett interrupted the love fest with a refreshingly biting rant, noting "I'm almost as drunk as Betty White." Of course it was all for some much needed laughs and he quickly reverting to awards show form and graciously praised his "Raymond" coworkers.
And there were other highlights ahead, including the, er, amazing TV Land Glee Club with mega-comic actor Fred Willard, Marcia Wallace of "The Bob Newhart Show," Todd Bridges of "Different Strokes," Jamie Farr, Marla Gibbs of "The Jeffersons", Richard Moll of "Night Court," Marion Ross of "Happy Days," Jimmy "J.J." Walker of "Good Times," Richard Karn of "Home Improvement,' Shirley Jones of "The Partridge Family" and David Hasselhoff of "Bay Watch" and "Knight Ryder." Not all of those kids can sing — and David Hasselhoff, supposedly a big musical star in Europe, made me wonder about the musical taste of German pop music fans — but they've got spunk.
****
Some other random observations about the evening…
— At one point the "Love Boat" cast entered the press area for an interview, they laughed uproariously. I have no idea what about, but the mirth was deafening.
— Although I was not honored with an interview with Jamie Farr, famed as the Section 8-seeking Corporal Klinger of "M.A.S.H.," I did find myself in the men's room at the same time as him. I suppose it's some kind of violation of ethics to report on overheard bathroom talk not directed at yourself, but somehow I feel safe in reporting that Farr thought late super-producer Aaron Spelling of "The Love Boat" was terrific to work for. Since he said it in the bathroom, it pretty much has to be true, right?
— Most popular comics of the evening, gauged by audience response and my own doubtlessly skewed perceptions of that response: Mel Brooks, Carl Reiner, and Jane Lynch of "Glee."
—  As revealed to me by Rozy of Accidental Sexiness, a photograph confirmed that Jimmy Walker was there in the company of his friend and possible more-than-friend, admitted neo-McCarthyite columnist Ann Coulter. I do not possess said photo and I like it that way.
— The evening was not as well organized as it could have been with great pros like Bob Newhart apparently being asked to fill time with whatever they had on hand. Bob Newhart told a story about the creation of "Larry, my brother Daryl, and my other brother Daryl" from his second television series, which co-starred Peter Scolari.
* Similarly, Mel Brooks and Carl Reiner vamped a bit with some nice old material from the classic "2000 Year Old Man" live routines. They discussed the first songs ever written, which it turns out were all about fear, including the standard "A Lion is Eating My Foot Off, Somebody Call a Cop." Brooks also once again proved that L.A. residents love hearing their city insulted when he made the common observation that there's no actual major city in our gigantic megalopolis. "Just four Newarks pressed together."