Legal dramas come and legal dramas go, with some succeeding admirably (congrats to Julianna Marguiles for her Golden Globes win for her performance on CBS's "The Good Wife") and some failing miserably (stand up, please, TNT's critically-berated "Raising the Bar"), but they're a proven commodity, so it's rarely a surprise to hear that another one's being rolled out. Tonight brings the premiere of ABC's latest contribution to the genre, "The Deep End," and when the cast and producers of the series sat still for their panel during the TCA press tour, it was only to be expected that someone would ask them if they're bringing anything new to the table.
"I kind of see this show as kind of the reboot of the legal show," said executive prodcer David Hemingson. "I think if you go all the way back in television history, back to 'Perry Mason' and 'The Defenders' and certainly the incredible job that Steven Bochco did with 'L.A. Law,' and David E. Kelley, there's a rich tradition. Like with medical shows, there's a rich tradition of legal shows, but I think there's never been a legal show that has taken it from the perspective of these newly minted lawyers, these newbees, these kids who've come out and they're confronting the reality of their practice for the first time and they're being dropped into this intensely political, highly charged environment and also, you know, having the partners kind of reflecting on how they've changed in relation to the kids. So I think the interpersonal aspects of the show, I think the comedy of the show, the sexiness of the show, the fun of the show is something we haven't quite seen, especially from a 20-something perspective. And when you consider the fact that it's also sort of conflated with some really realistic kind of ripped-from-the-headlines cases that we're doing, I think it distinguishes itself from anything that's been on thus far. At least, we hope it does."
Hemingson also acknowledged that the timing couldn't have been more perfect to get the series onto ABC. "I would say it was sort of like a confluence of circumstances or a wonderful moment," he said, "because I actually started out as a lawyer coming from New York to L.A. some years ago, and it was a story that I always wanted to tell, a story very near and dear to my heart. And I felt like with a couple of decades I had some perspective and it just so happened that it coincided with ABC's need for new drama, a new dramedy. And so the stars kind of aligned for us, and I just feel fortunate to be doing it this way with Jan and with this fantastic cast."
Of that cast, the face that will likely leap out to most viewers is Billy Zane, who gets yet another opportunity to tear into a larger-than-life character as Cliff Huddle. Someone immediately made the observation that the actor's name rhymes with another famous TV lawyer (Denny Crane), but it's apparently complete coincidence.
"This character was based on someone that came directly out of David's experience," revealed Zane. "Now, obviously, we have the flesh and bone and the odd bit of spin on the free throw, but it's all there. This is writing at its best, which is why we're all here and, I think, is a testament to what hopefully will be the success of this show and what people will find endearing and identifiable about the characters. As repellent and attractive and inspired as they are, you cannot wait to see what they're going to do next."
Hemingson quickly clarified Zane's statement about the source of his character's inspiration. "I practiced basically as an attorney for three years, three months, two days…but who's counting?" he asked, rhetorically. "It was definitely one of the transformative experiences of my life, and I got to know a lot of really supercharged personalities, (but) the lawyer's answer would be that any resemblance to any character living today is purely coincidental."
That's probably the best possible tactic to take when discussing Cliff's origins, given that the next person to question Zane about his character used the phrase "Prince of Darkness" to describe him. Zane clarifies, however, that Cliff isn't the Devil nor even a devil.
"The guy's a shark," he clarified. "Always moving, always calculating, a 3-D chess player. You never really are sure of the moves he makes until they are later revealed as completely brilliant, deductive reasoning, and he keeps the associates on their toes. He's the coach you hated on the day, but owe everything to as you're getting your championship trophy. As a result, he operates by his own code, which finds its way into his interpersonal relationships as a result of working with the head of litigation, also his wife, who have a very passionate relationship. They can't keep their hands off each other. Unfortunately, Cliff can't keep his hands off someone else in the firm – which I can't reveal, you'll have to tune in to see whom — and that leads to some complexities. But what's fascinating is we're already operating at a level of rarefied air. To be as good as you are at this job, to be in this firm, you marvel at how they navigate these very common, almost pedestrian shortcomings and human limitations. That's what we want to see: how the hell are they going to handle infidelity? How do the guys navigate working together while handling infidelity? And it would take a prince of darkness in order to kind of retain his sanity and his job, basically."
The flip side of the show's coin comes through Hart Sterling, played by Clancy Brown, an actor who's played his fair share of bad guys. ("I'm glad to see Billy playing the villain," he said, with a grin.) Although Brown comes from a background where he knows a bit about ethics – his father was a Congressman as well as a newspaperman – he says that he doesn't even need to venture into his own personal history to appreciate his character's view of the world.
"You just look at the headlines and you see the struggle between the letter of the law and the spirit of the law," he said. "I think we all get to a certain age where we think, 'Well, okay, I've ridden this horse as hard as I can ride, now what good can I do?' You look at Bill Gates, and he was a son of a gun. He was really mean to a lot of people in his business and now he's saving the world. I think a lot of people have that transition. I think Hart had that transition to a certain extent, and it's kind of taken some of the partners by surprise. But I don't think it's unusual, and I don't think there's any particular insight that I gain by being the son of a congressman or son of a newspaperman. I think it's a human story through time."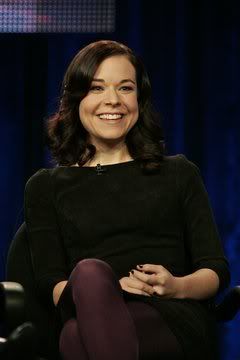 As a longtime "Veronica Mars" fan, I'd be remiss if I didn't mention one other familiar face amongst the cast of "The Deep End": Tina Majorino, the actress formerly known as Mac, though you might also know from her work as Heather on "Big Love." Given these two series, you can understand why one of the critics asked how she felt about being part of a show that will, at least theoretically, give her the most mainstream exposure of her career.
"It's really fun," said Majorino. "I'm really excited that I'm getting to be a part of a show that is not so much…a niche show. I think that there's something to be enjoyed by everyone in this project, and I'm really ecstatic about getting to play a part that's more.." She hesitated for a moment, then explained, "I'm not saying this with any distaste or no love for the characters that I've played, but I've tended to play more of the outcast and…I don't know, just more of nerdy types. It's kind of nice to be able to play someone different. I'm just really excited about that. I think that all of the characters on this show have a lot to offer in their own right, and so I think that there's something to be enjoyed by everyone in this show. It's nice to be a part of something knowing that more people are going to see it. You don't have to have a specific opinion about something to connect with the show, whereas some of the other projects that I've done, I think people either love them or they hate them. This is fun. It's really, really fun."