TCA Tour: The Ricky Gervais Show
If you've never listened to the podcast that Ricky Gervais does with his writing partner, Stephen Merchant, then you've been missing out on one of the funniest things that's available for download. Part of it comes, obviously, because of the well-established quick wits of the aforementioned two gentlemen, but the show's X-factor, if you will, comes from the third man in the recording studio: Karl Pilkington. Although he's still pretty much a non-entity in the States, you can count on him achieving – at the very least – full-fledged cult status when HBO debuts their new animated series, "The Ricky Gervais Show," which, despite its title, easily features Pilkington as heavily as Gervais.
There's no real way to make sense of the way Pilkington's mind works; we can but marvel at the way he perceives the world and the comments that he makes about it. Here are five moments from the panel which demonstrate what I'm talking about:
1. When asked about Pilkington's absence from the panel, Gervais explained, "He's on his way to Rio, I think, to do a documentary called 'Seven Wonders,' which we have arranged. We send him around the world to see what he thinks of the seven wonders, and he's not impressed so far. He thinks the pyramids are overrated. I said, 'Why?' He said, 'It's a bad design. It's a bad design.' He said, 'The lounge is going to be huge, but the bedroom is going to be tiny.'"
2. "Some of the things that Karl has come up with are incredible," said Gervais. "I mean, he thought Anne Frank was just avoiding paying rent."
3. "His serious understanding of evolution," said Merchant, "is that…he went, 'Yeah, I know evolution. It starts germ, fish, mermaid, man.'" Said Gervais, "I was trying to get the rudimentaries of evolution to him, and I was explaining to him that we are closer to chimps than chimps are to the gorillas. He was going, 'No, we are not.' I go, 'No. We are.' I said, 'We are 98.6 percent genetically identical to a chimpanzee.' I said, 'That's 1.4 percent difference between us and a chimp.' And he went, 'That's got to be the ass.'"
4. "I call him every day, three or four times a day, just to find out what he's doing," revealed Gervais. "I called him the other day, and I said, 'What are you doing?' And he went, 'Just walking in the park.' I went, 'All right.' We went, 'Oh.' I said, 'What?' He said, 'A worm just fell from the sky.' And I went, 'What do you mean?' He went, 'He just fell out of the sky.' I said, 'Well, a bird probably dropped it.' And he went, 'Oh, yeah, there is a bird.'"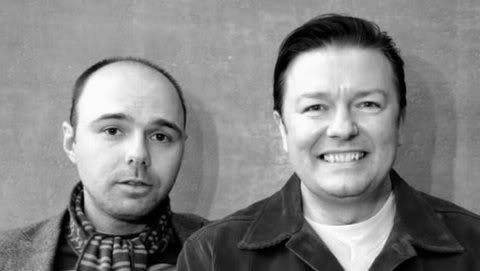 5. "We did one podcast," said Gervais, "I think it was in December 2006, and I said, 'What was the highlight of the year? Looking back at this year, what will stand out for you?'" And he said, 'Probably that time I saw a grub eating a biscuit.' I go, 'What do you mean?' He went, 'Well, I was eating a biscuit. I put the rest on the windowsill. I looked around, and there was a grub eating it.' I went, 'Why is that an event?' He went, 'I never thought I would see that that year. It made me think, 'We couldn't be more different, us and the grub, but we both like a biscuit.'"
As you can probably tell, Gervais and Merchant are perpetually incredulous at the pearls of strangeness that regularly fall forth from Pilkington's mouth. Indeed, Gervais is quick to confirm that, although the show carries his name in the title (partially because it was the name of the podcast which inspired it, but mostly because he has the highest profile of the three men involved), it is without question "The Karl Pilkington Show."
"It's also a really much nicer name than Stephen Merchant, isn't it?" added Gervais. "There's something elegant about it. It's Ricky Gervais. Stephen Merchant? That's a bloke who works in a bank. Ricky Gervais is…I mean, he's probably going to go down in history, I imagine."
"But," argued Merchant, "'The Flintstones' is 'The Flintstones,' there's no mention of the Rubbles, but I'd argue that without Barney, there's very little narrative progression at all. Most of Fred's adventures are sort of very Barney-related. There's not many solo Fred adventures, is there?"
"No, if they said they were doing a spin-off, 'The Fred Flintstone Show,' it would be a good idea," admitted Gervais, "but it would be a bit like Kramer trying to go his own way. It wouldn't work, you know what I mean?"
"No, you need the balance of Rubble and Flintstone," agreed Merchant.
Despite the fact that they throw around words like "idiot" and "moron" when describing Pilkington (and do so to his face on a regular basis), Gervais and Merchant truly respect him and are legitimately fascinated by him.
"I think he's smart, and he's good at some stuff, and he sees the world different," said Gervais. " He's a genuine artist in the sense that he does see it differently than us. He sees the world through different eyes. He doesn't try and perform. He isn't trying to be a comedian. He shies away from it. But he's got an opinion on everything, and usually it's a funny one because it hasn't been heard before. You could ask everyone the same hundred questions, and Karl's answers will be most different to everyone else's because he just sees the world differently."
You'll be able to see and hear Karl Pilkington for yourself when "The Ricky Gervais Show" premieres on HBO on February 19th, but before we go, we'd be remiss if we didn't get some details about what we can expect from Gervais as the host of the Golden Globes. Unfortunately, Gervais claimed to have no plans for how he was going to approach the evening…which, strangely, didn't seem to bother him at all.
"I'm pretty calm because I've got very low standards," he explained. "I don't really care what happens. They are not really going to invite me back."
"You are not going to be controversial?" asked Merchant, doubtfully.
"No, I'm going to be drunk," replied Gervais. "Everyone else is."
At this, a writer piped up and reminded Gervais that, despite his claims of future intoxication, he'd told the L.A. Times that he was going to take the opportunity to roast every actor in the room that's more successful and better looking than him.
"That's every one of them, unless Mickey Rooney is there," he said. "We'll see how it goes. I don't know. Anyone who isn't concentrating will get it, so they'd better listen. They'd better not talk when I'm on. They can talk when everyone else is on, but they'd better not talk when I'm on. Then they will get my attention, and then they are in trouble."
Gervais acknowledged that he has a particular soft spot for the show, owing to the fact that it was the Globes win for the original UK version of "The Office" in 2004 that really kickstarted the worldwide success for him and Merchant. "When we won, we couldn't believe it," he said. "We all went up like a motley crew. You could see – we watched it back – the cameraman didn't know how to get us all in the frame. There's Steve Merchant at, like, 8 foot 9 at the back, and he didn't know where to focus. I think they cut your head off."
"Yeah, it was just my throat down," confirmed Merchant.
"Apparently," said Gervais, "Clint Eastwood turned to someone at his table and said, 'Who the fuck are they?' Which," he added, "is my favorite quote ever."
When asked if there was anyone he was looking forward to meeting at the Globes, Gervais first questioned if he'd even have the time. ("If they come and try and talk to me, I'll say, 'I'm at work. Shut up, you drunk.'") After the laughter died down, however, he admitted that he was actually in awe of all of them.
"Joking aside, I think that it's a room of really talented people," he said. "You've got creators of our favorite shows. Myself and Stephen, America is our mecca for TV, comedy and drama. Our favorite comedy things, everything from Laurel and Hardy, Marx Brothers, Woody Allen, through to things like ;Arrested Development' and 'Curb Your Enthusiasm.' In terms of drama, 'The Sopranos,' 'The Wire,' 'Dexter,' 'Damages,' they're all in that room. It doesn't mean they're not going to get a roasting. It means that I admire them secretly."
Posted in: Interviews, News, TCA Blog 2010, TCA Press Tour, TV, TV Comedies
Tags: Golden Globes, HBO, Karl Pilkington, Ricky Gervais, Stephen Merchant, The Ricky Gervais Show