I'm no Hollywood insider. Nikki Finke does not rely on me for her tips and I don't ever expect to attend the Vanity Fair Oscar after party. Nevertheless, there's one thing I do know about show business: personality goes a very long way in "this town." And so a few of us press people recently found ourselves the subject of a 50 megaton charm offensive by the four stars of the new Fox sitcom, "Brothers" — C.C.H. Pounder, Carl Weathers, and Daryl "Chill" Mitchell, and one extremely enthusiastic newbie, former New York Giants Defensive End and Fox Sports commentator Michael Strahan. I haven't seen the show itself yet, which premieres tonight at 8 p.m./7 central, but the visit was certainly a performance I won't be forgetting.
From long-time writer-producer Don Reo, whose credits run from "M*A*S*H" to "Blossom" and "Everybody Hates Chris," "Brothers" stars Strahan as a former NFL star who winds up moving in to the house he bought for his parents when a financial reversal puts him in the metaphorical poorhouse. Since this is a sitcom, naturally there will be conflict with his brother, played by Mitchell, and the usual issues with parents Weathers and Pounder. One ace the show will be playing will be guest appearances by some fairly big names playing themselves, including former heavyweight champion Mike Tyson, hip-hop star T-Pain, celubutante Kim Kardashian, and the great Clarence Clemons of the E Street Band. Also appearing will be well actress Tichina Arnold from "Chris" and, not playing himself, rap superstar Snoop Dog. Stand-up comic Lenny Clarke will be playing a neighbor on the show.
The show has been getting some additional attention for a perhaps less fortunate reason, in that while African-American actors are featured in more diverse roles these days, it's the only current show on the networks schedules with a predominantly black cast. That's largely a reversal of the trend of the past when the vast bulk of decent TV parts for nonwhite actors were on shows like "The Jeffersons" and "Good Times" as well as some of the later, more controversial shows aimed at black audiences like "Martin."
The first to meet the press were Carl Weathers, perhaps still most famed as Rocky Balboa's venerable opponent, Apollo Creed, and C.C.H. Pounder, who is taking a break from her usual intense, gravitas-laden, roles on shows like "The Shield" and seems to be enjoying every minute of it. In fact, I'm here to tell you that extremely skilled Ms. Pounder is downright bubbly in person. You heard me, "bubbly" — but in a very smart sort of way.
The mood was light right off the bat with more than one of us entertainment journos confessing a complete lack of knowledge of sports and Ms. Pounder joining in. Weathers was the exception. "Well, I played for the Oakland Raiders so I hope I know a little bit about football." And that somehow prompted an impersonation of Butterfly McQueen from "Gone with the Wind" from Pounder. I guess you had to be there.
Anyhow, movie geek that I am, I was quick to ask the actress about her massively impressive resume, which goes back to the late seventies and includes her screen debut working with Roy Scheider in Bob Fosse's "All That Jazz" and a role in "Prizzi's Honor" working for the legendary John Huston. I asked how the business had changed over the years.
Apparently one big difference is that race is simply less of a barrier these days, finally. She explained the beyond-rude treatment — miming putting her feet on the table — that she would often get during meetings with agents and producers early in her career, and how she had to do research to prove that black female professionals existed in order to get jobs. "They were doing quotas…and so everybody felt that they were trying because they saw other races. I haven't seen that at all in many, many moons. I really remember fighting to get a judge role on 'L.A. Law.'"
Of course, there was also the aforementioned issue of "Brothers" being the only "black" show on network television at the moment. Was there any additional pressure because of that?
"I don't have the pressure. Maybe it's because I am old as dirt and I won't take any pressure," Pounder said with more than twinkle in her eye. "I don't feel that pressure anymore of representing the race….Now I am 30 years into it I want to be an actor again and act."
Carl Weathers, who began his career playing often ultra-macho, but somewhat nuanced roles — not only in the "Rocky" films but also in "Force 10 from Navarone" and his later starring vehicle, "Action Jackson" — was very much on the same page. "For me, it ain't no pressure. It's a funny show about people who happen to deal with their lives through humor and hopefully Americans will embrace that and give us enough episodes. I think for the most part everybody on the show is having a lot of fun, and it's fun to be here to be here to play with them in this sandbox…."
Then came the day's other inevitable topic — working with a famous first-time actor. We were assured that Michael Strahan — the personable, gap-toothed NFL record holder for sacks, dubbed "the Sack-0-Lantern" by Jimmy Kimmel — was definitely doing his homework as well as having that little something extra.
"Michael is a huge personality, [a] very funny and charismatic guy," said Carl Weathers.  But that wasn't all. "You don't become what he has become and not get how to do the job. He walked on the set with the same kind of attitude that he had all those years in professional football and he is an amazing quick study."
"He's going into something that he has a natural knack for," chimed in Pounder. "He's got himself his version of a playbook which is really brilliant. That's the attitude that he has that will make him a very successful man in all the other fields." After a little humorous back and forth with Weathers, she added with multiple layers of irony, "Some people get to go to drama school for 29 years and other people learn in 20 minutes."
Michael Strahan himself appeared shortly thereafter and was as "on" as anyone I've seen in a while, joking nonstop and, eventually, commenting on the subtle differences between acting in a four-camera sitcom shot before a live audience and playing pro football. "The whole process was different and foreign to me because I am used to when you make a play everyone goes 'aaaah!!!,' and when you don't make a play everyone goes 'Boo!!!!'"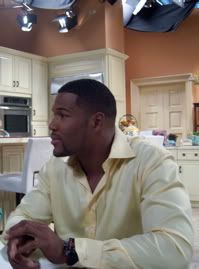 When did he decide he wanted to be an actor? "I never decided that I want to be a football player, but next thing I know I look back and 15 years later it's over. The commentating thing just kind of happened, I never made a plan that I wanted to be football player or a commentator or an actor. It just kind of happened. I just roll with the punches of what happens at the time and so far things have worked out."
Not long after came the arrival of co-star Daryl "Chill" Mitchell — who people actually call "Chill" — and the two seemingly couldn't stop teasing each other and generally showing off their brotherly rapport. Still, I was ultimately able to get in a question with a bit of effort. I mentioned how fellow PH-stable mate Mike Farley was a huge fan of the Giants and of Strahan personally, to the point where he and his wife, Jen, have — they assure us jokingly — talked of naming their next son "Michael Strahan Farley." With the movie "Big Fan" very much on my mind, I asked if he had had any issues with weirdness or excessive emotion from fans.
"Of course I do. I've had a guy whose arm I signed and he went straight to the tattoo shop and got the autograph tattooed on his arm. That kind of freaked me out. I saw him like a week later and he was like 'do you remember me?' I met him at IHOP."
"I am a normal dude," Strahan said. "I don't travel with 20 people. I don't go in places where I feel like I need to have extra people for security and protection. I am more like that normal everyday, enjoy-my-life kinda guy. I've been very fortunate and that has helped me when I am not working. Who doesn't hear about actors who have to have a certain color M&M's in their trailers? But, from Day One, it's been easy," he said. And going into gag-mode, "I crack on [Chill] and Carl but I don't crack on C.C. I don't mess around with C.C too much. I am scared of C.C….Nobody here is easily offended and if we were then we are on the wrong show. [Chill] says the foulest jokes about my teeth, but I just suck it up."
After some very funny, but hard to transcribe, back and forth banter between Strahan and Mitchell regarding the matter of teeth and, not at all offensively, Mitchell's use of a wheelchair, the eighties rapper turned actor called a truce in the insult battle long enough to praise his new colleague. "I always tell everybody…if you forget your lines, ask Mike and that's scary for someone to have a memory like that. He doesn't act and that's where actors mess up, because they act."
He also found time to give props to the most experienced actors on the set. "People like Carl and C.C.H. hold seminars that you would pay to get in — that's how I learned." Mentioning his background on "Veronica's Closet," "The John Larroquette Show," the wondrous "Galaxy Quest," and other shows. "I learned from working with the greatest comedians of all times."
Yes, it was a love fest, but mostly in a good way. We press were sent home in a very good mood. That was probably the idea.