Glee (Wed., Sept. 9 @ 9:00 PM, Fox)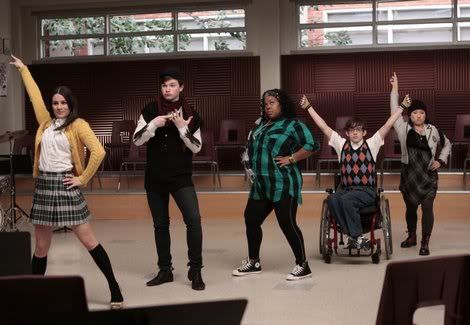 The competition: "Modern Family" and "Cougar Town" (ABC), "Criminal Minds" (CBS), "Law and Order: Special Victims Unit" (NBC), "The Beautiful Life" (The CW)
Starring: Jane Lynch, Jayma Mays, Corey Monteith, Lea Michele, Dianna Agron, Matthew Morrison, Jessalyn Gilsig, Chris Colfer, Patrick Gallagher, Kevin McHale, Jenna Ushkowitz, Amber Riley, Mark Salling
Producers: Bradley Buecker, Brad Falchuk, and Ryan Murphy ("Nip/Tuck"), Zachary Woodlee ("Eli Stone")
Network's Description: A one-hour musical comedy that follows an optimistic high school teacher as he tries to transform the school's Glee Club and inspire a group of ragtag performers to make it to the biggest competition of them all: Nationals. McKinley High School's Glee Club used to be at the top of the show choir world, but years later, a series of scandals have turned it into a haven for misfits and social outcasts. Will Schuester, a young optimistic teacher, has offered to take on the Herculean task of restoring McKinley's Glee Club to its former glory with the help of fellow teacher Emma Pillsbury. It's a tall order when the brightest stars of the pitch-imperfect club include Kurt, a nerdy soprano with a flair for the dramatic; Mercedes, a dynamic diva-in-training who refuses to sing back-up; Artie, a geeky guitarist who spends more time avoiding bullies than chasing girls; and Tina, an awkward girl who needs to suppress her stutter before she can take center stage. Will's only hope lies with two true talents: Rachel Berry, a perfectionist firecracker who is convinced that show choir is her ticket to stardom; and Finn Hudson, the popular high school quarterback with movie star looks and a Motown voice who must protect his reputation with his holier-than-thou girlfriend, Quinn, and his arrogant teammate, Puck. Driven by his secret past, Will is determined to do whatever it takes to make Glee great again, even though everyone around him thinks he's nuts. He's out to prove them all wrong – from his tough-as-nails wife Terri Schuester to McKinley's cheerleading coach Sue Sylvester to an über-hip world that thinks jazz hands and sequined tuxedos litter the road to infamy rather than pave the way to Hollywood dreams.
The Buzz: Crazy insane. (Insane? Crazy?) Fox's decision to air the pilot for the show back in May and let it simmer for the summer was one of the strongest marketing moves in recent television history, as evidenced by the ridiculous amount of iTunes downloads of the songs from the show, and while having the cast turn up at Comic-Con might've seemed out of place at first, given how close the lines for "glee club members" and "comic book and sci-fi aficionados" lie on the geek flowchart, it shouldn't have. And now they're preparing to tour the malls of America…? The buzz buzz buzz you're hearing in the drum of your ear is the sound of "Glee."
Pilot Highlight: If you didn't want to leap to your feet and applaud at the end of their performance of "Don't Stop Believin'," you are dead inside. Dead, I say.
Bottom Line: It's going to be like having a new volume of "High School Musical" airing every single week, except with sensibilities falling closer to "Freaks and Geeks." If it isn't a huge hit, and if the soundtrack to the show isn't one of the biggest selling albums of the holiday season, I will be shocked…and crestfallen, too, as I'm totally in the "Glee" club as well.
Brothers (Fri., Sept. 18 @ 9:30 PM, Fox)
The competition: "Supernanny" (ABC), "Ghost Whisperer" (CBS), "Law and Order" (NBC), "Smallville" (The CW)
Starring: Daryl "Chill" Mitchell, Michael Strahan, Carl Weathers, CCH Pounder, Colton Dunn
Producers: Don Reo ("Everybody Hates Chris"), Eric and Kim Tannenbaum ("Two and a Half Men"), Mitch Hurwitz ("Arrested Development")
Network's Description: A new half-hour comedy about a former NFL hot shot who learns that even though you can always go home again, the trip back might be tougher than you think. Mike Trainor seemingly has it all he's a good-looking, wealthy and recently retired NFL player living the high-life in New York City, but he's about to get sidelined. When Mike gets a phone call from his mom, who orders him home to Houston, he quickly realizes the more his life has changed, the more his family has stayed the same. His brother Chill, whose life was altered drastically after a car accident left him in a wheelchair, is struggling to keep his restaurant afloat with the help of his loudmouth associate, Roscoe. The dynamics between Mike and Chill are the same as when they were kids, and their sibling rivalry hasn't lessened with age. If they can stop their bickering, put aside their differences and learn to be teammates, the brothers might just turn out to be each other's biggest asset. Wedged between Mike and Chill are their parents. Their father, whom everyone refers to as Coach, is the local high school football coach and the conservative, opinionated alpha male of his clan. Coach thinks he runs the show, but really it's Mom who calls the shots. Saucy, stern and a schemer, she is the mastermind of the family. And when she learns that Mike's business manager took off with all his money, she orchestrates a plan to keep Mike in Houston, save Chill's restaurant and bring the family back together under one roof again all without anyone realizing what she's up to. Mom's plan helps Mike realize that his family however dysfunctional they may be is the only family he's got. And although he may not have a penny to his name, as long as he's surrounded by people who love him, he'll always be a rich man.
The Buzz: The fact that Fox has paired it with the dreaded "'Til Death" and pissed off fans of "The Sarah Connor Chronicles" by putting both sitcoms into the real estate formerly occupied by the former "Terminator" series is enough to either annoy or completely piss off just about everyone. That it also isn't very funny only serves to add insult to injury.
Pilot Highlight: When Mike denies his financial woes, only to have his mother counter by asking, "Then why are you gonna fight Danny Bonaduce for $10,000?"
Bottom Line: Strahan has more comedic chops than we had any right to expect (and isn't afraid to make fun of his gap-toothed grin), and Mitchell's been a highlight of every series he's done since "The John Larroquette Show," but there's still not much here to write home about.
The Cleveland Show (Sun., Sept. 27 @ 8:30 PM, Fox)
The competition: "Extreme Makeover: Home Edition" (ABC), "The Amazing Race" (CBS), "Sunday Night Football" (NBC)
Starring: Mike Henry, Sanaa Lathan, Reagan Gomez-Preston, Kevin Michael Richardson, Seth MacFarlane, Arianna Huffington, Jason Sudekis
Producers: Seth MacFarlane, Mike Henry, Rich Appel, and Kirker Butler ("Family Guy," "American Dad")
Network's Description: A new animated series that follows everyone's favorite soft-spoken neighbor Cleveland Brown to his hometown in Virginia, as he settles down with his high school sweetheart, her unruly kids and his 14 year-old son, Cleveland, Jr. Many years ago, Cleveland was a high school student madly in love with a beautiful girl named Donna. Much to his dismay, his love went unrequited, and Donna wound up marrying another man. Cleveland once told Donna he would always love her, and if this man ever done her wrong, he'd be there when she called. Well, this man done her wrong. Donna's husband ran off, leaving Donna with a daughter and a baby. Now she's come to Cleveland and offered him another chance at love. Unattached after the Loretta-Quagmire debacle and true to his word, Cleveland joyously accepts and he and Cleveland, Jr., move to Virginia to join their new family. Once in Virginia, Cleveland has a few surprises in store for him, including a rebellious new stepdaughter, a 5-year-old stepson who loves the ladies, as well as a collection of neighbors that includes a loudmouth redneck couple, a British family seemingly stuck in the Victorian era and a family of bears.
The Buzz: It seems like forever since this show was first announced, but given that Fox gave the series a two-season pick-up before so much as a single episode had even aired, they're clearly counting on the "Family Guy" fanbase to embrace the show. That'll be like shooting fish in a barrel, especially considering that the character of Rollo is an unabashed attempt at creating a Stewie for the series. The more interesting question is what African-American audiences will think of it, though that concern is actually tackled by one of the characters during the first episode. ("I'll tell you what else gets on my nerves: when white people make a TV show they think black people will watch!")
Pilot Highlight: The theme song is as catchy as you'd expect from a MacFarlane-produced series, and the whole concept of Tim the Talking Bear is laughably surreal, but the biggest laugh comes from Jason Sudekis's incredibly obnoxious white-guy character, Holt, who calls Cleveland "dawg" before saying, "I'll come by later, bring the new Dave. 'Live in Austin.' Sick!"
Bottom Line: The show's pacing appropriately falls somewhere between "American Dad" than "Family Guy," but how long can MacFarlane's Sunday night animation domination last before viewers start to get tired of three of the guy's series back to back?