During his executive session at the TCA Press Tour, Fox President of Entertainment Kevin Reilly announced that they've finished 13 episodes of "Glee," assuring us that "the show delivers. It's fantastic." While this is exactly the sort of thing you'd expect a network president to say, those of us who caught the pilot episode of the series when it aired earlier this year couldn't be much more hopeful that Reilly isn't just talking out of his arse.
It was an interesting experiment for Fox to air the series pilot months before the series was to make its proper debut, but it created the kind of buzz that makes network executives giddy.
"We didn't really think that a one-time-only play was going to be about ratings," said Reilly. "It was really a marketing stunt to a certain extent, and it's something that has ended up being very successful. In fact, it could be the marker for something we're going to employ more frequently, because our marketing effort in these things get wedged into such a narrow window from the time they're ready to put out there to the time they air. We wanted people to talk about it and take time to get their heads around it. It did a 4.3 rating ultimately in the Live-Plus-Seven. It's been sampled by 25 million people between TV, the online site, and Hulu, which has been unbelievably strong. We're going to repeat it again. We've heard the chatter, and the talk continues to get more and more positive.
"We were at Comic-Con last week, which was a stretch for this show," he admitted. "We were nervous nobody was going to show up. It wasn't even in the main venue. There were thousands of people out the door, and it was like The Beatles were there. There's something happening with the show. With that said, we're both very confident there is a core audience for this show that is going to be there and it will be successful. How much the upside is…? I don't think we're looking for this to be necessarily the biggest phenomenon of the fall. It is a little bit of an offbeat show, but we'd certainly love to have it in that square success category. We know it's a creative success because we've now seen the work. So all in all, we like that strategy. It worked very well."
There's a very important question, though: is it possible that "Glee" is too good to be a long-term success? After all, the critics love it, which is, as often as not, the kiss of death for a series.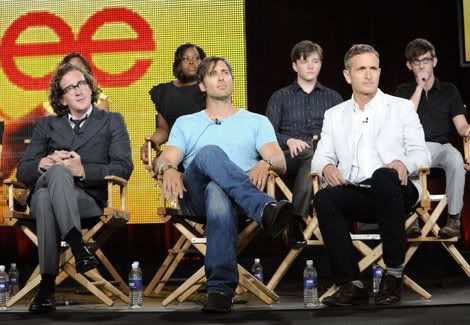 "Sometimes things find a niche audience," admitted executive producer Brad Falchuk, "and oftentimes those are very high quality things that can't find a broad audience. I don't think we have that problem. I think we are for a broad audience. I think there will be people in certain niches that will enjoy the show in their own specific way, but our intent is always to make something that a lot of people would enjoy. I'm not a big musical fan, I don't like musicals, and I didn't want to make a musical, and so the idea was to attract me and Ian (Brennan, producer) and 70 other different categories of people that would enjoy it. I hope that we're so good that people can't not watch."
Fans of "Party Down" were no doubt disappointed at the news that Jane Lynch would be missing out on that series' second season due to her commitment to "Glee," but she's the first to clarify that it wasn't a position of choosing one over the other. "('Glee') was in first position, technically," she explained. "But I'm having the time of my life. I am acting in the role of a lifetime, and the words that they have written to come out of my mouth are some of the best, most heinous things I've ever said in my life. I could not be happier. I really loved doing 'Party Down,' but this is really a highlight."
Lynch's role in "Glee" shares certain personality traits with her role in the film "Another Cinderella Story," which begs this question: what draws her to parts like this?
"I'm scheming and arrogant," she said, with a grin. "You know, I don't necessarily know, but I love that lack of shame, and I find it fascinating that a lot of people walk through life that way thinking they're really something and they can be that mean. And I guess I'm attracted to that on some level. I don't think it's first and foremost in my personality, but it's a lovely delicious thing to call upon, and I love doing it, obviously. I do it a lot, actually, but I think it's reached a pinnacle with Sue Sylvester. She has to be the most scheming, unashamed, entitled person I've ever played…and I'm just adoring it."
Given Kevin Reilly's comments about the show's reception at Comic-Con, it will probably not surprise you to learn that life has already begun to change for the young stars of the series.
"We were just so happy at the response that we got," said Lea Michele, who plays Rachel Berry on the show. "We've been in this little 'Glee' bubble of finishing the 13 episodes and working really hard, so we were just really thankful to get to see the reaction, especially when we went to Comic-Con. That was so great. And we're also just about to go on a 10-city tour in a couple of days, and hopefully we'll get to meet people that have seen the pilot and that are excited for the show. We are really excited about that. You're going to have all of us kids on a plane going to tons of cities, all of us together."
"Our Facebooks have gone crazy," added Chris Coulfer (Kurt Hummel).
"You know what's funny," said Dianna Agron (Quinn Fabray), "is that I was on a plane yesterday, and 'So You Can Think You Can Dance' was on the plane. I was sitting next to two people, and a commercial came on, and the guy sitting next to me kind of did this look, looked back at the screen, and looked one more time. And later on, he was, like, 'Were you the girl in that commercial?' Those things are weird. When we went to the upfronts, you know, and saw all the huge balloons everywhere, people walking around…it's exciting, because you forget, especially when it's not airing in conjunction with shooting, that you're making something that people are eventually going to see. And once that starts happening…I mean, for a lot of us, this is a big first, so it's thrilling, but it's shocking every time you have a moment like that."
The cast can likely expect many more moments like that come September 9th, when "Glee" makes its proper debut with an episode entitled "Showmance." It's also worth noting that a director's cut of the pilot will be airing the previous week, in case you were one of the folks who missed it the first time around and have been chomping at the bit to see what all the fuss is about.
Oh, and if you're wondering about the possibility of a "Glee" CD, you'd better believe that's already in the works. Per producer Dante de Loreto, "We've produced over 60 tracks so far for the show, and we've got a partnership with Columbia Records. We're hoping that the first soundtrack CD will come out in November, and if it's successful, hopefully there will be a second one."