Bad news, everyone: "Futurama" may have its voices recast
Variety is reporting that the money talks between Fox and the voice actors of "Futurama" – Billy West, Katey Sagal, John DiMaggio, Maurice LaMarche and Tress MacNeille – have broken down. As a result, rumors have already begun to run rampant that, when the show returns for its 26 new episodes on Comedy Central in 2010, it will be with new actors providing the voices of Fry, Bender, Leela, and the gang.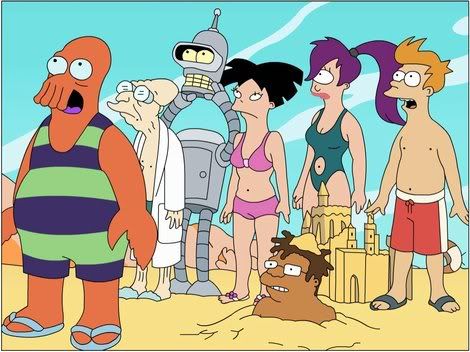 Per the article on Variety.com…
The studio announced last month that it would produce 26 new episodes of "Futurama," and that Comedy Central was on board to begin airing the new episodes in mid-2010. As part of the announcement, the show's producers said stars including West, Sagal and DiMaggio had all signed on to return.

Turns out that wasn't true.

The stars had all expressed interest in returning. But with the budget for "Futurama" dramatically slashed, the salary offers came in well below what the thesps were asking. As a result, 20th has put out a casting call to find replacement voice actors for the show.
Maybe I'm wrong about this (though I certainly hope I'm not), but I think this is going to blow over pretty quickly, and that either the actors will get the money they want or will at least find a middle ground with Fox that makes both parties happy enough to move forward. I mean, think about it: this is a show that has lived, died, and begun to live again as a result of its diehard fans. Do you really think they're going to accept new people voicing their favorite characters while the original actors still walk the earth and retain the power of speech?
Not bloody likely.
In closing, allow me to present one of my all-time favorite "Futurama" scenes…one which I still quote to this day ("A what what?")…in German.
UPDATE: Mark Evanier feels the same way I do, and he has a hell of a lot more experience in the field to back it up than I do.
Posted in: News, TV, TV Cartoons, TV Comedies, Video
Tags: Billy West, Comedy Central, Fox, Futurama, John DiMaggio, Katey Sagal, Maurice LaMarche, Tress MacNeille