Hell's Kitchen: Did you think you had this show figured out?
Last night on Fox's "Hell's Kitchen," Gordon Ramsay shook things up in a big, big way. But more on that in a bit…hey, I have to leave you hanging like the show does during commercial breaks, or you can just scroll down if you want to.
Anyway, the bickering between Andrea and Carol was how the show began, and Giovanni and Paula were telling them that they needed to put their differences aside for the good of the team. Then came the initial challenge, the king crab challenge. Man, those things are big! Ramsay asked the teams to have each member create a crab dish in 30 minutes, and then to choose one of their teams' dishes to represent them for Ramsay to taste. Andrea forced her dish to the front, but Carol wasn't so sure they shouldn't have gone with Paula's dish since Andrea's looked clumsy. The guys went with Ben, who pretty much forced his way to the front too. Ramsay didn't really like either one, saying that Andrea's was bland and disgusting, and Ben's lacked the flavor he claimed it had. He asked Paula and Danny to bring their dishes forward and liked them both, but declared Danny and the blue team the winners.
The red team had to spring clean the kitchen and the dorms (including washing Robert's underwear…ewwww!) and prep the kitchens for the dinner service. The guys got to hang out at the beach and have lunch with Ramsay.
Then for the dinner service, Ramsay asked the teams to create their own menus, including a crab special. Ben and Robert were starting to clash, especially when Ben wanted to add a "Pom Fondant" to the menu. What? Danny and Robert were joking about how ridiculous it sounded.
Things got ugly at the service when the red team's carpaccio, courtesy of Giovanni, was not seasoned properly TWICE, and when Ben over-salted the soup. Then Carol messed up not only the potatoes (really, even I can cook potatoes properly!) but also some steaks, which were almost raw when they were supposed to be medium. Ramsay also schooled Ben on the "pom fondant" and said he didn't understand what the term meant.
After dealing with enough of the screw-ups, Ramsay shut down Hell's Kitchen for the night. From the customer comment cards, the blue team was 39% above average, but the red team was 54% above average and won, but Ramsay was not happy with either team. He asked Danny to nominate one teammate for elimination since Danny was the best of the worst. Danny went back and wrestled with his decision to choose Ben or Robert.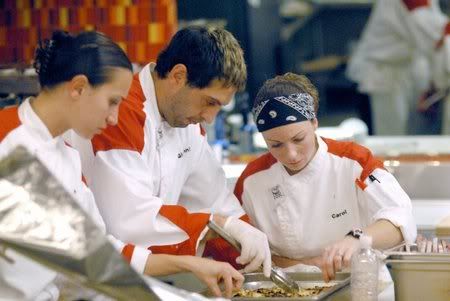 Meanwhile, Carol was feeling like she dodged a bullet and I had a feeling that maybe she hadn't yet. What was Ramsay going to do, take Danny's suggestion and fire that person? There had to be something else at work here. So Danny chose Ben, but Ramsay asked both Ben and Robert to step forward and state their cases. They both did so in their own roundabout way, and then Ramsay said that the person he was sending home was someone who "sabotaged" their team that night. He looked over at the red team and said "Carol! Give me your jacket and leave Hell's Kitchen!" Wow, now that was entertaining TV. Ben, Robert and Danny embraced in a man hug, and Andrea was trying to hide her glee. But really, it was the right choice.
Next week they promise some big shakeup….could it be the end of the season and of Hell's Kitchen? Man, that's how they make it sound. But I'm sure they are just over-hyping. See you all next week…
Posted in: Hell's Kitchen, Reality TV, TV
Tags: blue team, cooking competition, Fox, Gordon Ramsay, Hell's Kitchen, Hell's Kitchen blog, Hell's Kitchen recap, Hell's Kitchen Season 5, king crab challenge, red team