The Biggest Loser: did they have to leave us hanging?
Last night NBC's "The Biggest Loser" left us hanging after two long hours, and for that I'm pissed. You had all that time to kick someone off and this is what you do? And then before you do that, you change the rules AGAIN? This show is really annoying me. Anyway, here is how it went down…
The show began with the contestants at Rocco DiSpirito's cooking school, and they had to compete by cooking healthy variations on fast food….burgers, Mexican food and pizza. But they had to make those items taste good. The black team won, and their prize was being cooked dinner by Rocco, with the blue team having to clean up after them. Then each member of the black team had to choose fortune cookies and one of them had the prize of an extra vote at the weigh in, and Laura won that.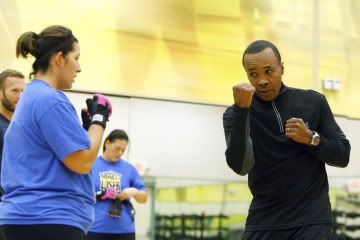 Then they showed the blue team working out with Bob, but not at the ranch, in a boxing academy with none other than Sugar Ray Leonard. Man, that had to be cool. Sugar Ray taught them his "POWER" technique of competing: "Prepare, Overcome, Win Every Round."
Then they showed Dr. H meeting with each contestant and telling them how great they are doing. Blah blah blah, but still great for all of them.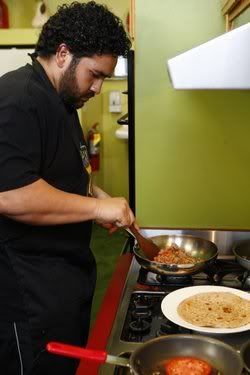 The main challenge last night was at the Los Angeles Food Bank, and the teams had to assemble food in crates and then load them onto a truck. The first team to 150 crates won, and what they won was free groceries for a year, a huge prize considering the cost of food today. The black team had an advantage by one person, and so they chose Laura to sit out.
Of course, since the black team has Tara, they won. Aubrey really wanted the prize for her family of seven, and when Mikey offered his share of the prize to her because he's a college student and doesn't need it as much, Aubrey and everyone else were really touched.
At the last chance workout, Jillian was really riding Laura, and still feels Laura is not giving it 100% or more. She threw Laura under the bus, wondering why the black team had let her sit out the challenge while Sione was injured and Helen is twice her age. Tara defended Laura, but admitted Jillian was right too.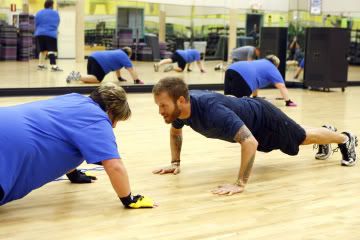 At the weigh in, of course host Alison Sweeney announced another curveball. They would all weigh in together, and if the entire bunch of them lost 77 pounds or more, no one would be going home. But if they lost less than that, a member from each team would be voted off. I hate the curveballs, but I like the message….there is less gameplay if they are all weighing in together. So on they went, and my TiVo was drawing closer to the 2-hour mark, making me think that they were going to make it. Helen lost 5 pounds, Mandi 8, Sione 3, Aubrey 8, Laura 7, Ron , Tara 11 (please, are you as annoyed by here as I am? Will she soon be a speck on our TV, literally?), Kristin 9 pounds, Filipe 8, Cathy 3, and Mikey ? Mikey had to lose 10 or more pounds to keep everyone on the ranch, but right as they were about to weigh him, those dreaded three words came across the TV screen…"To Be Continued." You know, you don't take 2 hours of someone's life (1.25 hours without commercials) and then make us wait till next week. Ugh. But that's reality TV for you, and that's why "The Biggest Loser" sometimes pisses me off.
Posted in: Reality TV, The Biggest Loser, TV
Tags: Alison Sweeney, Biggest Loser blog, Biggest Loser recap, Bob Harper, Helen, Jillian Michaels, Kristin and Cathy, Mandi and Aubrey, NBC, Reality TV, Rocco DiSpirito, Ron and Mikey, Sione and Filipe, Sugar Ray Leonard, Tara and Laura, The Biggest Loser, The Biggest Loser: Couples, weight loss