The Biggest Loser: Here We Go Gameplay, Here We Go
The big, ugly thing known as Gameplay has reared its ugly head again on NBC's "The Biggest Loser." Last night, just when I thought the contestants were playing the game for the right reasons, they proved me wrong again. Ugh.
First off, everyone was shown as upset with Joelle at the start of the show, because she had shown the week before that she, out of anyone there, did not want to put the effort in to lose weight like everyone else. And then when two very likeable contestants, Dan and Jerry, fell below Joelle at the weigh-in, everyone seemed pissed off that they had to choose between those two rather than Joelle. Meanwhile, they showed some of the at-home contestants, and Dan's partner Dave was shown eating a piece of fried chicken. Last week it was a couple of hot dogs. What goes on off-camera, Dave? Dude is sabotaging his team, and I have a bad feeling about that.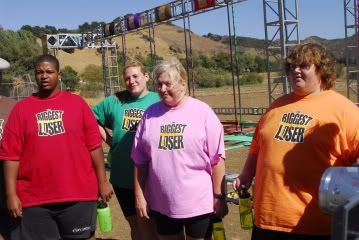 Then came the temptation challenge, where a contestant (and their teammate at home) could eat some pizza or other equally calorie-dense item, or eat nothing. The team who ate the most calories would "win" the prize of having their trainer give their team some one-on-one training for a few days. Of course, you should be considered a "winner" if you eat nothing. Carla, Joelle's best friend and partner back in Detroit, ate 2710 calories, while Joelle ate nothing. But it was enough to get a win, and to have Bob Harper travel with Joelle to Detroit to train the gray team. This was humorous, because Bob has been having trouble whipping Joelle into shape to begin with, but Carla, who is very fiery, was getting angry that Joelle did not mirror her fire and desire to win.
Then back at the ranch, they had the main challenge, which was a "retro" Biggest Loser game….jumping over a swinging styrofoam bar as many times as it takes without breaking said bar. They had issued this same challenge a few seasons ago. Anyway, some of them were out almost immediately, including Joelle. It came down to Tara, who had called her shot and was going to win, as well as Dane and Kristen…Dane was out, leaving Kristen and Tara to battle for over two hours in the blazing California heat. Kristen put up a great fight, but she was no match for the strong-willed Tara, who won immunity for one more week.
At the last chance workout, Joelle was struggling in the gym, again. But Bob didn't yell at her this time, at least not on camera.
The weigh-in was next, and I'd like to thank TiVo, because NBC drags this on for well over 30 minutes including commercials….okay, it's mostly commercials. Tara lost 8, Helen 6, Joelle 6, Mandi 8, Felipe 14 (and he woo-hooed for about five minutes), Mike and Ron a combined 20, Dane and Blaine a combined 30, Damien 4, Dan 15, and Kristen 7. Joelle hung around the bottom and finally Damien's 4 pounds put him at the bottom with Joelle barely above him.
(we interrupt this blog for some product placement….did you know if you eat a 110 calorie Yoplait Light yogurt, you won't be hungry when you finish reading this blog? You may also try a 5-calorie stick of gum..yeah, that's mighty satisfying….I'm sorry folks, I know this show is serious and there is probably scientific evidence supporting these claims, but they seem ridiculous at times)
So it came down to Joelle and Damien. All logic points to Joelle being voted off, especially when Tara asked her point blank, "Do you want to be here?" But they had been teasing us with this "shocking" result thing before a few commercial breaks, so you knew it wasn't going to go like you'd expect. What happened? It became a blue team vs. black team thing again….where Jillian's team all voted for Damien because they felt he was a bigger threat to win it all. It wound up with a tie in the voting, and Damien was sent home because he had the lowest percentage of weight loss.
I realize this is not like evil Vicky last season, but it's gameplay nonetheless, and especially annoying when you consider that everyone (minus the producers maybe) wanted Joelle off the ranch. Every season I start out with hope for this show, and every season gameplay rears its ugly head. Oh well, that's why it's a reality show. Damien and his fiancee Nicole, meanwhile, have lost a combined 150 pounds to date and are looking forward to their newfound healthy lifestyle. Now that's what I'm talking about.
See you next week….
Posted in: Reality TV, The Biggest Loser, TV
Tags: Alison Sweeney, Bob Harper, Damien and Nicole, Dan and Dave, Dane and Blaine, Felipe, fried chicken, gameplay, gum, Helen, Jillian Michaels, Joelle and Carla, Kristen, Mandi, Mike and Ron, NBC, pizza, ratings, Reality TV, Tara and Laura, The Biggest Loser, The Biggest Loser: Couples, weight loss, Yoplait