Charles Dickens is one of those authors whose works manage to be both a part of popular culture while still proving highly threatening to students everywhere. You could probably reel off a list of the man's works with precious little effort, but – and maybe this is just me here – I still get a chill and a nasty flashback when someone asks me, "Have you read 'David Copperfield'?" That's probably why, even at the age of 38, I'd still prefer to watch an adaptation of one of Dickens' novels rather than actually read one of them. (I know. I'm a philistine. But I'm comfortable with it.)
PBS, of course, has never been afraid to take the work of Dickens and transform it into a major production, so it's no surprise to find that they're to be airing three such adaptations – "Oliver Twist," "Little Dorrit," and "The Old Curiosity Shop" – as part of what's being called "The Incomplete Dickens."
When you look at Timothy Spall, known to "Harry Potter" fans around the world as the man who plays Peter Pettigrew, you have to admit: the guy was born to play Fagin in "Oliver Twist." And when you see his performance, you'll be hard pressed to avoid using the word "creepy" when describing him.
That might sound like an insult, but let's call it more of a left-handed compliment, shall we? Besides, it's not like Spall isn't aware of a recurring thread amongst many of the characters he has played.
"They're sort of all repulsive," he admitted. "They are somewhat divine, and they are repulsive, aren't they? Looking at what I do and standing the way I stand and acting the way I do, I've always thought it's part of my job to give people who are undesirable a really good crack at the game. And then I laugh at trying to turn the tables on characters that are perceived as being pariahs or outcasts or repulsive or repugnant in some way and make you realize that even the most reprehensible and undesirables of characters are human beings. If I get a chance, I try to give it a go and make you feel bad about hating them as well."
He's amused, however, by how much one of the smallest parts he's ever played – Peter Pettigrew – is the one that has become one of his signature roles.
"Wherever I go in the world, it's one of the most that gets the biggest recognition," he said. "I don't mind. I mean, I think that 'Harry Potter' is kind of a phenomenon, isn't it? It's sort of universally loved. There are a few people in the universe who despise it, but it's actually one of those places where I'll go in a lift somewhere in Middle America, and somebody will go, 'Hey, are you the rat dude?' And that will be somebody in their fifties, you know? But, no, it's remarkable. It's a phenomenon, and the great thing about it, as — and I'm not doing a cheesy segue here, 'Dickens on the Telly' – it makes people realize that, you know, you can read a book, actually. It's not stupid, and it's not weird if you're a kid. And I think, you know, one of the most beneficial things of 'Harry Potter' is it's got a whole generation of kids who would never have read reading, and I think that's going to be great."
Spall earned bonus points by utilizing a Radiohead lyric to describe the role Fagin in "Oliver Twist" ("he's a creep, he's a weirdo"), but despite the character's reprehensible nature, Spall still manages to find him an inherently sympathetic individual because he's a victim of his own circumstances.
"I thought, 'Well, there's been many brilliant performances of it,' and I wasn't an obvious choice for the character, but somebody was willing enough to tolerate me having a go at it," he said. "I realized that you can't reproduce or copy, but on the other aspect, you don't want to try and be clever by being so adverse to what anybody else has done. So I started to think about where he was from, why he was like he was. And I kept having an image of him being an outcast somehow possibly thrown out of a nation Yiddish job and Yiddish culture and cut loose as a child and then had to take care of himself internationally. So he gathered many different attributes of a life of possessions and jewels and just basically trying to keep himself together. And, you know, actors always try and work out what makes a character tick. I was very mindful of why this pariah would end up being in London and hopefully try to make him creepy and exotic, but slightly vulnerable as well."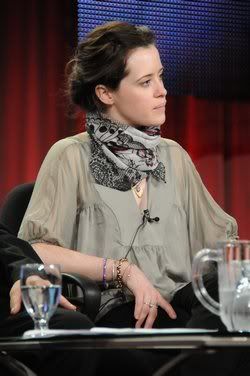 Similarly, the cute-as-a-button Claire Foy seems tailor-made for the title role in "Little Dorrit," though you're likely unfamiliar with Ms. Foy, given her limited resume. This is her first significant role, but it's clearly not to be her last, given that she flew in for the TCA panel – it was her first-ever trip to Los Angeles – from the set of the movie "Season of the Witch," which she's filming with Nicolas Cage and Ron Perlman. Still, she's not likely to forget the audition process anytime soon.
"There were quite a number of rounds," she said. "Four times. Possibly five. I can't remember. It was all right, really, because it was never something that you kind of assumed, 'It's going to happen.' Because I grew up watching BBC 'hair dramas,' I loved them, so I never took it very seriously. Well, I mean, I took it very seriously, but I was even shocked even down to the last group. But it was wonderful, exciting, and everything. And then I found out I got it, and then I started to worry, and fear set in a bit. Nothing really prepares you at all, I don't think, except just getting the job done and don't think about it because, otherwise, if you think about it, you will go a bit mad. So you just have to carry on and ignore it."
"Oliver Twist" airs on PBS on February 15 and 22, with "Little Dorrit" following from March 29 to April 26, and "The Old Curiosity Shop" closes out the run on May 3. They will also be rebroadcasting their production of "David Copperfield," starring future-Harry Potter Daniel
Radcliffe in the title role, on March 15 and 22.